"And they told me all I needed was a knife" …. Exclaimed Kathy Macquisten when I met her and two classmates as they were leaving St. Lawrence College in Brockville after their wood carving class. However, each was wheeling a suitcase having just completed their course for the day.
When all three classmates bid farewell to their professor, Les Boszormeny, I was able to take their place and spend the next hour learning first-hand how so many students have taken up the art and, as some call it, the sport of wood carving – and it was fascinating.
Les and I met by email as he wanted permission to use a photograph from a TI Life article. As soon as he introduced himself, I realized that his reputation went far and wide, and that he has touched the lives of more than a thousand carvers.
As we sat in the St. Lawrence College Art Gallery, Les showed me a manuscript of The Art of Carving Birds from Wood which describes his carvings and those of some of the region's most renowned artists. I realized immediately that when his story - and the stories he tells of others - is published, it will make a marvelous addition to our Thousand Islands libraries.
Les began carving in a round-about manner. In the 1970s, he picked up his wife who was taking a course at St. Lawrence College. She suggested he come into the building and see one of the workshops. He was mesmerized by the life-like nature of the carvings and enrolled in a course. Five years later he was the instructor!
Teaching carving was not a difficult leap and this soft spoken gentleman has spent over 30 years teaching high school biology, which no doubt helped his ability to transpose the exact skeletal knowledge to his works of art. As well his science background keeps him focused on details.
Les has been entering competitions for 37 years.  In 1977  he first showed in the introductory St. Lawrence Wildflowlers Carving Show.  He went to his first Ward World Wildlife Championship in Ocean City, Maryland, in 1982.  He has entered his carvings in 32 of those shows and has won 32 ribbons!
He has also competed in the St Lawrence Wildfowlers, Brighton Lions Sport Show, Kingston Township Wildlife Art Exhibition, Outaouais Woodcarvers Exhibition, Concours Quebecois Montreal, Quinte Woodcarvers Competition, and the Canadian National Competition.
His most exciting year? "1996 was the most exciting because my Decorative, Life-Size, Black Scoter Drake not only won 1st in Species at the Advanced (Professional) level at the Ward World Championship,  but was also featured in Wildfowl Carving magazine." The same carving won at the Concours Quebecois Montreal Carving Competition 1st in Species in Expert Decorative Life-size Waterfowl and was awarded a bronze plaque. He also won three, Best of Show Awards, at the St Lawrence Wildfowlers Competition in three different categories, on top of a 1st and a 3rd place ribbon at the Quinte Woodcarvers in Belleville.  It was a most rewarding year of competition indeed."
Leafing through his manuscript he paused at a section entitled, John Leeder. He stopped and related with pride, an amazing story.
At the young age of 15, John lost his father and I was asked whether I would take him in to my carving class at St Lawrence College.  I faced a problem: he was under age and not a High School graduate, both requirements for a college credit course.  For several months I weighed the problem, but in the end, decided to take him in. 

Throughout his High School career, he was a dedicated carver in class, but the University education that followed brought an end to his carving.  He graduated with a Bachelor of Science in Biology which made me wonder whether my carving influence affected his higher education choice.  It must have, since he also became a Bird of Prey trainer following his graduation.

I had not seen John for years. Then in 2006, 24 years following his introduction to carving in my class, I came upon his name at the Ward World Championship. Among the World Champion entries was the name John Leeder, Second Best in the World, ahead of Pat Godin, of Paris, Ontario, an 8-time World Champion.  Immediately the thought came to mind that I made the right decision when I took John into the carving class which made his young life more bearable after the loss of his father. It is so rewarding to know that both of us find bird carving such a life-fulfilling activity.
Yes, Les has trained over 1000 students in the St. Lawrence College program and he is still teaching and carving.  He told me his Decorative Life-Size Surf Scoter is about 75% complete. He said, "The painting just has to be finished and it will be ready for the Ward World Championship in April, The Canadian National Championship in Waterloo and perhaps the Belleville Quinte Woodcarvers Competition, as well."
On behalf of those of us who are fortunate to admire these works of art first hand, we thank you most sincerely - Les Boszormeny - for continuing to share your passion for the Art of Carving Birds from Wood…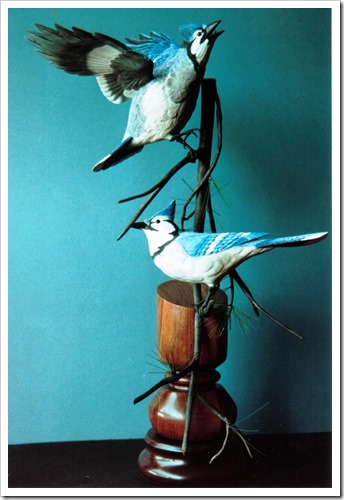 Blue Jay Pair
Life-size. Acrylic on Tupelo on Black Walnut base.47x45x51 cm overall.
Oh yes, the branch is also carved.
Photo courtesy Les Boszormeny©2014

Arctic Terns
Acrylic on Butternut. 23x20x35 cm overall.
Photo courtesy Les Boszormeny©2014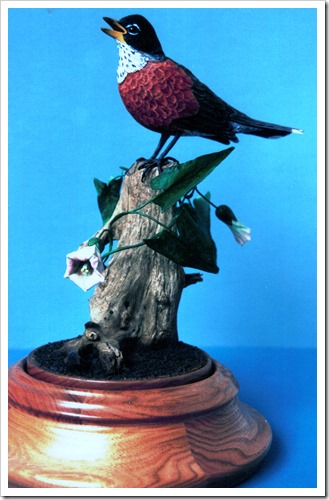 Robin on Morning Glory
Life-size, acrylic on Tupelo on Butternut base. 28x36x38 cm overall.
Photo courtesy Les Boszormeny©2014

Red-Winged Blackbird
Life-size. Acrylic on Tupelo on Black Cherry base. 20x20x43 cm overall. Even the barbed wire is handcrafted.
Photo courtesy Les Boszormeny©2014

Canada Goose Pair
Acrylic on Jelutong on Butternut base. 39x39x35 cm overall.
Photo courtesy Les Boszormeny©2014
By Susan Weston Smith, Editor, susansmith@thousandislandslife.