Written by
Susan W. Smith
posted on February 12, 2009 21:01
Kim Lunman wrote about John Keats in our January issue (Of Time and an Author) and we all appreciate the Trilogy written by Paul Malo.  My most important author is Helen Wright Greuter (1914-1997).  Not a household name, but the author of 36 books – all on the history of science.
I met Helen on a beautiful day in late July 1975.  We arrived at her dock and I asked if she could tell me about the large island connected to hers by a small bridge.  After asking who I was, and why I wanted to know about her island, she invited me in for a chat.    I had a contract with Parks Canada to write about recreation in the Thousand Islands.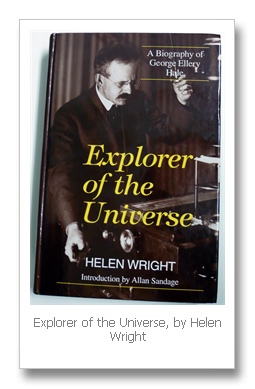 I tried to make myself sound important, but that quickly melted away when she exclaimed, "I write too, but I write biographies of scientists."   I glanced at her bookcase and her name was on at least a dozen spines.
It did not take Helen long to realize that I was a keen, rather than accomplished, writer and an enthusiastic, but not a great, researcher. I left her island that day feeling that we had both gained a friend and for the next fifteen years Helen taught me the value of scholarly research. She strongly advised that I spend a few hours every week learning as much as I could about the Thousand Islands.
Near the end of her life, I accompanied her to Nantucket.  She knew the island well, as she had written the definitive biography of Maria Mitchell, the famous astronomer.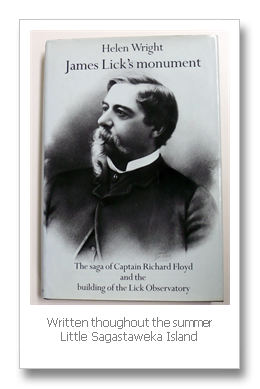 Mitchell had discovered "Miss Mitchell's Comet" in 1847.  Our first stop on Nantucket was at the "Marie Mitchell Association Observatory and Library".  It was here that Helen wanted to spend the weekend looking at files for what would prove to be her last publication.  Unfortunately, the Mitchell Library was not open so we went to the Atheneum, the Nantucket library.
When Helen introduced herself at the counter, a voice from a back room shouted, "Helen Wright, our Helen!"   A lovely lady then appeared and upon hearing of our disappointment about the Mitchell Library, produced a set of keys. With the keys came, "The Mitchell Library is all yours!"  For the next two days Helen and I had the library to ourselves, an experience I will never forget.
Helen was born in Washington DC. Her father, Frederick Eugene Wright, worked at the Carnegie Institution for Science - established in 1902 by Andrew Carnegie. Wright led the Carnegie Moon Program at Mount Wilson Observatory and served for twenty years as Home Secretary to the National Academy of Sciences.  Helen took a master's degree in Astronomy from Vassar College.  She became an assistant at Vassar College Observatory in 1937 and was a junior astronomer at the U.S. Naval Observatory, in Washington, DC, during World War II.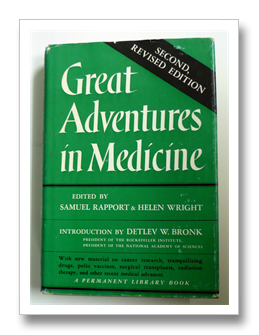 Helen often mentioned that she would never become a great astronomer for the ceiling against women scientists was high. However, she realized that she could write about astronomers so she partnered with Harvard University astronomer, Dr. Harlow Shapley, and Samuel Rapport of Boston.  Together they edited and produced dozens of popular, science books throughout the 1940s and 1950s.
Helen is listed in several dictionaries of women scientists and scientific bibliographies. She considered it her greatest honor when she was asked by the American Institute of Physics, in 1994, to republish her 1966 work on George Ellery Hale, Explorer of the Universe.   Allan Sandage, from the Mount Wilson Observatory, wrote the foreword and noted that Helen "brought both the eye of the participant and historian to the task of illuminating the life of the most influential American astronomer of the 20thCentury."
Helen spent almost 80 summers on Sagastaweka Island in the Admiralty Islands near Gananoque.   Proud to be the third generation on the island, she often completed her books with a simple salutation:   H.W. (Little Sagastaweka Island).
by Susan W. Smith 
 
Each month I seek links to the Islands  - such as "did you know..."  These people places or events are meant to highlight why the Islands are important to history - all the while demonstrating that the Thousand Islands should be known for  "more than a salad dressing"1

1

More than a Salad Dressing… Years ago, I met a young medical student and I was telling her about my favorite vacation region. I got carried away, and soon I was relating facts about the War of 1812, the ships that plied the St. Lawrence River, the battles… "Gee," she exclaimed, The Thousand Islands is more than a Salad Dressing". Since that time I have found many links to people, places and events that prove that links to the Thousand Islands are like six degrees of separation, and our region is almost the center of the world!

Helen Wright left a wealth of historic papers and writings to library collections including the Helen Wright Collection on George Ellery Hale, at the California Institute of Technology Archives.