All Aboard for the Thousand Islands
Written by
Robert L. Matthews
posted on December 13, 2014 12:24
Editor's Note: Winter is the time when Robert Matthews can be persuaded to share some of his wonderful collection of Thousand Islands ephemera with TI Life readers. We start the 2014/15 season off with a railroad trip… Where to? Why the Islands of course!

How would you like to take a train ride to the Thousand Islands?

Swell, buy your ticket and we'll board the overnight express at Grand Central Station, here in New York City. Don't be late as the train departs at 9:15 P.M. It's due to arrive in Clayton tomorrow morning at 10:25 A.M.

First let's check-out the coach seats. What do you think? Nice, but I'd rather go first class, with a room of my own.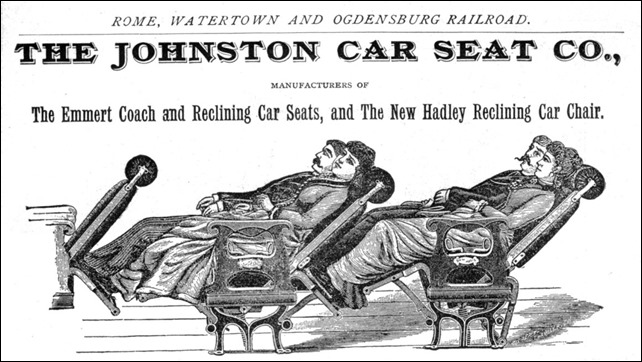 Have you seen the new drawing room cars? Wait until you see them! What do you say we go a little early to grab a good seat? We can order a drink, talk and do a little people watching.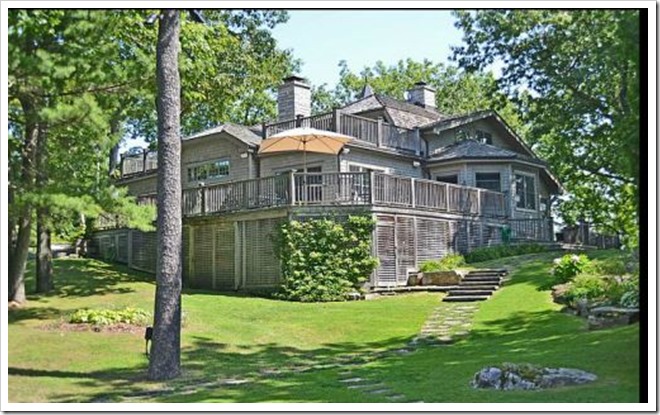 Aren't you glad we came a little early? Except for that old buzzard smoking his cigar, these are great seats. Once we get underway, we can go to the dining car for a late snack. Okay?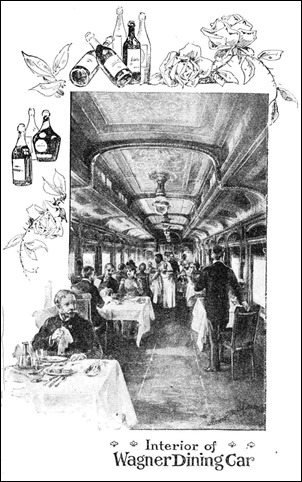 Well what do you think? One scotch and water is enough for me, but maybe I'll have a glass of wine. Here comes the waiter.
Why don't you order the wine and then we'll look at the menu. Remember we're on vacation, so let's splurge a little. I love it when the rolls are warm and the butter is cold.
Think I'll have the lobster salad as I want to save a little room for dessert. How much should we tip? I don't want to be cheap. Maybe fifty cents; I think that will be fine?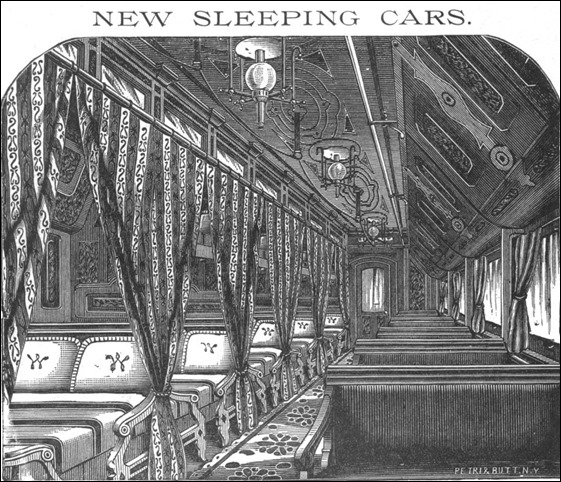 Wow! Now this is first class!
Wait 'til I tell the gang back at the office. A good night's sleep and breakfast tomorrow morning, just before we arrive in Clayton. Now this is living! Hey, you don't snore do you?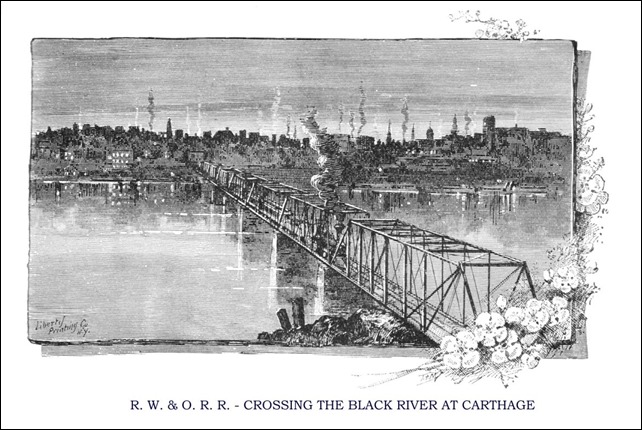 Let's get some breakfast. How'd you sleep? Me too!
Look out the window; we're crossing the bridge to Carthage. It won't be long now.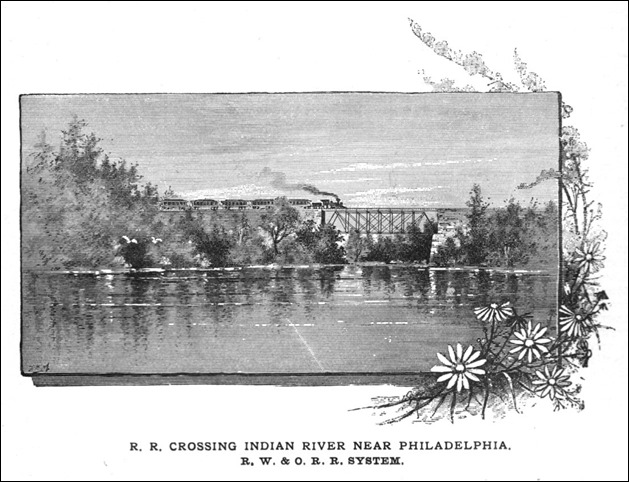 We're crossing another river; just think; last night we were in New York City and in a few short hours we'll be fishing or swimming or enjoying the sites from a tour boat in the St. Lawrence River.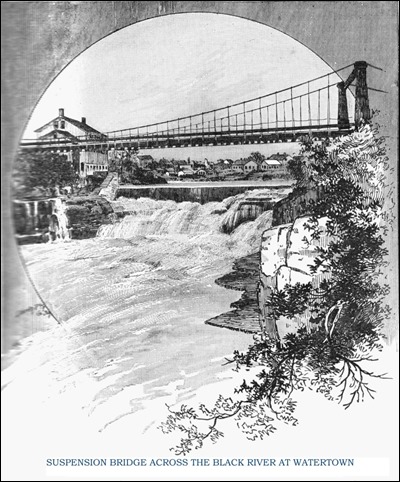 We are passing the prosperous town of Watertown and next stop will be Clayton.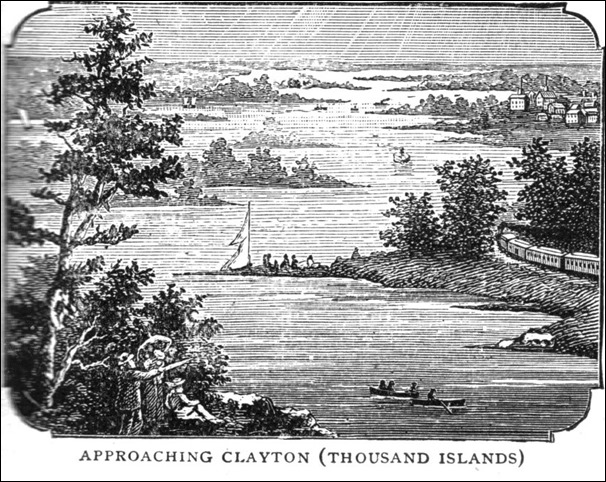 Can't wait! I never asked you, have you ever been to the Thousand Islands? You're kidding!

Be prepared to fall in love. I could tell you stories about people who visited the islands for the first time and became addicted. So addicted that they wanted to spend the rest of their lives here; but a word of caution. The summers can be paradise. Spring and fall can be great. But you better like the cold, as winters can be brutal.

On the other hand there are those who love the winter. Maybe we can come back next winter?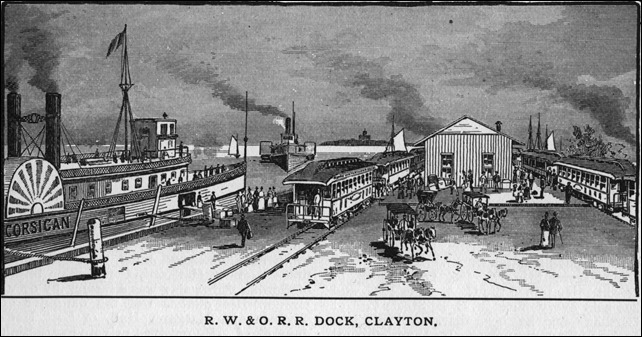 One more song… She'll be coming round the mountain when she comes… She'll be coming round the mountain when she comes… She'll be coming round………….
Well, here we are at the Rome, Watertown and Ogdensburg Rail Road Dock in Clayton, New York. Have a great stay.
Comments
Comment by: Ruth and Bob Uhlig
Left at: 7:14 AM Monday, December 15, 2014
---
Our dear friends, Robert and Prudence, share a deep love of the Thousand Islands with all of us. It is such a generous gift that he gives us with his books about the area. His love of history and his talent to share such beautiful memories will always be treasured. Thank you Robert and Prudence.
Comment by: Herb Swingle
Left at: 6:34 PM Monday, December 15, 2014
---
Oh,An historic train ride!
Comment by: Len Ewald
Left at: 2:10 PM Tuesday, December 16, 2014
---
A wonderful step back in time! One can only imagine what things were like travelling to the 1000 islands by steam engine from N.Y.C., and finally arriving!
Comment by: Deane Parkhurst
Left at: 5:31 PM Wednesday, January 7, 2015
---
What a wonderful collection of old photographs. A fascinating look at how folks got to the Thousand Islands way back then. In the early 1900s my Grandmother and Grandfather bought a cottage on 1000 Island Park from Henry Docksteder who was, or had been, a Conductor for the New York Central Railroad. The cottage carries the NYC logo on its top peak to this day. There were many items in the cottage from the railroad including heavy bottomed glass wear, silver and dishes. There was also a chair from one of the club cars, which I have in my family room here in Mid-America. Many thanks for the history lesson.
Comment by: Bev Farrell
Left at: 12:07 PM Friday, January 9, 2015
---
I have had the incredible fortune to live the Thousand Islands life up close and personal as the daughter of Prudence and Robert Matthews, spending lifelong summers and occasional post season visits to the River.
Throughout the years, I have learned a great deal about past Thousand Islands life as my parent's passion for its history continues to grow; my father's research and exploration having influenced his writings and my mother's creativity, resulting in beautifully hand crafted hooked rugs.
For those who share a love of history and the Thousand Islands, now lucky we are to have glimpses of this bygone era come to life! Thank you, Mom and Dad.
Comment by: Christy MacLetchie
Left at: 7:55 PM Monday, January 12, 2015
---
My dad and his mother would spent most post WW2 summers on Round Island when my dad was a kid - his dad would take the sleeper from NYC to Clayton. The Round Island caretaker would drive my dad and his mom to Clayton to pick up my grandfather - pretty cool memories.
Comment by: Tom Hunt
Left at: 5:41 PM Wednesday, January 14, 2015
---
I grew up in Clayton and remember the railroad tracks still being there. This was a great read.