Winter may be better…
Written by
Richard Calabrese
posted on January 13, 2015 12:15
Sure, everyone likes the River during the summer months when the water is liquid, the air is a warm 75 degrees and the trees are green. But for those of us in the "know", wintertime is just as beautiful, even more so.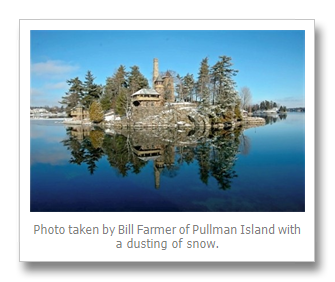 The skies are sunny, the silence is breathtaking, the temperatures are cold and the air is clean and crisp. When you inhale, you can feel it in your lungs and your veins, it's invigorating, cleansing and almost spiritual.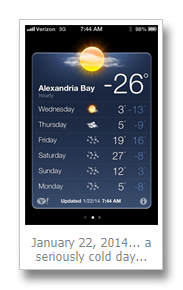 Take a walk on the ice in the back bays, enjoy the peace and quiet, if you are patient, you'll find bald eagles flying above, searching for an unsuspecting fish or critter for dinner.
So, get out there, you'll forget about the cold, because you're consumed by the river's beauty and silence.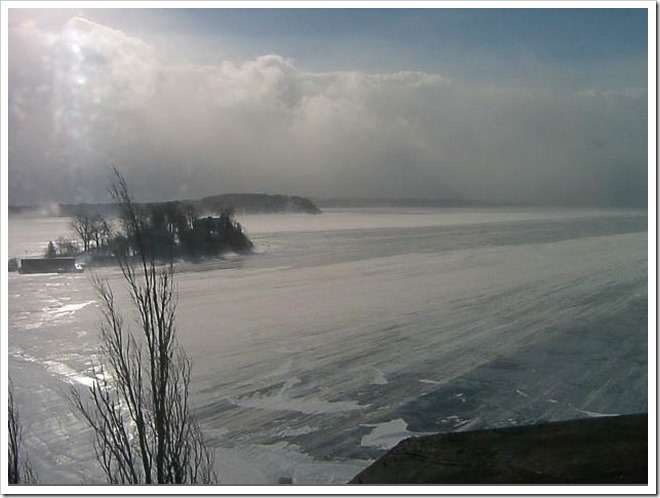 This is brutally cold, just the way I like it. Notice how the river was completely frozen across the main channel; shore to shore. The way the wind is whipping the loose snow along the surface of the ice is spectacular; Mother Nature is incredible.  Notice how she used the wind to form an expressway for the snow to travel. These days are fast approaching.
Photo by R. Calabrese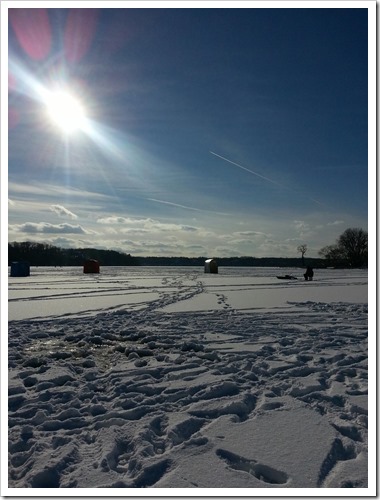 In 2013, the days had two temperatures, cold and colder.  It may have been cold but notice the sunshine and blue sky.
Photo by R. Calabrese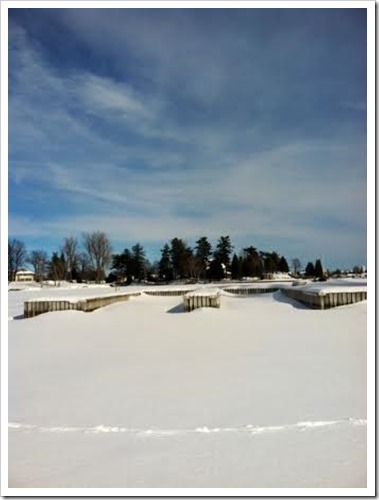 I think it might be a little difficult to dock a boat here on this February day.
Photo by R. Calabrese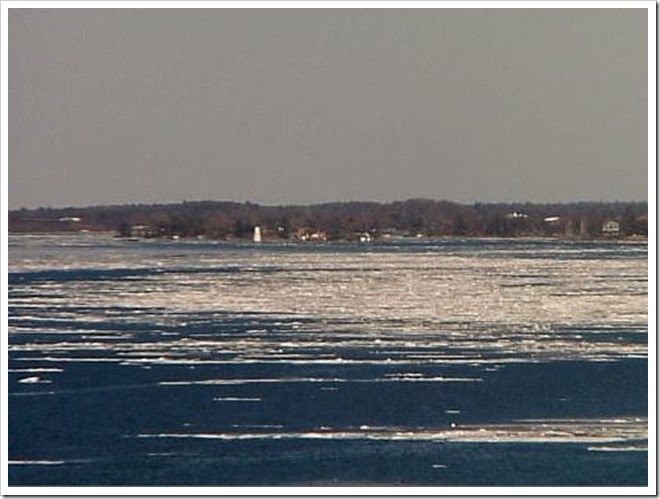 This is wonderful. The ice is finally starting to break-up, I think it's mid March.
Snipped from Alex Bay Webcam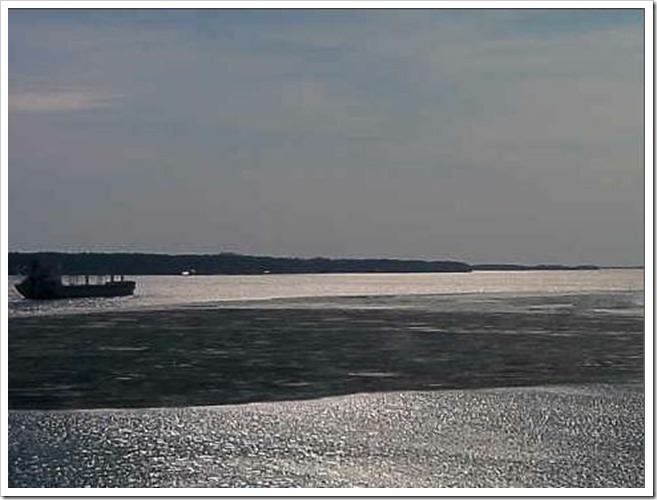 Breaking up… and the ships are back…
Snipped from Alex Bay Webcam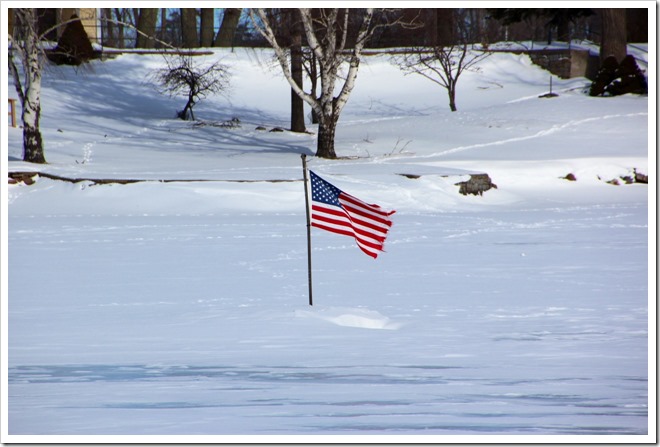 The Red, White and Blue marks a shoal, during the warmer months and flies bright during the winter days.
Photo by R. Calabrese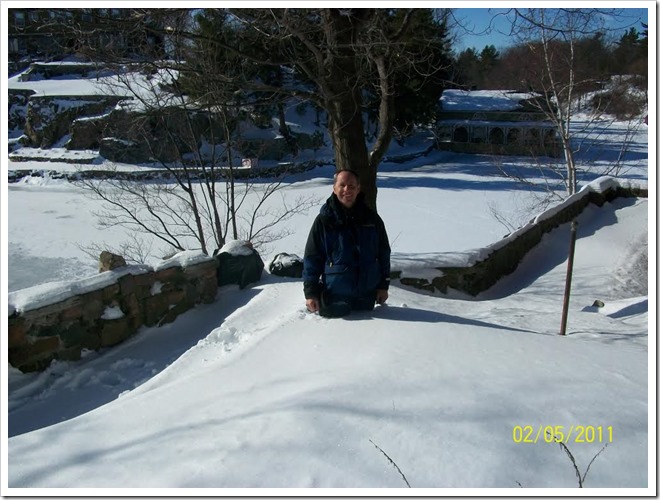 Yes… more snow, and I love it! 
Photo by Dan Mossien
How about planning a winter visit? The 3rd Annual Vintage Snowmobile Show is on January 31st, 2015.  The next week is the busiest of the winter starting on February 4 at the Rockport Winter Carnival (Feb. 4-8, 2015).   The Labatts 1000 Islands Pond Hockey Tournament in Alex Bay is scheduled for February 6-8th, 2015,  Save the River's 26th Annual Winter Environmental Conference in Clayton, NY, happens on Saturday, February 7th, 2015 as does the 2nd Annual 1000 Islands Perch/Pike Fishing Derby, in Gananoque.  And, don't forget the Annual Polar Bear Dip to benefit the River Hospital on February 28th.
By Richard Calabrese Jr.
Rich Calabrese has been on the river since 1972, when his parents purchased a home in Alexandria Bay. He's an avid fisherman (catch and release only), a lover of the river and an antique wooden boat enthusiast. When not at the River he lives in Rochester, NY.  Kim Lunman, writer and publisher of the print magazine, "Island Life," presented a profile of Pullman Island in Castle Rest, Past and Present, January, 2011.
Comments
Comment by: Phil Amsterdam
Left at: 8:28 AM Thursday, January 15, 2015
---
Nice try Rich, but you are wrong, summers are better! And put a hat on.
Comment by: Richard S. Lodico DDS
Left at: 1:17 PM Thursday, January 15, 2015
---
Richard ,your enthusiasm and love of the River was only exceeded by your beloved Father. He and I spent many days on the River looking for the perfect island . He found his and soon started to clean it up and then yearly added those wonderful to behold, Richard Calabrese touches...........such as the soaring tower,that looks like it had been there for a hundred years.
In 1974, I was in the right place at the right time and acquired Battle axe island from the last heir of the Benson family. This was on the Canadian side of the River and part of the well known Bensons Rift. Three islands,two small bridges just west of the warren truss span of the Thousand Islands Bridge.
We both did a lot of entertaining of Family and Friends and loved every minute of the Island Life. Memories are made of this.
Comment by: Waltraud I. Mack
Left at: 1:59 PM Thursday, January 15, 2015
---
Lucky, lucky people. Dreams are made of such wonderful stories. When I visit Thousand Islands I always feel like I died and went to Heaven.
Waltraud I. Mack
Comment by: Rich Calabrese, Jr
Left at: 2:08 PM Thursday, January 15, 2015
---
Phil, very funny!
Dick, you were there when my Dad took his first official walk. You were the one that found the beautiful granite pathways under the moss. I can't imagine what my family's like would've been like without the island.
Comment by: Jodi Lembo
Left at: 9:21 PM Thursday, January 15, 2015
---
Absolutely beautiful photos! Any time of year is special on the River! But I must agree with Phil, summer on the River is magical!
Comment by: Rich Calabrese
Left at: 10:10 PM Thursday, January 15, 2015
---
Thanks Jodi. Summer is great during the weekdays, it's quieter. I wish I had more weekdays to spend there. Try the wintertime, it's just amazing. Cold for sure but you'll forget about the cold because of the river's beauty. I promise.
Comment by: Margaret Commercial
Left at: 8:48 AM Sunday, January 18, 2015
---
Love & appreciate your pictures so much. Born & raised on Wolfe Island, I remember those scenes oh too well. Now living in Rochester, I don't get back up there much during the winter. We make up for it during the other seasons though. Nature at its BEST.
Comment by: Rich Calabrese
Left at: 11:00 AM Sunday, January 18, 2015
---
Thanks Margaret! Every year I head north to look at our cottage and make sure there was no damage from the winter, the winds or a downed tree. Plus, I look for eagles. Being there in the cold winter is great, walking on the ice is wonderful but seeing an eagle is a huge bonus. I can't wait to get there!
Comment by: Linda Garback
Left at: 2:49 PM Wednesday, January 28, 2015
---
Rich, my husband and I just finished our first year of being full time residents in Fishers Landing, our cottage faces Rock Island and the lighthouse. I saw my first eagle fishing right off our dock last February, the beautiful white swans, The migrating snow geese! It's not always the easiest life through winter, keeping our water from freezing, higher propane bills, but the peace and beauty of the River is amazing! Our Lab still barks at the cracking ice! I give thanks every day that we've been able to transition from seasonal owners to permanent residents. Thanks for sharing your words and photos!
Comment by: Rich Calabrese
Left at: 9:19 PM Wednesday, January 28, 2015
---
Linda, good for you. The river is beautiful during the colder and coldest months. It's so quiet, you can hear your own breath. I was ice fishing this weekend (in Rochester NY) and the ice was creaking and burping. Someone walked by us, his dog was curious and he ran into the ice to come to us, the ice shifted and creaked. (perfect timing!). He barked and ran back to shore, he was spooked. Like you, I also give thanks for every minute I have on the river and in Mother Nature. We don't have eagles here, that's why I travel to the river once a year during the winter to spot them. Thanks for your kind words, I'm happy you liked my small article. All the best to you......
Comment by: Herb Swingle
Left at: 9:05 AM Thursday, January 29, 2015
---
This is a harsh winter here in Victor,NY.As a Civil War historian[friend of your brother in Fairport] I can now confirm that Robert Lincoln did visit the Pullmans on your fantastic Island.I once kept a boat at the TI Club,and I would always enjoy looking at your Island as I went by,I can only imagine how beautiful your Island is in the Winter!
Comment by: Herb Swingle
Left at: 9:11 AM Thursday, January 29, 2015
---
Great Article,and you must be a true,nature lover!
Comment by: John McCullough
Left at: 11:34 AM Saturday, January 31, 2015
---
great pictures, great article, and so true
Comment by: Janet Patlow
Left at: 3:31 AM Monday, March 23, 2015
---
Richard---Thanks for the article and photos. I haven't visited the 1000 Islands since I was a kid; despite your vfivid descriptions, I think I'll wait for summer to go there again. Imagine owning an entire island ! Janet