Written by
Susan W. Smith
posted on January 13, 2015 12:36
There is no place like home and for many, home is the Thousand Islands. 
Thomas K. Hunt, a poet, says this is where his roots will be, forever!  We met him on Facebook when he shared a poem with TI life. Tom, has been away for almost 38 years, first in New Jersey and now Florida, but he returns every year and suggests that all his Clayton friends, whether they live in the North Country or not, still feel the same way.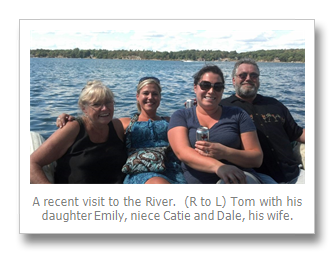 Tom graduated from Thousand Islands High School in 1976.  Maybe you remember him as a bartender at O'Brien's? 1976 was the US Bicentennial and the summer had a "big oil spill" on the River.  He moved to Florida in the fall of '76, thinking he would take a year off and then go to college.  But as he says, "life happens" and he moved back to Clayton in 1979 and once again was a bartender at O'Brien's.
"That was the best summer of my life." He claims.  Then a job opportunity came from New Jersey to work for an oil-spill clean-up company.  He spent the next 20 years there,  met his wife Dale, and raised a family.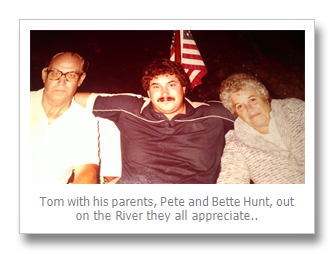 "I didn't start writing until I moved away in 1976. I started missing what I had, growing up - both friends and family - and just started writing about them. The words seemed to flow at times and it just felt so natural.  One of the first poems I wrote was "I long to be in the Islands."  I remember writing it and the asking myself, wow, did I write that?"
The Hunt family is well-known in the region.  Tom's father, Joseph (Pete) Hunt, was born and raised in Alexandria Bay.  A fighter pilot in World War II, he met his wife, Bette, in Ohio in the 1940s. When they moved to the River, they settled in Clayton.  Pete died in 1983, at the age of 60 and Tom's mother, this past November at 92. Bette spent many years working to support the River Hospital Auxiliary.  Tom suggests that even though she was not born in the Islands, she was a true Islander.
The following are a small sample - Enjoy.   (Photographs shared by our TI Life readers)
I know it's an Antique

by Thomas K. Hunt

Through beers and tears
Through card filled night
They played their games
But in the morning light
They were back at their trade
Making them right
The way they ride through the river
It's such a beautiful sight

They made something from the right thing
They made it sturdy and strong
They knew what would happen
Avoided what could go wrong
They put it all together
Then others came around
These were the boat builders in our town
They made them slick and fast
They made them long and lean
We know they made them to last
They are living testimonies

Do you just cruise around?
Do you still go for speed?
I know it's antique
I can tell by its sleek
They knew what they were doing
They understood the need
They built them for pleasure
Not one thought of greed
They did it right
They're still holding tight
They don't make them like that anymore

Sit back easy, go as you go
In your mind you already know
You're going to throw that throttle
You're going to let that beauty fly
Just out of respect you're always going to try
They'd be proud today to see the way we parade their pride
Who knows maybe they're along for the ride
They just get lost in the sound
They were the boat builders in our town

Copyright © 2015 Thomas K. Hunt

 

The River Still Flows Through​

by Thomas K. Hunt

Here's a little something I'm sure you'll relate
About the river that flows from a lake
When you hear this I know you'll agree
This is the place for you and me

The beautiful Saint Lawrence flows
It runs out across this land
Flowing through so many souls
I see now was nature's plan

Her waters surround a sacred place
To live there you would know
Nourished by the fresh clean air
The soil's rich and the roots take hold

Baptized in her waters
She then flowed within my soul
As she does with all the others
Strays, that still call it home

I wish I was on the edge
Standing on her shore
If that wish did come true
I wouldn't wish for anything more

Bathe me in her cool spring waters
Let me walk her frozen path
Passed down from sons and daughters
From the legends of their past

All the children know the feel
From the river where they got their start
I know now that you agree
This place holds your heart

I wish I were there sitting next to you
I remember you from a younger day
I remember the smile in your eyes
I remember you no other way

We knew that was the place
We knew it from the start
We could see it in each other's face
We still feel it in our hearts

Living under circumstance
Forced to be on the roam
Longing for that day to come
The day we make it home

You may get out of the water
But the river still flows through
No matter where you go my friend
The river's going to flow through you

Copyright © 2014 Thomas K. Hunt

Loving Memories

by Thomas K. Hunt

People with smiling faces have the hearts to feed the world
Smiles come from the heart
They should plant their smiles before they disappear
We need beautiful smiles to blossom every year

Nickel candy at the corner store
You know the one I'm talking about
Everything that was near was far
I could call you with just a shout

We'd yell "gun it" to the captain then we'd jump right in
Rode that backwash down the river for another spin
Laid back and enjoyed the thrill of those rides
We did it right there off of Riverside Drive

It was the center of the world
Right there where Mary meets John
Close your eyes and picture that time
Go on travel back in your mind

The innocent days enjoyed so many ways
Just the thought should bring a smile
I'm sure you're smiling right now
Smiling of a thought you haven't thought for a while

Kicking hard to reach the sky
Little faces in the sun
Minds full of the why's
Surrounded by a river of fun

It doesn't matter of the time
It's there to cross the mind
It's always been on track
Creating memories to bring back

Think back to when you stood there too
There's been more than a time or two
You've been traveling, you may be right there
Dig up a smile go on and share

No matter how far you roam
No matter how far you've gone
It's still the center of the world
Right there where Mary meets John

This is all about you
Bring back your own memory
This is who you are
Share a smile between you and me

You don't have to be alone
Plant your smile in the ground
Harvest before it ripens
Don't let it turn into a frown

You can always find another
They should be planted all around
They're so easily addressable
They're so easily found

I just had a sweet memory of you
I'm smiling once again
This time for something new
This smiling thing never ends

It comes from the center of the world
Right there where Mary meets John
Close your eyes and picture that time
Review a loving memory in your mind

Copyright © 2014 Thomas K. Hunt

My Home

by Thomas K. Hunt

Birds have flown south with the last fall breeze
Bright colored leaves lay scattered from their trees
As winter slowly steals the scene
Clean crisp air surrounds us
We pull our coats in tight
We scurry through the shortest days
We prepare for the longest nights
Soon the river will be frozen
A constant in the circle of it's life
Closing the gap between the islands
Brought together by fields of white
A portrait laid out on natures canvas
A vision of beauty seen with any eye
The nights are cold but warming
As you gaze at the star filled sky
There is peace and solitude in my paradise
My roots from there still grow
Among the snow, wind, and ice
Will always be my home

Copyright © 2014 Thomas K. Hunt

 

Song of the River

by Thomas K. Hunt

Long ago

Next to my window in the night
I'd find my bed and lie down
Turn my head just right
And listen for the song of the river

Flowing within its rhythm
A wave crashes with a rock
A bass breaks the surface
A lone goose trails his flock

Some midnight cruiser
Heading for home
Hear the hum of his engine
A fading pitch tone

The roll of the Lakers
Keeps the beat along the way
Two pass each other in stereo
Then the horns begin to play

A peaceful easy feeling
Yes that's another song
But your senses get reeling
This is where you belong

The melody of the river
Is free and there for you
Just turn down your volume
Let that symphony come through

As for me, I'll bide my time
Keep dreaming of the day
To hear the song of the river
That river shore can play

Copyright © 2014 Thomas K. Hunt

Blossoms in the Wind

by Thomas K. Hunt

Blown away like others
Others yet to come
Carried south by a northern wind
Is a son of a St. Lawrence son

Separated by necessity
Forced to choose another way
Dreaming of the setting sun
Reflecting ambers across the bay

The river lives forever
Perpetual flow of fresh and clean
And like his father before him
He knows what the river means

The innocence of childhood
The wisdom of the old
The beauty in a summer night
The winters long and cold

The simplicity of friendship
Effortlessly taken in
Hearts joined together
From beginning to the end

Buried in the fertile ground
Separated by the known
Family members all laid down
Under rows of faded stones

Each their own Gardner
Sowed their seeds to reap more
Blossoms carried with the wind
From roots by the St. Lawrence shore

Copyright © 2014 Thomas K. Hunt

Autumn in Clayton

by Thomas K. Hunt

Step into the breeze
At summers end
It's your favorite time
It's Fall again

Put on a sweater
Maybe wear a hat
Time for the Witch's cat
Everything's golden, yellow, and red
A pile of leaves
Make a colorful bed

Distant cheers from a football field
The hero scores and his fate is sealed
Once in glory
A small taste of fame
That's not his story
He just loved the game

Every year you live for this chill
The one that falls
Over McCarn's hill

The echoing burst
From a blind that has sight
So many fly away
To rest their wings at night

It's not a season
But a feeling inside
A full bright moon
Fills the night sky
Millions of stars
Diamonds of light
Autumn in Clayton
On an October night

Copyright © 2014 Thomas K. Hunt
Thomas is a member of Pathetic.org, a poetry circle originating at California State University, Fullerton campus.  Be sure to check out his material.  In addition he has an active facebook page.
By Susan W. Smith, Editor, info@thousandislandslife.com