Before he died, our neighbor Bill Wood, a part-time handy man on the island, always said that you can find anything you need for any project… somewhere on Grenell. Woody, as he was affectionately referred to by islanders, meant that stored beneath the cottages on Grenell were materials for any building project. And, Woody had been under enough cottages on the island to know. But as it turned out, his words resonated as I prepared for a photo shoot at Rock Island Lighthouse.
We can see the Rock Island Lighthouse from our front window both day and night. Every year, we visit Rock Island and walk around the grounds. I was excited when restoration began in 2010, I couldn't wait to see the restored interior. Three years and $1.5 million later, I had my chance. In 2013, when I got to the stairs inside the Keeper's House, there was a cord across the stairway with a sign, "Employees Only." I was told the upstairs was reserved for two brides' rooms.
What a lovely venue for a wedding. I'd been meaning to call early in 2014 to see if I could write an article about weddings at the lighthouse, but didn't make it over to the lighthouse until the end of August. I spoke with the site manager and told her I would love to write about weddings at Rock Island Lighthouse. She told me that they didn't have any weddings booked before they closed on September 15, but I could bring a bride and photographer for photos if I wanted… and oh, by the way, her last day was September 1st.  (Note: Deb Spry, is the Historic Site Assistant for NYS Parks-Rock Island Lighthouse.)
That gave me three days to find a bride and a photographer. My first thought was to find someone who got married this summer and ask if she would like pictures taken in her wedding dress at Rock Island Lighthouse, I called a bride from Maple Island who was married earlier in the season, but her dress was in the process of being cleaned and preserved.
Hmmmm; Cleaned and preserved? Wait a minute…I'd run across a dress box a few years ago at the top of the storage closet. I figured it was Gary's mother's wedding dress. It was sealed. Gary's parents got married in 1944, so it was 70-years-old this year. I got the dress out and it was in great condition. It took 2 hours to iron it, but once ironed, I hung it up and wondered how to find someone to fit into it. It was tiny. The train length veil that was packed with the dress needed to be fluffed and freshened. Found out from a newspaper clipping I found with the dress, that the veil was something Gary's grandmother had worn at her wedding over a hundred years ago.
As luck would have it our new neighbor had wandered over the day before with his 16-year-old daughter, Adrien. She would be perfect and after walking over to talk to her father, he said she would be happy to do it.
I had a dress and a "bride" now all I needed was a wedding photographer. Yes, I found that on Grenell as well. Another new member of Grenell Island is Larry Asam. Larry is a professional photographer who happens to do weddings. I emailed Larry and was relieved to hear that he and his wife, Kym, would be driving from Vermont and be at the island late Friday night. He brought his photo equipment and was willing to take valuable time from cottage work to do a photo shoot. Kym, who was in the process of planting perennials, was also willing to come along to assist.
Woody was right. I'd been able to find everything I needed for the photo shoot right on Grenell: a "bride," a 70-year-old wedding dress and a wedding photographer. I kept my fingers crossed that it wouldn't rain. It was a windy day and there were lots of white caps on the water as we crossed from Grenell to the Rock Island Lighthouse, but the rain held off. I couldn't believe my luck.
We arrived late in the afternoon, 3 hours before closing time. Okay, so maybe this whole thing was a rouse so that I could finally have someone remove that cord and I could go upstairs. Couldn't believe how excited I was when I was finally on the other side of that cord. When I got to the top of the stairs, I saw two rooms—one a light gray with a lovely, full-length mirror. The other bride's room was cream colored with a fireplace. Larry really liked the lighting in this room. He also took a few pictures of Adrien in the stairwell. With the interior shots out of the way we went outside.
I can't tell you how I felt seeing my mother-in-law's satin 70-year-old dress shimmer in the late afternoon light. Larry and Kym are inspired photographers. The shots were gorgeous. Larry asked my husband, Gary, to hold his grandmother's train length veil up, and when he was ready, asked him to let the train go. It floated-out over the water as Larry clicked away. It was magical.
I was just an author gathering photos to accompany this article, but still I felt a little like the mother of the bride, especially when a passing freighter tooted a salute when he saw the bride standing on the shoreline. Of course I had a personal attachment to that 70-year-old dress and the 100-year-old veil. If I'd only known it was up in the upstairs closet, my daughter could have worn this dress at her wedding in 2001. And the lighthouse! What an enchanting setting that would have been for her wedding. Of course, my daughter was married 13 years ago and the Rock Island Lighthouse hadn't been revamped yet. I can't rewrite the past….but I do have three granddaughters.
I wonder if Woody's adage will hold and someday, and one of my granddaughters will find a groom on Grenell.
Lighthouse Wedding
Looking for a breath-taking destination wedding? I have a venue for you.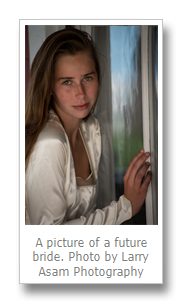 There are lots of venues for weddings in the Thousand Islands…there are castles, turn-of-the-century mansions and storybook chapels (like the one on Grenell), but imagine getting married at a lighthouse.

Even though I grew up surrounded by corn and soybean fields, I've always had an affinity for lighthouses. They're so romantic, standing on the water's edge. To me they are about love and commitment…waiting for that someone special who is out there somewhere. Lighthouses are a symbol of strength, guidance and hope. Imagine how excited I was when I first came to Grenell Island with my fiancé and realized our view of the channel included the Rock Island Lighthouse. Oh, if only it had been available for weddings back in 1976!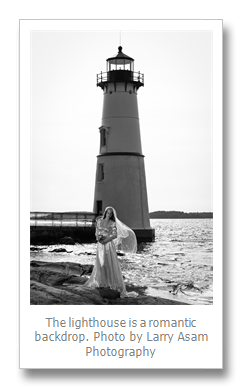 Rock Island Lighthouse, now a New York State Park, recently underwent a 3-year, $1.5 million renovation, which garnered a State Historic Preservation Award in December of 2013.
The views from Rock Island are spectacular.  You can see upriver to Clayton and downriver past the Thousand Island Bridge. Across the channel from Rock Island sits picturesque Thousand Island Park. The possibilities for venues are endless.
The Keeper's House, built in 1884 offers two bride's rooms. One has a grand mirror perfect for photos. The other has a fireplace. Professional photographer, Larry Asam, raved about the light in the cream-colored fireplace room. The curving wooden staircase also created a wonderful venue for pictures.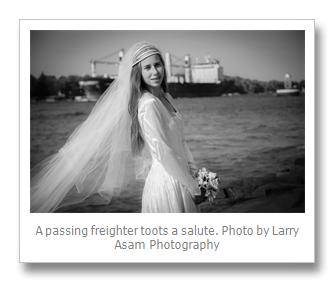 What's the best way to get to this remote destination? Transporting people and materials to and from islands is a daily challenge for islanders, which increases exponentially when you're talking about wedding planning.
A good place to start is Clayton Island Tours, which offers a daily shuttle service to Rock Island during the summer season. They also provide private charters. Last season one of their captains married a couple aboard the Miss Clayton and went to Rock Island for pictures afterwards.
If you've ever dreamed of getting married at a lighthouse, Rock Island, Lighthouse NY State Park may be the venue for you.
By Lynn E. McElfresh
Lynn McElfresh is a regular contributor to TI Life, writing stories dealing with her favorite Grenell Island and island life. You can see Lynn's 70+ articles here – as she helps us move pianos, fix the plumbing and walk with nature. During summer 2014, Lynn researched a number of new topics that she is sharing throughout the winter… Enjoy.