Written by
Susan W. Smith
posted on February 13, 2015 12:22
Throughout this past month, the name Doug Grant has overtaken my Facebook alerts and I am happy it has.
He has, just last month, opened a group Facebook page entitled 'Historic Brockville'.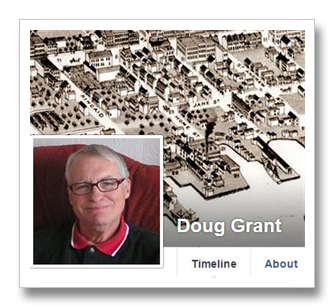 It is not often that one individual will take the time and energy to share hundreds, if not thousands, of pieces of historical information so freely, but that is just what this Brockville gentleman has done and I want to thank him personally and on behalf of our Thousand Islands Life readers.
Back in 1997, Doug Grant was honoured for his long-time contribution to preserving the City of Brockville's heritage. the City Council and the Mayor at that time, Bob Huskinson, presented Grant with a certificate from the Ontario Heritage Foundation. The award was just one of a long list of accolades given over several decades, including being awarded 'Citizen of the Year' in 1992.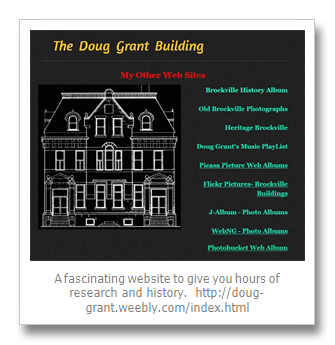 Doug hails from Scarborough, Ontario and Toronto, graduating in 1966 as an Architectural Technologist from Ryerson Polytechnic Institute (now Ryerson University). In 1972 Doug's career turned to teaching by attending the Ontario College of Education in Toronto and soon after began teaching Architectural Drafting at South Grenville District High School in Prescott, until retiring in 2000.
Throughout the years, he developed his main interest in Canadian History and more specifically, Brockville's history. He joined the Brockville & District Historical Society and helped establish the Brockville Museum in the 1990s, serving on the board and as president.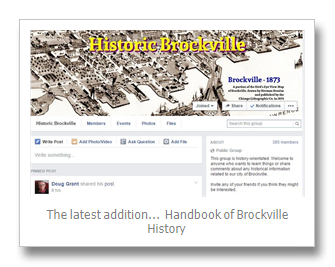 In 1998 he was asked by the editor of Brockville's 'Recorder & Times' to contribute a local history column to the newspaper on a weekly basis. This historical picture feature was named 'Doug Grant's History Album'. Later he created articles for 'Living In Brockville', 'The Brockville Voice', and 'The Observer'.
Today he is still involved on committees such as Heritage Brockville, the Brock Trail Committee, the Brockville Railway Tunnel Committee, the Brockville Cemetery Board, and he can be found on the Internet where he has built three 'History WEBlogs' of local Brockville history.
The latest one is the 'Handbook of Brockville History', [https://brockvillehistoryhandbook.wordpress.com/ ] was launched in November 2012, and has already gained 18,264 visitors from 82 countries, quite an appreciative audience – leading me to say, once again: Thank you Doug Grant!