A "Monster" muskie was caught in the Thousand Islands on November 28th by Ottawa resident Dale MacNair who was with his girl friend, Julie Cashaback, and their experienced fishing friend - Sal Rotolo of Gananoque.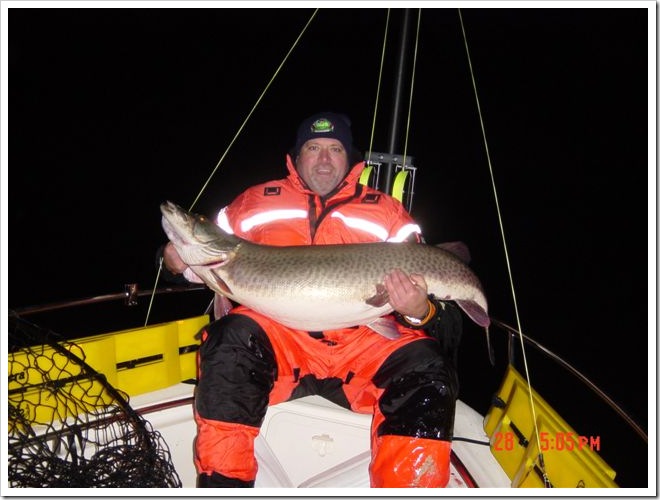 Photo courtesy Dale MacNair
Dale MacNair with his 57X33 inch 40-Acre Shoal Muskie
Since the story broke, Dale has given dozens of interviews, resulting in more than two dozen citations on popular fishing web pages. This includes appearing in Chicago at the Annual Muskie Show in early January, in which he describes how he caught the fish and how his partners helped make it possible. Also, Muskie Canada invited Dale to Gananoque where he was honoured by Mayor Jim Garrah who inscribed Dale's name on the famous Muskie Board.
If a picture is worth a 1000 words, hearing Dale tell about his catch is even better! Click on the link(s) at the end of the article and hear Dale explain how they went into "Success" mode with each member of the team having specific responsibilities. One interview in particular, "Dale MacNair's 57X33 inch Monster Muskie", with Steve Sworrall from Outdoor.com, tells exactly how Dale caught his fish. It is a true drama, taking into account the harsh November weather and as Dale says, "thinking outside the box".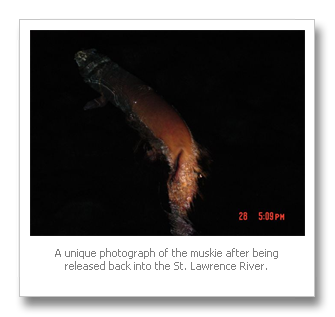 Julie normally would have manned the landing net but she gave that over to Sal while she took the helm and moved the boat away from the shoal. Fortunately, the muskie was brought on board, quickly, and they measured the fish, not once but twice. It measured 57 inches long, 33 inches girth (145 cms. long by 84 cms. girth). Experts calculate Dale's fish weighed 65.4 pounds.
 After measurement came the most-important decision of the day: keep or release?
Muskie's are relatively rare and Muskie Canada supports the Province of Ontario in regulating both size and catch limits in order to maintain the fisheries. As a result, most muskies are released so that they will continue to help the species increase in numbers.
Dale's interviewers all asked the same question. "How did you feel about releasing your truly record catch? And, he never hesitated. In fact, he explains how he and Julie placed the Muskie on a specially designed platform and began lowering the fish back into the St, Lawrence.
 "She rolled over", said Dale with genuine disappointment. He knew that an improperly released fish will die. Therefore, he was elated when he turned her head and she literally flew back into waters of the Forty Acre shoal.
And what does Dale have to remember his magnificent catch - which set a new Canadian world record for the world's largest catch and release?
Lax Reproductions of Conover, Wisconsin has reproduced the fish and has placed her in the way Dale first saw her - leaping out of the water.
By David Ray and Susan W. Smith
Editor's Note: Muskie Canada and organizations like the Thousand Islands Association/TIA  (Gananoque,ON), Save the River (Clayton NY) and SUNY EFS's Thousand Islands Biological Station (TIBS) should be proud as they created the 1000 Islands Muskie Release Program in 1987. The specially created certificate with Michael Ringer's Muskie is still given in recognition to those fisherman who, like Dale MacNair and his fishing party, help preserve our fisheries.
Recommended links:
http://muskie.outdoorsfirst.com/watch.asp?id=1330 – Video from the Chicago Muskie Show – 5.3 minutes.
Dale MacNair's 57X33 inch Monster Muskie, 15:20 minute Radio interview by: Steve Sworrall , on December 8. Well over 3,800 hits to hear this remarkable story.
Frabill nets interview with Dale MacNair 2:18 video by: WalleyeFIRST, on Decmeber 9, 2009.
To keep or not to keep - that is the question, Milwaukee Journal Sentinel, WI - Jan 14, 2009
Outdoors report, Northwest Herald, IL - Jan 12, 2009, We'll never know because Canadian angler Dale MacNair released a gigantic muskie Nov. 28 that purportedly measured 57 inches with an astounding 33-inch ...
Ontario's Fishing Forum comments on the Dale MacNair story
Muskie Canada: Release Journal, December 8, 2008.