Grindstone explorers, who study a topographical map of Grindstone Island, will note a Bench Mark out near Grindstone's Lower Town Landing, labeled "Vandergrift." The natural question would be: who was he? In 1901 Samuel Henry Vandergrift purchased 100 acres on Grindstone Island from Peter Mayer and William Harwood. Here, at his Oak Grove farm, he raised Holstein and dairy cattle; George Hawn was farm manager.1
S. H. Vandergrift was born to banker and oil executive Captain Jacob J. Vandergrift, who was a major player in Rockefeller's Standard Oil, in charge of Standard's pipeline operations.2 S. H. Vandergrift was born in Oil City, Pennsylvania, on 30 June 1866; he was educated in Oil City schools.3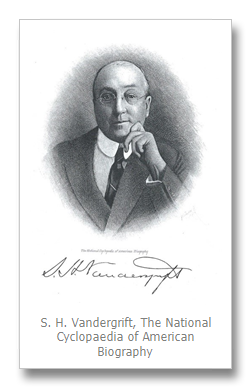 After schooling, Vandergrift entered his father's banking and oil businesses. He was vice-president of the Apollo Iron and Steel Company, director of the Pittsburgh Trust Company, Keystone National Bank, Natural Gas Co. of West Virginia, and several posts with the Pennsylvania Tube Company. At middle age he retired from business to devote himself to the managing of his father's estate,4 which at his father's death in 1899, was estimated at $36,000,000.5
S. H. Vandergrift purchased Long Rock (AKA: Wilson) Island, 3 October, 1900 6 for $5,000. He began construction of his summer home. Albert Backus, a contractor from Ogdensburg, added an addition to the Long Rock home, in the summer of 1904, the year before he had constructed the water tower "said to be the finest tower on the river." 7
Vandergrift, in keeping with his palatial summer home on Long Rock, acquired a new yacht in 1903. The Cherokee I, Vandergrift's first yacht, was sold to Colonel T. H. Johnson and was re-named the Winona.8
The steam yacht Cherokee was built by Charles L. Seabury Company, of Morris Heights, New York at a cost of $65,000. It was brought to the Thousand Islands via the Oswego Canal and due to its length of 120 feet, the detachable bow and stern were shipped by rail. 9 The Cherokee had four staterooms, bathroom, toilet, and living room. The owner's stateroom was furnished in white mahogany, while the balance were plain mahogany. She was equipped with electric lights, with power supplied by a generator in the engine room. Captain G. T. Rutland of Long Island and Chief Engineer E. W. Broadway of Clayton, New York were in charge of a crew of ten. 10 A new dock was constructed 150 feet long by his Grindstone property, to accommodate the yacht.11
Vandergrift enjoyed shooting, fishing and racing; not only the formal racing, but the occasional challenge from one of his millionaire friends. As in July 1907, when aboard the Cherokee, he raced against Charles G. Emery's Nina, from Kingston to Clayton; the Nina won by a quarter mile.12
Vandergrift was very interested in power boat racing. His boat Comanche participated in the famous Frontenac Yacht Club's six mile triangular13 course races in 1905.14 The 66 foot 6 inch Comanche was designed and built by Charles L. Seabury with a beam of 6 feet. The design speed was thirty miles per hour, powered by a nine cylinder gasoline engine.15 Power boat racing had become so popular that he was involved in the formation of the first Clayton Yacht Club, in 1905. It was felt the Club was needed for an additional racing venue. He presented the Cherokee Challenge Cup at the club's 1905 regatta.16
Like many of the millionaires that populated the Thousand Islands, during the Gilded Age, Vandergrift invested in river real estate. Perhaps his largest investment was the Prospect Park or Bartlett Point Development, begun in 1903. The plan was extensive, with an addition planned for the Manatauck Hotel and the acquisition of property,for subdivision, into 350 building lots, many on the river front. Sewer and road construction were included in the sale price of $125,000, in 5% bonds; Vandergrift invested in the project and served on the board of directors.17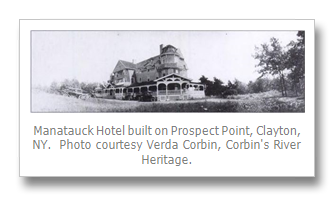 Vandergrift was also instrumental in the construction of the Thousand Island Park Golf Course, serving as a director.18
Not only investment with an eye for profit, but a number of charitable donations, including $50 to the Clayton School, with a matching grant from the state, for the purchase of historical pictures, in 1901.19 The Clayton Fire Department was given a steam whistle to sound alarms;20 he also donated a clock, which was installed in the Opera House (AKA: Town Hall) Tower, both gifts were given in 1907.21
Four years before his death, in Washington, D.C. in 1926, he was involved with the Clayton Radio Club with the idea of connecting the island homes with radio. He installed the first one at his place on Long Rock. 22George Cox ordered a "General Electric special radio set, which he will have installed at his summer home on Grindstone Island.23
Samuel and his wife Alice (nee Mercer) had one child, Alice; who married George Angus Garrett of Chicago, a banker, on 18 January 1913;24 they had one daughter, Margot Garrett. On 7 July 1930, Mrs. Alice Vandergrift Garrett married George Anderson Gordon, U. S. Counsel in Berlin, at the American Legation in Dublin.25Records show that George A. Garrett remarried, indicating they divorced.
References

[1] Jefferson County Clerk's Office Deeds Book 298 Page 174

[2] The American Petroleum Industry: The Age of Illumination, 1859-1899, Evanston, IL 1959, Page 168

[3] The National Cyclopaedia of American Biography, Page 368, James Terry White Publisher

[4] Ibid

[5] Encyclopedia of American Wealth

[6] Watertown Re-union, 3 October 1900 Page 8

[7] The Ogdensburg Journal, 23 April 1904 Page 6

[8] Syracuse Post Standard, 17 January 1903

[9] Ogdensburg News, 6 May 1903 Page 1

[10] Ibid

[11] Syracuse Herald, 17 May 1903 Page 17

[12] The Watertown Herald, 27 July 1901 Page 7

[13] The Ogdensburg Journal, 21 July 1905 Page 4

[14] New York Herald, 17 July 1905 Page 10

[15] New York Herald, 26 July 1904

[16] Watertown Herald, 2 September 1905 Page 1

[17] Utica Sunday Journal May 1903

[18] Syracuse Post Standard, 2 July 1917

[19] Watertown Daily Times, 11 May 1901

[20] Cape Vincent Eagle, 16 May 1907 Page 1

[21] The Massena Observer, 30 May 1907 Page 2

[22] Watertown Daily Times, 14 July 1926 Page 11

[23] Ibid

[24] New York Herald, 29 September 1912, Page 11

[25] New York Times, 5 July 1930 Page 9
By Rexford M. Ennis,
Copyright 2014 Rexford M. Ennis All Rights Reserved
Rex Ennis has written several articles for TI Life. His bio is recorded in Contributors, in December, 2008. In the past two years Rex has published two important books on the Thousand Islands. The first, published in 2010 is Toujours Jeune Always Young, the biography of Charles G. Emery was reviewed in the June 2010 issue. The second, Saints, Sinners and Sailors of the Gilded Age: A compendium of biographical sketches, centered on the Gilded Age in the Thousand Islands, describes the biographies of every name appearing on a 1889 map, published by Frank H. Taylor, called: "Map of the Thousand Islands; Hotels, Parks and Cottages." See the book review in our July 2011 issue; you will find the map described in the July issue, in the August 2011 issue. Luckily for TI Life readers, Rex is hard at work on a new book – so stay tuned.