It had been 99 years since a member of the E.R. Holden family visited Thousand Island Park.  However, this past summer in 2014, his great great grandchildren travelled from Florida and New Hampshire to take part of the re-dedication of the Holden Library.  
The Landmark Society hosted the event, while earlier in the season, both the Thousand Island Park Corp and Landmark Society, jointly contracted to have the original designed Library stairs reconstructed and installed.
I was invited to share my research on Edwin Ruthven Holden, his wife, and family, and as luck would have it, significant additional information has been discovered in subsequent research, by TI Park resident, Ann Davis.
Who was ER?
Edwin Ruthven Holden, (known as ER) was born in Charlotte, Monroe County in 1836.  His father, Giles Hubbard Holden, was a successful Merchant/Farmer and would be appointed the 2nd Lighthouse Keeper at Charlotte, on the Genesee River.
Much, has been sought of where the 'Ruthven' name came from – as there is no record of it on either side of the family. In 1835 one of the most popular adventure books was "The Scottish Chiefs". This is the story of William Wallace and his adventures, with his "Right Hand" man Edwin Ruthven. The safe assumption -  this is where ER's father or mother found his name.
As an adult, he and his brother Erastus Franklin Holden, entered the coal business in Syracuse NY. Subsequent events allow us to conclude that they must have been extremely successful. 
In December of 1858, at the age of 22, ER married Emeline Theodosia Foreman, of Syracuse NY, in Sterling, Illinois. Emeline was born March 2, 1828 in Ellisburg, Jefferson County, NY (west of Adams, NY.)  The family at a later time moved to Sackets Harbor, NY.  Here, all of her siblings would be born, Her father worked as an architect, and subsequently moved the family yet again, this time to Illinois.
ER's expertise was Anthracite Coal, known as clean coal. Anthracite Coal was mined close-by in Northern Pennsylvania. "The Coal Journal", a historical journal of the time, acknowledged ER Holden as the individual that "introduced Anthracite Coal to the West!" (The West at this time being Chicago.)
ER proves to be so talented in the coal business, that in 1860 the Delaware Lackawanna and Western Railroad,  hired him away from his business in Syracuse, with a new job directing the Delaware Railroad's coal operations.
The Civil War years proved prosperous for many in the North. It was, in fact, a Boom Time! ER's work would prove to be no exception. In 1867 he receives a major promotion and by 1880 is appointed Vice President of the Delaware Railroad.
This was the "Gilded Age" as named by Mark Twain, and in addition, labeled the era of the "Robber Baron's". It is safe to assume that ER could be labeled as such. At that time, the Delaware Railroad had a total monopoly on all Anthracite Coal shipped West. It is also important to note, that what he, his Company, and others participated in -  was not illegal at that time.
It was his business financial success that will allow us to identify ER Holden as part of what was then the 1%! He was a millionaire when the country could boast only 4,000 to 5,000 such individuals. Obviously ER Holden was part of a select group.
Then, in 1892, ER Holden was in the headlines. He had been called to testify before the New York State Senate Coal Investigating Committee. This committee was investigating "Alleged" price fixing by the Delaware, Lackawanna and Western Railroad, other coal producers, and transporters.
The N.Y. Times , on July 22nd 1892 described ER Holden; "Mr. Holden is a stoud, florid, old gentleman, with flowing sideburns and a very poor opinion of the public generally, and Newspaper people in particular." This would prove to be a tangential distraction for ER, with little or no consequences.
What is the TI Park Connection?
So the question we continue to ask is, – "How did the Holden Family find the Thousand Islands, and more importantly Thousand Island Park? At the time, they arrived at Thousand Island Park, they were residing at the very upscale address of 13 East 79th Street, New York City. While their children, Edith Holden Babcock, Edwin Babcock Holden, and George Albert Holden were born earlier, when the family lived in Syracuse.
Could the family have visited the River previously?  We know that Mrs. Holden's early childhood was spent in Sackett Harbor. Perhaps she still had family living locally. 
The Thousand Islands would gain national notoriety, when President Grant visits George Pullman in 1872. Could it be his Railroad connection with George Pullman, that brought ER Holden to the River? The Delaware and Lackawanna had a terminus in Oswego. Passenger ships were then available to transport passengers to their final destination at Clayton, Thousand Island Park, Alexandria Bay and other River destinations. Was it this ?
Jay Gould, one of New York's wealthy citizens, was a Railroad man and would have known ER Holden; was he perhaps the link? After all, in the Summer of 1895, Helen Miller Gould, the daughter of this railroad tycoon, would host the Swami Vivekananda, at her cottage in Thousand Island Park.
However, ER and his wife were Unitarian's, not Methodist, so it was unlikely that it was  religious denomination that brought them to Thousand Island Park.
Thus we are confronted with a true mystery.
Thousand Island Park was established in 1874. It would be the Summer of 1875, that building activities begin in earnest.
The Park was founded by Rev Dayan as a Methodist Campground. This would follow the establishment of another Methodist Camp, founded the preceding year, in Chautauqua, NY.  Both would share similarities in style, religion and concerns that were universal to the "Campground Movement". The first year saw construction of Platform Tents. These Tents were pitched well away from the shoreline, as protection from the wild weather that is so typical of the St Lawrence River.
1876 Is the Centennial Year, one see's the replacement of many Tents with Wooden edifices. These tiny Cottages literally would appear to be Wooden Tents.
Holden's time on the Park
1881 or 1882: ER Holden acquires four lots on Coast Avenue in Thousand Island Park,  and constructs a palatial Summer Cottage. An architect may have been hired in NYC. In fact, Emeline Foreman's Father, was an architect, and was alive at this time. Hopefully, additional research can clarify who was the designer.
1883:  Summer sees the Holden's erect a Tennis Court for their Guests on the TI Park Green.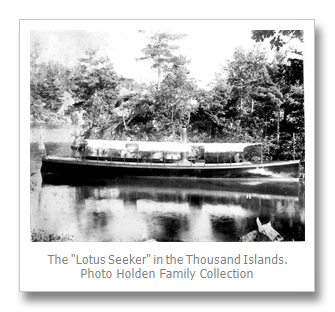 1887: The Holden's construct a special dock to accommodate their, soon to arrive, new steam yacht, Lotus Seeker.  the Dock was built at a price of $4000 ($110,000 in today's dollars) This would be the first of two boats owned by the Holden's and each named the Lotus Seeker.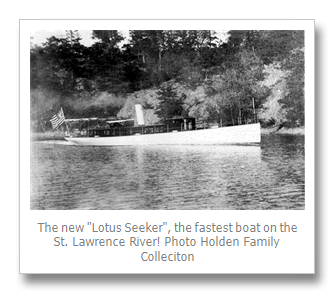 1888: Construction begins on a significant Boat House to accommodate the Lotus Seeker.  The steam yacht was built at a cost of $15,000 ($390,000 in today's dollars) Photo's picture it with gleaming varnished hull and white canvas roof.
1890: An August Fire, will destroy the Thousand Island Park Hotel. This was a significant blow to this summer community. Assurances by the TI Park Corporation were provided, that it would be rebuilt.
1892: The Columbia Hotel is built. This is the replacement of the Thousand Island Park Hotel.
1892: The Holden's had engaged Nathaniel Herrsehoff, in 1891, to design and construct a fabulous steam yacht for the Holden family. The previous Yacht being too slow for Mr. Holden's taste.  This new craft would also carry the name "Lotus Seeker". This new yacht would, for many years, be the fastest Yacht on the St. Lawrence River. This ship featured a 10 1/2 foot beam, and measure 72 feet in length.  the Yacht cost $25,000 ($650,000 in today's dollars.)
1899: ER retires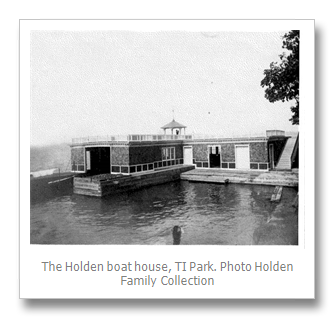 1902: United States Supreme Court Lawsuit over "Riparian Rights"

This litigation involved the Holden's and their neighbors the Gridley's. The Gridley's had been granted a permit to construct a Dock by Thousand Island Park Corporation . The Dock was to be constructed over the Winter months, and was not to block the Holden's egress, and/or ingress, in any way. In fact, the Gridley's had been disingenuous when they applied for the permit. In truth, they built a Dock that did indeed block the Holden's waterfront. A lawsuit and litigation resulted, with Thousand Island Park, a party to the suit. This case would eventually climax at the United States Supreme Court. The Holden's prevailed!

The US Supreme Court ruling is why, TI Park continues to own the land under the River, extending outward to a distance up to 150 feet. The litigation cost the Gridley's over $4000 ($110,000 in today's dollars)

1902: Tufts University, at this time a Unitarian institution, awards ER an AM Degree. The school has no record of ER having made any financial contribution, nor did any of his offspring attend Tufts.
Why a Library?
In 1902 Mrs. Holden commissions an Architect, to design the Library erected on Thousand Island Park. The cost of the Library upon completion approached $8000, this would include Books and Furnishings. ($250,000 in today dollars)
Reasons Why? Did she perhaps personally know Andrew Carnegie, who was underwriting the construction of Public Libraries all over the North East? Certainly she would have been aware of his endeavors. The Holden's lived at a prestigious address, in the same city as Carnegie. Undoubtedly they attended similar social functions and events.
Her son Edwin Babcock Holden, (The Great Grandfather of our attending Heirs) was a premier American Bibliophile.  A longtime member, and one time President of the Grolier Club. His collection included first edition early American and English authors, rare prints, etchings and engravings. Also in his collection were  portraits of both George Washington and Benjamin Franklin. In fact his collection was acknowledged as one, if not the finest American collection in existence at that time.
Unfortunately Edwin Babcock Holden (1861-1906) would die prematurely in 1906. At the time of his death his net worth was estimated at $16 million dollars in today's money.  He was buried in Woodlawn Cemetery, N.Y.C., beneath a monument designed by, the Architect Augustus N. Allen.
The significance of this will become very obvious later in this article.
As previously acknowledged, Edwin Babcock's extensive collection was renowned in the United States.
Edwin Babcock Holden's Estate, would divest itself of his collections thru multiple sales and auctions. One single auction in 1910 spanned 10 days, and the Manifest consisted of over 894 pages. The vast majority of his collection was purchased and remains in the Frick Collection in NYC.
Was it Edwin Babcock's, Mother's love ofbBooks, passed to the son, that encouraged Mrs. Holden to build the Thousand Island Park Library? Is this the cause?
Who was the Architect?
Architectural authority, Dr. Christopher Thomas was invited by the Thousand Island Park Landmark Society, to provide a presentation at the 2014, Summer function. He would offer anecdotal evidence to support his conclusion, that the designer of the Lincoln Memorial, Henry Bacon, was indeed the designer of the Thousand Island Park Library.
As Paul Harvey would say: "Now, for the Rest of the Story."  and that is where we thank current TI Park resident Ann Davis.
Ann, provided extensive research and was able to establish conclusively, the architect of record was for the Thousand Island Park Library - Augustus Allen!
It is perhaps significant that both of ER Holden's sons were Columbia graduates, and that Augustus Allen also graduated from Columbia University.
Is this coincidental? Whether he and George were acquaintances, classmates, or friends, one can only guess. Remember Augustus Allen was the designer of the Mausoleum that stood sentinel over George's brother, Edwin Babcock Holden, in Woodlawn Cemetery.
Ann Davis has definitively proven, using print sources, specifically The American Architect and Builder News dated 7/4/1903, that Augustus Allen of the Windsor Court NYC, is in fact ,the architect of record, and Otis Brooks of Clayton was the contractor.  Ann discovered a list of works by Allen on display in the Avery Classics Avery Library at Columbia University. This listed listing the "Thousand Island Park Library -  Mr. E.R. Holden."
Howard Gould ,the son of Jay Gould and brother of Helen Miller Holden also engaged Augustus Allen to design his 100,000 square foot house labeled "Castle Gould", on Long Island.
In 1904, Mr. and Mrs. Howard Gould visited the Thousand Islands and stayed at the Frontenac. on Round Island. The replacement for the Thousand Park Hotel, the Columbian Hotel, perhaps did not attract the same "Social Class" clientele as the Frontenac. Or perhaps Thousand Island Park, being a "Dry Community", would discourage many.
Is this yet another possible connection?
In conclusion, I personally thank Ann Davis. It was her "Diligent Digging", that has proven conclusively,that Augustus Allen designed the Thousand Island Park Library!

This is the first part of a two-part article on ER Holden.
By Micheal Stedem, TI Park
Mike Stedem hails from Orchard Park, NY.  He attended Canisius College in Buffalo, receiving a BA Religion.  Mike has been a new car dealer, since the 1980s. Today he owns the Hyundai of Slidell dealership, in the greater New Orleans area.   A lifetime River visitor, Mike and his wife, Candy, their son, two daughters and six grandchildren, enjoy River life in TI Park, where they own two cottages, the "Centennial" and "Queen Bee."