Written by
Kara Lynn Dunn
posted on May 13, 2015 12:20
The 10-foot inflatable boat that is the New York Sea Grant Discover Clean & Safe Boating educational vessel for 2015, may be a small boat, but it carries a big message.
The 10-foot inflatable boat is equipped with a propane engine and is traveling to boat shows, events, and venues throughout Upstate New York, with an exhibit educating the public about the equipment needed and mandated for safe, environmentally-friendly, and legal boating on the recreational waters of New York.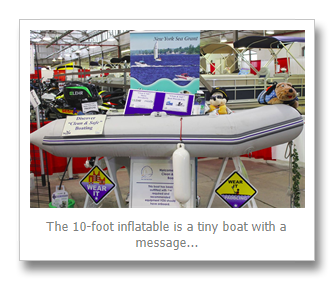 New York Sea Grant offers the following top 10 tips for boaters in 2015:
Learn about "Suddenly In Command" training, so everyone aboard can be prepared to act calmly and properly, in the event of an emergency on the water.
Make sure all passengers are wearing a proper life jacket. A throwable floatation device is required onboard boats more than 16 feet long.
Learn how to conduct an easy-to-do Clean, Drain, Dry inspection of your watercraft, trailer and gear to remove aquatic-invasive species and debris, each time you enter and leave new water.
Check that all the safety features of your boat trailer are in proper working order.
Check the number and expiration dates of onboard fire extinguishers and flares. Store flares and distress signals in a dry compartment. The Suddenly In Command intro with New York Sea Grant and the US Coast Guard Auxiliary shows how to properly ignite and handle a flare.
Use a fuel nozzle bib when fuelling your boat and a bilge sock to keep marine fuel from spilling into the water.
Make sure all vessel lights are working and flashlights have fresh batteries.
Have a proper device onboard to receive weather alerts.
Check to be sure you have the proper navigational charts onboard.
Check that the boat horn, whistles, distress flag and other means of signaling an emergency distress, are in working order.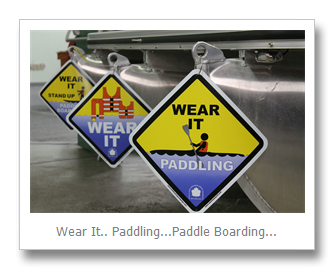 A new component for the campaign in 2015 is a fun, but serious introduction to "Suddenly In Command" training, for people who enjoy boating, but do not know how to operate a boat or properly signal for help.
New York Sea Grant and the US Coast Guard Auxiliary Flotilla 21, are partnering to instruct people on the boating basics they need to know, in the event of an emergency on the water. Several marinas have requested the program for their sites, once the 2015 boating season gets underway.
The campaign has educated more than half-a-million boaters, anglers, duck hunters, pontoon boat and paddle sports enthusiasts, deaf boaters, and, in 2014, New York first responders, who handle water-related emergencies.
Since 2008, when New York Sea Grant developed the Discover Clean and Safe Boating campaign, in partnership with the Boating Industries Association of Upstate New York, the outreach effort has been recognized internationally as a model for partnering with the marine industry to educate the boating public. The Boating Industries Association of Upstate New York, Pirate's Cove Marina in Clay, NY, Lehr Engines, and BoatersAdvantage.com are sponsoring the 2015 campaign.
For more information, contact New York Sea Grant Coastal Recreation and Tourism Specialist Dave White.
Note: New York Sea Grant offers boating safety resource links for selecting the right life jacket, developing a float plan, requesting a courtesy vessel check and more online at www.nyseagrant.org/marina.
By Kara Lynn Dunn
Kara Lynn Dunn is the publicist for the New York Sea Grant Great Lakes Program. She lives in Mannsville, NY, with her husband and photographer, Brian Whattam, who grew up in Three Mile Bay, NY. Kara earned a journalism degree at the University of Pittsburgh; is a freelance writer, publicist, and designer; and has authored two books on North Country natural and historic sites. Kara vividly recalls childhood camping adventures along the St. Lawrence River with the Village of Mannsville Summer Recreation Program.