"There is a piano in the park.", said one grandchild. "Honestly, a real piano," said the second and from the third came, "Someone is actually playing it." So, I parked the car; we got out and met a Gananoque tourist who had discovered a real piano, with "Play Me," written on its side.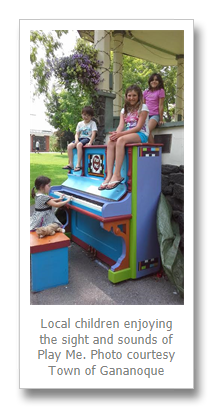 That was three years ago and I mentioned it in our October 2013 issue. This month a new piano, donated by Gananoque's Jane and John Taylor, will join the "orchestra." How and why, was my question.
Pam Staples, Marketing and Communications Coordinator for the Town of Gananoque, provided the background material and a series of videos - all demonstrating how intriguing and successful this project is for the Town.
"Our project was inspired by "Play me I'm yours" created in 2012, by internationally acclaimed London, England, artist Luke Jerram. Since then over 500 pianos have been installed in public parks, bus shelters, train stations even on ferries, around the world."
"I loved the concept of the project .. so simple, and since Gananoque is an amazing creative community, it seemed a perfect fit. There is something wonderful about seeing so many hidden musicians come out of the woodwork, or offering a chance for those who don't have regular access to a piano. But best of all, it gives everyone an opportunity to share their creativity. " said Pam. "I contacted the artist and received permission to do a similar project. Ours began with a grant from Ontario's Creative Community Prosperity Fund.
The first piano was donated by Shannon Treanor, from the Socialist Pig, and the second came from the Helen Henderson Care Centre, in Kingston.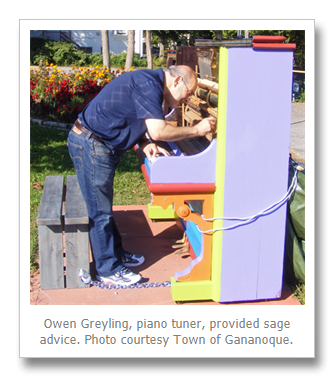 The logistics of placing a piano in the Park is not simple. First, the piano needs painting – bright colours - so it can be easily seen. Volunteers assisted and the large "Play Me" signs gave the go-ahead for all to sit right down and play.
Pam called a piano tuner from Kingston, Owen Greyling. He politely told her that putting a piano outside was impossible and it would never work. "It will never keep a tune, and children will ruin it." he said. After some persuasion, the tuner did his magic and by the end of the tuning session he, too, was excited about the project and remains a fan!
The tuner's advice was heeded and large covers were made. These are installed each evening and in-a-hurry if the weather turns bad. Volunteers came forward and throughout the summer the pianos are cared for.
"This will be our third summer," said Pam. "We were worried, as the original pianos needed replacing, and that was when the Taylors came forward with this year's new edition. Our new piano is ready to go and will be installed this month, in the Gananoque Town Park."

Play the Painted Piano courtesy Town of Gananoque, ON
"My favourite time is early morning when school is in session." says Pam with a smile. "Children walking through the Park, on their way to school, will stop and play for a few minutes.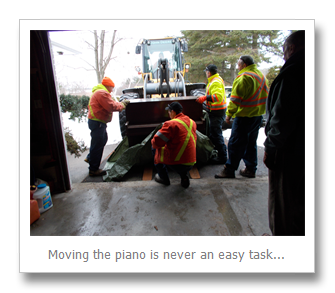 Over the summer we have had concert pianists, church organists, piano enthusiasts, with many playing the well-recognized "Chop Sticks." One gentleman collected sheet music, while others took photographs and videos of players - all of which leads to the simple fact that town-folk and tourists alike take pride in "Play Me".
By Susan W. Smith, susansmith@thousandislandslife.com
Editor, TI Life