Who can forget the meeting in Rockport, in November 1975, when an announcement by Parks Canada stunned owners of Canadian islands and mainland? With the $500 million budget and arrogant sense of entitlement that it had in those days, Parks Canada calmly declared that it would be taking over 30 square miles of islands and mainland, south of the 401, in five short years.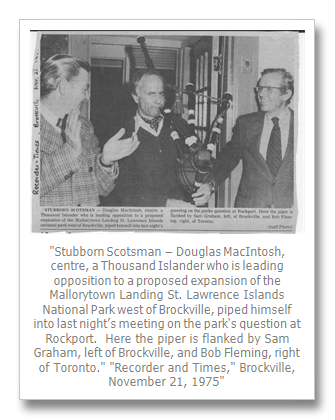 The idea was to have a "flagship" wilderness park from which houses, cottages and island farms would be conveniently removed, to showcase and "protect" the environment. Outraged local landowners, fearing expropriation, fought back.
The defining moment of that evening at the Rockport Recreation Hall was when Douglas Mackintosh burst into the packed room playing the bagpipes, drowning out James Christakos, Parks Canada's district director, in the middle of his formal announcement. There was a roar of laughter, but the defiant bagpipes touched a chord and gave a focus to local people's fear and anger. That evening TIARA, the Thousand Islands Area Residents' Association, was born, with Douglas as its founding President.
Now, fast forward to 2015, 40 years later. On Saturday, July 25, 2015, to mark its 40th anniversary, TIARA is holding its birthday party in that same historic venue, the Rockport Recreation Hall, inviting everyone, members or not, to join in the celebrations.
The day starts at 11:00 a.m. with TIARA's Annual General Meeting, at which Elaine Mallory, the planner for Leeds and the Thousand Islands Township, will be guest speaker.
At noon, a delicious Chicken BBQ will be served, at a very tempting price of $10 for adults and $5 for kids 12 and under. And, of course, birthday cake will be on the menu. The organizers point out that space is limited, and people are advised to buy tickets ahead of time through TIARA's website www.tiaraweb.org or by phoning 613-541-1589.
And what's a birthday party without music? At 1:00 p.m., well-known Tar Island cottagers Mike Bell and Brian Reynolds will present "Take Me Back to the River", a free concert featuring their songs about the 1000 Islands.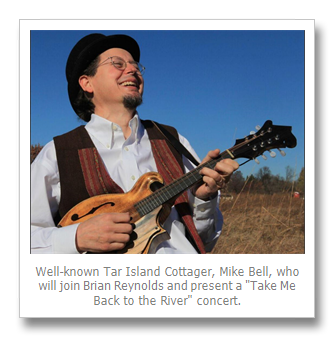 Mike is an accomplished composer and musician, having played folk music with more than a dozen bands. ("I've lost specific count", he says). He plays guitar, mandolin and banjo with his current band, Graminy, based in Madison, Wisconsin. Some of his compositions have been taken up by others, and he performed his "The Cloud Forest" on the famous NPR radio show "A Prairie Home Companion." Mike's songs, reflecting his delight and love of our River, will resonate with island and waterfront dwellers.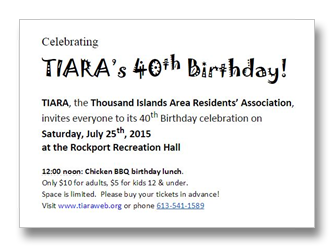 But that's only part of his life. In his day job, he is Dr. Michael M. Bell, Professor of Community and Environmental Sociology at the University of Wisconsin at Madison. And somehow in the midst of this he finds time to be Vice-President of TIARA, while Brian Reynolds, his cousin and co-musician on July 25, is President.
Around the room at the Rockport Recreation Hall will be displays recalling TIARA'S early days. In its initial years, TIARA had two strings to its bow, a Study Group and a Strategic Group. The Study Group collected an enormous amount of data about the history, environment and economy of the Thousand Islands, also recording what local people remembered of its past and what they hoped for its future.
From this they produced the five-volume "Report to the People". In those days, before home computers and Wikipedia, it was hard work ferreting-out each fact. Each page of the report had to be typed meticulously (sometimes over and over to correct mistakes) on special sheets to be taken off to the printers. Detailed information on each individual 1000 Islands property was recorded on hundreds of punched cards, and sorting was done by inserting knitting needles into little holes. Is this hard to picture? You just need to know that it was up-to-date equipment back then, kindly provided by a local technology firm. The "Report to the People", circulated to every resident in 1977, was rated as the best citizens' community study in North America. It gave landowners knowledge to back-up their claim that they knew their area well enough to be consulted about its future.
Meanwhile the Strategic Group was using every means to get the message to Ottawa that local landowners would not tolerate Parks Canada's intended full-scale expansion. It soon appeared that the Federal Minister, in charge of Parks Canada, had been kept in the dark by his bureaucrats,about negative public opinion. TIARA executive members made a quick trip to New Brunswick, to see with their own eyes, where a small fishing community had been bulldozed to make way for Kouchibouguac National Park. They knew first-hand why, in their frustration and rage, the local people there had burned down a Parks Canada building. This fire was news to the Minister, and he promised the TIARA executive that they could thenceforth go directly to him, by-passing the bureaucrats. Thereafter, Parks Canada's aggressive stance gradually softened. Advisory Committees were set-up, and the community started to work together to shape the area's future. However, TIARA's success in backing down Parks Canada, was such that when a nuclear power plant was proposed for the Thousand Islands area, opposition from TIARA was enough to get the deal scrapped.
The area's first Official Plan was being written at that time, and it was TIARA who insisted that the 1000 Islands area was special enough to warrant specifically designed by-laws, not just a boiler-plate plan off the shelf. The resulting Special Policy Area plan is still the backbone of municipal planning today, the key to protecting the special beauty of the 1000 Islands while still encouraging the economic development that the area needs to thrive.
So much has happened since that November day in 1975. Parks Canada is now a valued neighbour and ally in protecting the environment of the 1000 Islands. The islands and mainland have managed to steer a happier course – avoiding the two extremes between being an empty wilderness park on one hand or an overdeveloped concentration on the other. Perhaps most of all, TIARA has helped to establish a tradition of consulting local people, about how they want the 1000 Islands to look like, ten… twenty… even fifty years in the future.
And Douglas Mackintosh rarely plays his bagpipes.
By Anne (Blu) Mackintosh
Blu Mackintosh (Anne) was born and brought up in Montreal. In 1962, she and her Scottish husband Douglas came to the Ivy Lea area and there they raised their three sons who often come back to visit with their families. A founding member of the Thousand Islands Area Residents Association (TIARA), Blu provided the first compilation of Canadian Islands Names, in a series of maps produced in the 1980s. She continues to be interested in the environment and the arts in general, and TIARA and the Thousand Islands Playhouse in particular.
Editor's Note: On behalf of those Islanders who were around in the 1970s, I thank all those involved with this important organization. I remember many coffee parties held throughout the Canadian sector where TIARA executive members met islanders and explained how precarious the situation was. Through their excellent research and persistence, the idea of turning our islands into a giant wilderness park was not realized. Over the years TIARA worked with Parks Canada and their Advisory Committee, to ensure that the region remained as we know it now. So Happy Birthday, TIARA for a job well done!