In February of 2015, the Federal Government of Canada recognized Agnes Maule Machar as a person of national interest. In the words of Gordon Brown, our Member of Parliament for the township of Leeds and the Thousand Islands:
"Our Government is committed to promoting our cultural heritage. As an influential
commentator and observer from the time of Confederation, Agnes Maule Machar's voice
brought an important female perspective to this dynamic period. Through her writing, we get a
strong sense of her patriotism, her love of nature and her desire for social reforms. This unique
point of view during this exciting era in Canadian history spoke to her generation and those that
followed."
This dedication begs a question: Who was Agnes Maule Machar and why do so few Thousand Islanders know who she was?
The year is 1877 and Agnes Maule Machar, a summer resident of the Thousand Islands, is on holiday at her cottage on the bluffs of west Gananoque. The weekend is busy with fellow writers and thinkers visiting from overseas; her American friend, John Greenleaf Whittier, helped plant lilies-of-the-valley through the afternoon and is retiring to work on his poetry; academic friends from Queen's College are expected for dinner; now news from fellow writer Emily Pauline Johnson – she is available to visit later in the summer.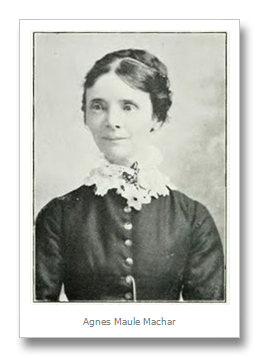 Miss Machar's life seems to always have been full. She grew up in an academic household where social consciousness was a given. Her father, Rev. John Machar, was a co-founder of Queen's College, later Queen's University, and was principal from 1846 to 1853.
Agnes was fortunate to be tutored by her father, with access to his impressive library, and the precocious girl learned Latin, Greek, French, German and Italian. Her mother, Margaret, played a key role in the foundation of what was to become Kingston General Hospital, and both parents were closely aligned with many other social causes in their community.
Could it be that in joining in good works with her mother, and in enjoying the luxury of an academic education via her father, Agnes, now a young woman, recognized the need for women to be allowed the right to participate in higher education? As Miss Machar had taken up her pen in the past to help define the nationality of her young country, to challenge academics and even to provide poetry for school books for young Canadian students, she once again would put pen to paper to challenge predominant naysayers and forcefully defend the right for women to further their education.
At a time when the term "women's rights" was decades away from being part of the common vernacular, this gentle, petite 5'2" writer raised in Kingston, Ontario, was breaking trail in the fight for young women to be allowed to attend university.
Men in Canada and the United States had been afforded the right since the 18th C but the widely-held view in the latter part of the 19th C regarding women and education was that, "modelling women's education on men's was dangerous to their health, particularly for their reproductive capacity." 1
So what is the puzzle of Agnes Maule Machar? The puzzle is not so much with Miss Machar herself, but with our lack of knowledge surrounding this important Canadian writer and social activist.
First, for Miss Machar to have succeeded as a female writer in the 19th Century is itself remarkable. A very select number of women writers were being published at that time, and fewer still were published simultaneously in Canada, the United States and Britain.
Second, Miss Machar's social contributions include serving as directress of the orphans' home in Kingston from 1859 to 1882. She also served as president of the Kingston Humane Society and was a founder of the Canadian Audubon Society. She was a founding member of the Canadian Women's Press Club and vice-president of the Canadian Society of Authors, and the list continues.
Even at the local level Miss Machar was generous. In her adopted Gananoque community, she would visit elementary classes and give talks to the pupils about the environment, and about wildlife and preservation. She encouraged the community to use her property for walks and enjoyment of nature. She baked and walked down the pathways of her woods, to take cookies to the children swimming, at the beach below her cottage; and she was a beloved friend to her island neighbours travelling by skiff, on the River she loved, to visit close friends on Little White Calf Island and others.
Fortunately her River Poetry lives on and connects us with this important Canadian figure and as of this past February, 2015, Agnes Maule Machar is considered a bona fide "person" of national historic "significance."
DRIFTING AMONG THE THOUSAND ISLANDS


Agnes Maule Machar


NEVER a ripple on all the river,
As it lies like a mirror beneath the moon,
Only the shadows tremble and quiver
'Neath the balmy breath of a night in June
All dark and silent, each shadowy island
Like a silhouette lies on its silver ground,
While just above us a rocky highland
Towers grim and dusk, with its pine-trees crowned.
Never a sound but the waves' soft splashing,
As the boat drifts idly the shore along,
And the darting fireflies, silently flashing,
Gleam—living diamonds—the woods among,
And the night-hawk flits o'er the bay's deep bosom,
And the loon's laugh breaks through the midnight calm,
And the luscious breath of the wild vine's blossom
Wafts from the rocks like a tide of balm.
Drifting—why may we not drift forever?
Let all the world and its warfare go;
Let us float and drift with the flowing river,
Whither—we neither care nor know
Dreaming a dream—might we ne'er awaken
There's joy enough in this passive bliss,
The wrestling crowd and its cares forsaking,
Was ever Nirvana more blest than this?
Reference and more information