Written by
Susan W. Smith
posted on July 13, 2015 12:48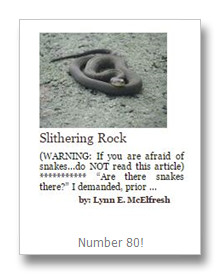 Turning 80 is a milestone – no I am not talking age – but rather the number of articles decided upon, researched, written – then re written – and finally submitted to "TI Life." Lynn E. McElfresh has accomplished this since her first article in August 2009.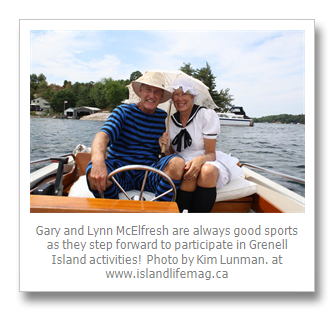 I met Lynn while was answering questions about the history of the islands at the home of Regina (Gini) and the late Irving Rosen, on Wellesley Island. The Rosen's home was showcased as part of the 2009 Thousand Islands Art Centre's House Tour. When I finished my little talk, Lynn introduced herself and said the magic words, "I love to write…would you like some help?"
Eighty articles later – I still look forward to the 1st of the month when I see Lynn McElfresh's name in my email, as there is always a wonderful 1000 Islands article attached.
Today, we thank Lynn and try to pay tribute.
On behalf of everyone – this editor and our 5000+ subscribers – we thank you most sincerely, Lynn, your words are very much enjoyed and appreciated!
(And tell Gary we appreciate the role he plays such as moving pianos, fixing the plumbing and unpacking the car when you arrive for the season!)
| | |
| --- | --- |
| Ian Coristine | "For those who've never tried crafting a well written article, you may not realize how much effort it takes. With that in mind, it's hard for me to imagine writing eighty of them! All beautifully written, informative and entertaining for islanders (and would be islanders), a real pleasure to read. Thank you Lynn for your amazing talents and these gifts you've given the River community." |
| | |
| --- | --- |
| Kim Lunman: | "Lynn McElfresh brings island life to life with her delightful dispatches from Grenell Island. I always look forward to reading Lynn's stories in thousandislandslife.com every month as she chronicles her family's life on Rum Rock and the River touching on everything from the history of the cottage colony of Grenell, including its chapel, antique boats, as well as pirates, ships and visiting loons and mergansers. Thank you Lynn for sharing your special stories with the Thousand Islands community." |
Robert Matthews:
"You don't know me from a hill of beans but I feel I know you after reading most of your many fine TIL articles. Congratulations on reaching 90. Great job!
"A fellow fanatic of The River, Bob Matthews"
| | |
| --- | --- |
| Brian Johnson: | "Life on the St. Lawrence River is never dull in any season but nobody... nobody tells all about living small island life like Lynn can! You are actually 'there' living the experience with her and her adventures..." |
| | |
| --- | --- |
| Michael Folsom: | Lynn's time and dedication to TI Life has been insurmountable over the years and the quality of work always captures the reader's attention. Much thanks to her for unique and interesting contributions that make TI Life one of the most sought-after publications in the region. |
| | |
| --- | --- |
| Bill Stallan: | I'm from a big city Lynn, but I've read more stories about Grenell Island than I have about Toronto; I feel like I know Grenell even better that TO, in a fraction of the time I's lived here." |
Below are photographs of Lynn's 79 articles! Enjoy them all through our link: /BackIssues/Archive/tabid/393/articleType/AuthorView/authorID/283/Default.aspx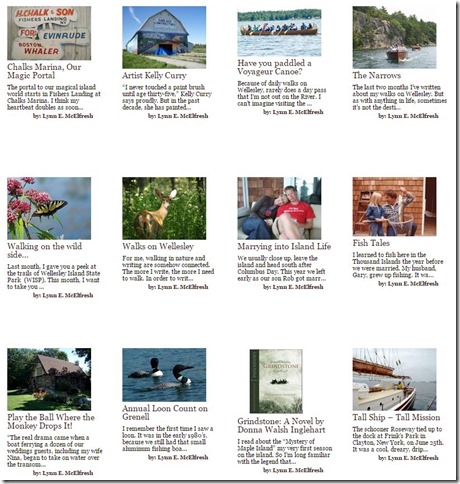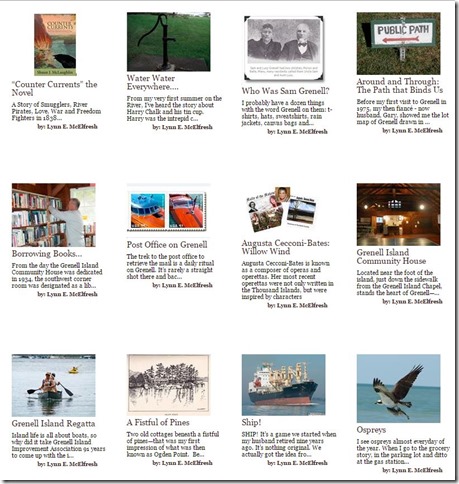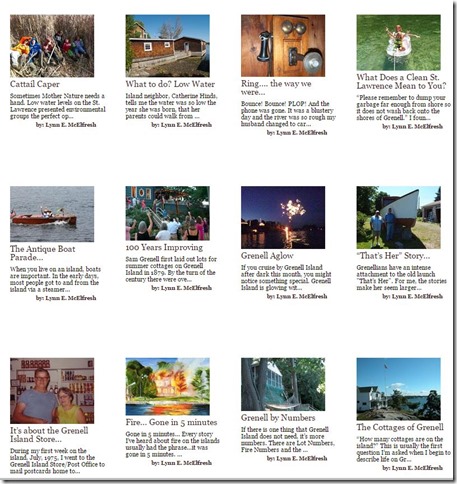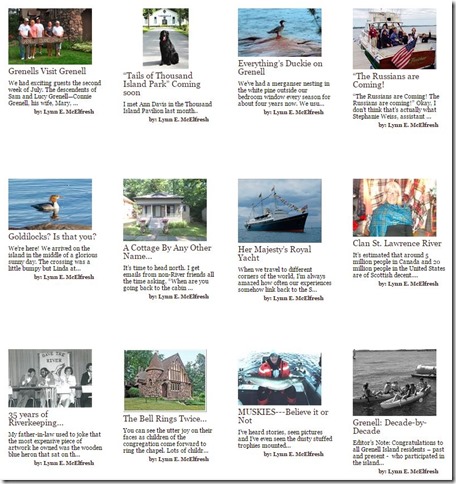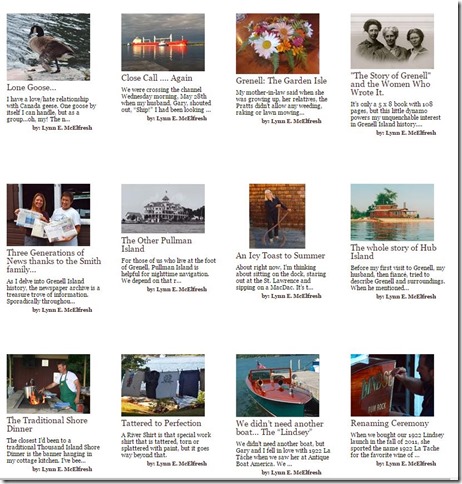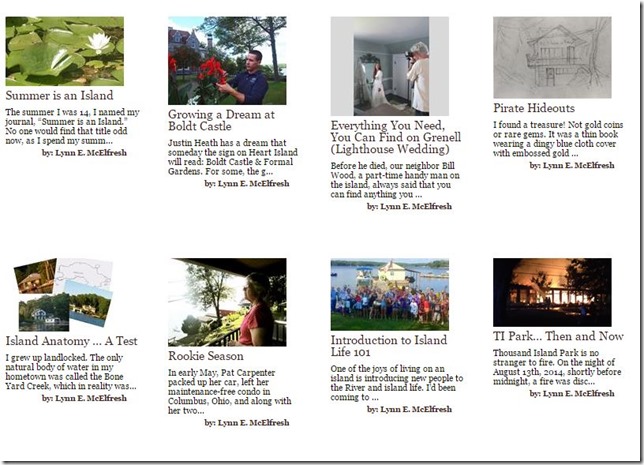 Susan W. Smith, info@thousandislandslife.com, Editor TI Life