The Thousand Islands Biological Station (TIBS) is located on Governor's Island, near Clayton, NY, and is an important research center for the State University of New York (SUNY) College of Environmental Science and Forestry (ESF).
TIBS is where students and scientists learn more about aquatic ecosystems through research and field experiences. The graduate studies programs at the SUNY-ESF in Syracuse, NY provide an important source of talent for research activities along with long-term monitoring and undergraduate studies.
The success of the program is the result of a determined effort to diversify scientific inquiries, to reach out to new faculty, and to provide important research findings to the St. Lawrence river communities.
The Upper St. Lawrence River area is a unique ecosystem that provides an immense ecological resource which is critical to both humans and wildlife. As the only natural outlet to the Great Lakes, and with a drainage basin of over a million square kilometers, the St. Lawrence is a critically-important resource. Flow rates average over 6,700 meters per second, ranking the St. Lawrence among the largest rivers in the world.
Governor's Island was named for Island summer resident Thomas G. Alvord, Lieutenant Governor of New York State in 1864. In 1971 the Island was donated to SUNY-ESF by James and Lorraine (Toni) Lewis and dedicated as the Ellis International Laboratory.
The facility was first used to support ESF's involvement in the St. Lawrence Seaway Winter Navigation Studies in the 1970's, but no formal research program was in existence at the time. Professor Dr. Robert G. Werner, and Steven LaPan, Research Support Specialist, began working at the site in the 1980s on fisheries issues. Through their early research, critical northern pike and muskellunge spawning and nursery habitats were identified.  Also migratory movements of adult muskellunge between Lake Ontario and the St. Lawrence River were documented. TIBS research programs continue to help guide management efforts for northern pike and muskellunge and other species such as smallmouth bass, walleye, and lake sturgeon.
ESF expanded its research focus with the creation of the Lorraine E. Lewis Thousand Islands Biological Station (TIBS) in 2000. Dr. John Farrell, ESF faculty member, was named its first Director in 2002.
Today's research covers fisheries, wetlands, limnology, invasive species such as viral hemorrhagic septicemia which affects fish populations, water-level management, and restoration ecology.
Financial support comes in the form of grants currently including the Federal Aid in Sportfish Restoration Program administered by DEC and the newly created Fish Enhancement Mitigation and Research Fund managed by the US Fish and Wildlife Service through the National Fish and Wildlife Foundation. The ongoing challenge is to conduct high quality research dedicated to guiding conservation and the wise use of St. Lawrence River aquatic resources.
The mission that guides our programs is to "conserve aquatic resources through generating scientifically based information on the ecosystem to assist the decision making process of managers, while providing high-quality opportunities in the areas of education and outreach". Large rivers are an immensely important aquatic resource and their anthropogenic modification continues in North America and worldwide.
At TIBS, the maintenance of long-term-monitoring datasets is imperative to understanding the ecological changes the St. Lawrence River faces. These datasets, strengthened by concurrent studies, provide important advances to aquatic research and management policy. However, perhaps the greatest impact will be through giving more young people from nearby urban centers and international exchanges, life-changing experiences in conducting research and learning field ecology.
By John Farrell, Senior Research Associate and the Director of the Thousand Islands Biological Station
Editor's Note:Dr. Farrell is a popular speaker at the Save the River winter weekends. In February 2009 he gave an excellent review of the current Muskellunge fishery. He lauded the release program which was started in 1987 to ensure a supply of naturally-produced muskies and over 500 muskies have been released.
In addition, TIBS conducts the Muskie Diary Program which is a survey by fishing guides and anglers, who keep a record of size, catch rates, and harvest rates. The information from these dairies has become an invaluable tool for the management of the muskellunge sport fishery. Take a look at the TIBS website for the lastest information on the: Update of the Strategic Plan for Management of the St. Lawrence River Muskellunge Population and Sportfishery, Phase III: 2003-2010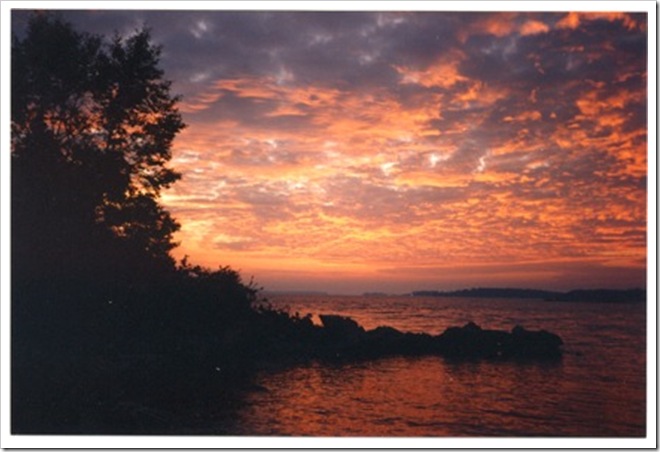 Sunset over the jetty at Governors Island
TIBS is open from April 1 to October 31 on the river and activities move to the main ESF campus during the academic year. For more information see www.esf.edu/tibs