It started from an email request for a hard copy of "TI Life." I explained that we are only online – (there is a hard copy of Kim Lunman's production of "Island Life," available once a year, but we are two separate entities.)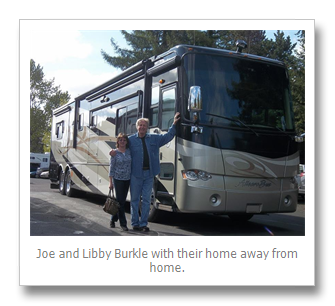 Two emails later and we had new River friends resulting with their visiting us on our island for lunch. It was then that I learned that Joe and Libby Burkle hail from Portland Oregon, where they have lived since the early 90's and raised their family. Joe was an actor in film and television for many years, going by the name Joseph Burke. He appeared in many popular TV shows and commercials. (Remember Dr. Paul Devore on General Hospital?)

Libby worked in medicine and human services for 25 years. In the mid 90's, foreseeing the dramatic rise of the Internet, they got into Computer Software, forming their own company, Rose City Software, which they still operate peripherally to this day.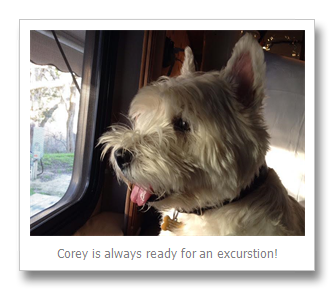 Once the three boys left home, they decided to hit the road. Starting with a truck camper they quickly became hooked on RV living and graduated to Class A Motorhomes. They've had a series of three different ones, and currently travel in a late model 43' Tiffin Allegro Bus. With all the amenities of a luxury condo, they laughingly refer to their lifestyle as "glamping" - glamorous camping, in other words. They travel with a Chevy Suburban, which they sometimes tow behind the bus... and with a 22' Catalina sailboat which is the focus of their travels.

Sometimes they can arrange to have the sailboat towed to a distant location, and then they travel together in the bus and tow the car. For shorter hops like the trip up from Florida this spring, Joe drives the motorhome, dubbed the Windseeker, <http://www.Wind-seeker.com> and Libby drives the Suburban towing the boat.

Joe says, "Coming to the Thousand Islands this summer has been a dream over the past few years."

Now that they have spent a couple months here, they are hooked. They plan to return for the whole season next year.

Joe and Libby share their travels with family and friends in a private Blog. We are pleased to have this opportunity to share their 1000 Islands section with TI Life readers.

Editor, Susan W. Smith
Thousand Islands on the St. Lawrence River
Well, after three years of planning, dreaming and preparations, we finally made it to the fabulous Thousand Islands region of the St Lawrence Seaway, on the Canadian border in upstate New York. We said good-bye to my brother after a month at Lake George and after a brief layover in Albany, we rolled in today to our first stop in the area at the Association Island KOA Campground on Henderson Bay, NY. The KOA is located at the northeast corner of Lake Ontario, where the St Lawrence River begins its 1900 mile journey to the Gulf of St Lawrence and the Atlantic Ocean.
We are staying here at the KOA in a bay front site for just four nights, because we wanted to check out this unique island campground, one of a kind, really. But it is an hour away from the marina where we've chosen to dock our boat for cruising the St Lawrence this summer. So after a short visit here, we'll move over to the RV Park near the marina we have chosen for the next seven weeks in the Thousand Islands. Corey, (our West Highland White Terrier) is happy here, though... on his first evening walk here, we encountered an unusual critter… a skunk… fortunately it scurried off before any damage was done.
So we towed our Catalina 22 sailboat over to Clayton, where we'll spend most of our time, since it is where our sailboat is docked and it's the town closest to our RV Park. We are docking our boat at Bayside Marina, right next to the French Creek Marina in Clayton. (see slide show presented by the Clayton Chamber of Commerce). Convenient, friendly and priced right... Bayside Marina is our kind of place! From here, we can sail out around Bartlett Point and west toward Wolfe Island and Cedar Point State Park on the NY side, or we can head up through the Wolfe Island Cut into Canadian waters and sail out in the "forty acres" over to Howe Island near Gananoque. We can also head east past Clayton and Round Island out into the area off the SE end of Grindstone Island. Almost infinite options for sailing in this marvellous area.
Our first day out sailing on the St Lawrence Seaway we left the Clayton harbor. Out ahead to our right is one of the 1800+ islands which are the Thousand Islands of New York and Canada. This one is Calumet Island, with the castle and former summer residence of New York tobacco tycoon Charles G. Emery. Emery built a lavish 30 room castle in the late 19th century. It was destroyed by fire in the 1950's, but still visible from a distance is the iconic water tower, which has been converted to a light house. It is a thrill to be here, the dream of a lifetime!
On Tuesday, August 4th, in what was surely one of the highlights of our summer in the Thousand Islands, we drove over to Gananoque in Ontario, about a half hour's drive from our campground on the New York side of the St Lawrence, and were met at dock by a new friend, Susan Smith. She ferried us in her boat over to her home on their enchanted Isle, Sagastaweka in the Admiralty Islands.
Sagastaweka is a beautiful small island in the Admiralty Islands group, next to the larger Bostwick Island and just across from the Gananoque Marina. Susan and Marceli live in Ottawa, about 2 hours north and built a gorgeous classic style summer home on Sagastaweka in the mid 1980's. It is a beautiful quiet spot set against the tall green trees and azure blue waters of the St Lawrence River. Access is only by boat which they keep in a parking condo spot in Gananoque. What a treat it was to experience life in the Thousand Islands, first hand.
After a delicious lunch, Susie and Marceli toured us around the Admiralty Islands in their Sea Swirl Striper motorboat, navigating expertly through the narrow channels and dangerous shoals with ease. We stopped to say "hi" to one of Susie's best friends, Catherine Van Sickle, who has a charming little summer bungalow and boat house on another nearby island. What a delightful way to live!
As we pulled away from Catherine's dock we waved goodbye and headed back toward the Gananoque Marina, concluding our all-too-brief visit to the Admiralty Islands. Look at that sky! It hardly looks real! We hope we'll have an opportunity to see Susie and Marceli again before we leave, but certainly again next summer when we return to the magical Thousand Islands for the entire summer season.
By Joe and Libby Burkle, Vancouver, Washington State.
Joe and Libby Burkle's home address is near Portland Oregon, but throughout the year they can be found a long way from home. Together with their Westie, Corey, they travel from coast to coast in their luxury motor coach; with Joe at the wheel of the RV and Libby following or leading in their Chevy Suburban towing a 22' Catalina sailboat. In addition, they have a day job with their company, Rose City Software.
[NOTE: Attached is a slide show the Burkle's made for their friends and family]