Written by
Sarah Walsh
posted on March 13, 2009 11:08
Have you ever wanted to help the River, but you were not quite sure what to do?  Save The River, an environmental organization located in Clayton, New York has just the program for you. The Riverkeeper Volunteer program is the organization's newest program that empowers citizens of the St. Lawrence River to be a network of eyes and ears, watching out for pollution issues, wildlife die-offs and new invasive species all of which help assess the health of the River.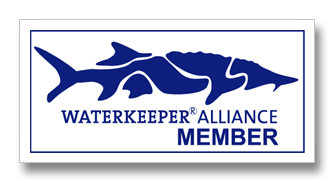 The Riverkeeper Program is designed for anyone who loves spending time on the River. Whether it's for a week or the whole summer, you can learn more about your section of River and what  can signal a positive, or negative, change in the River ecosystem.
Volunteers attend an initial one hour training session which outlines how to identify native species, wildlife die-offs and potential pollution issues. The training session also includes a section on how to successfully report your findings so that pollution issues or wildlife die-offs can be brought to the attention of the proper authorities to remediate issues found.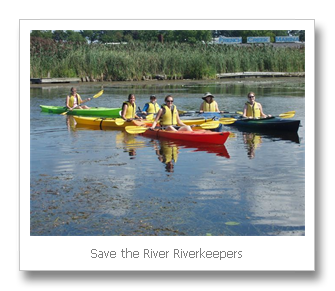 Attendees receive a waterproof Riverkeeper Identification Guidebook that they can bring with them while they recreate on the River walking, paddling, boating, or swimming. The guidebook serves as an identification key for those species taught in the training session, which makes it easy to identify trouble on the River and get it reported.
Riverkeeper Volunteers aren't only trained to report issues of doom and gloom on the River. They are also encouraged to note sightings of threatened and endangered species spotted on the River as well. Reporting these species and their activities, such as nesting, are important to making sure habitats are protected for the continued success of the species.
2008 volunteers monitored the success of loon nesting-platform projects, reported dead wildlife (that are often indications of potential viral outbreaks), and observed local construction sites for proper storm water management.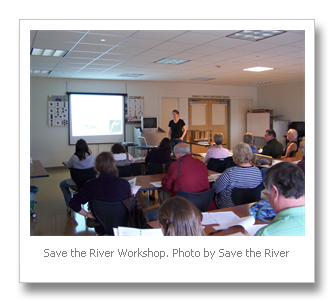 Scheduled training dates for 2009 are Wednesday, June 17th at 5 p.m. and Saturday, July 11th at 10 a.m. Save The River staff will be happy to organize a session to train a group of 15 or more on an alternative date. Volunteers who trained in 2008 will be offered two workshops over the summer to expand their knowledge of River issues. Workshops will be an excellent way for volunteers to also interact with the River and ask questions about things they've seen while out on patrol. To learn more about the program, and to register, please visit www.savetheriver.org and click on the "What We Do" tab.
by Sarah Walsh
Sarah Walsh is Program Manager for Save The River. She graduated in 2006 from SUNY-College of Environmental Science and Forestry (ESF) with a degree in Wildlife Science. She currently manages Save The River's volunteer and on-the-water programs, including the Common Tern Monitoring Program, the Riverkeeper Monitoring Program, and the Spill Response Program.