One cannot spend much time on Thousand Island Park without hearing about the Chautauqua Institution, or more simply, "Chautauqua." There seems to be a vague notion that TI Park and Chautauqua are very much alike. Chautauqua and Thousand Island Park were founded at nearly the same time: Chautauqua in 1874 and TI Park in 1875. Both were founded by Methodists.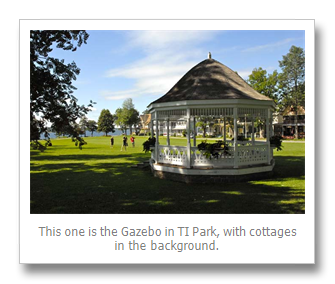 Drawing from the websites of the Chautauqua Institution, the Thousand Island Park Corporation and the Thousand Island Park Landmark Society, we can assemble a description of both places. Comparing these descriptions, it becomes clear that Thousand Island Park and Chautauqua had similar origins but today they are two fundamentally different and dissimilar places.
Chautauqua
Chautauqua describes itself as "a not-for-profit, 750-acre educational center beside Chautauqua Lake in south-western New York State, where approximately 7,500 persons are in residence on any day during a nine-week season, and a total of over 100,000 attend scheduled public events. Over 8,000 students enrol annually in the Chautauqua Summer Schools…." The Chautauqua Institution started out as the Chautauqua Lake Sunday School Assembly, a place for training Sunday School teachers. It was an experiment in out-of-school vacation learning. Education — or more accurately, "lifelong learning" — continues to be its primary focus to this day.
The early success of Chautauqua led to the creation of "Daughter Chautauquas" and the rise of the "Chautauqua Movement," which brought a Chautauqua-like experience to other parts of the country, particularly rural and semi-rural areas. By the end of the 1920s, however, the Chautauqua Movement had largely fizzled out. Nonetheless, what had started as an experiment in open-air education continued to thrive at its birthplace.
Thousand Island Park
Thousand Island Park is located on the western end of Wellesley Island in the St. Lawrence River, not far from where the river leaves Lake Ontario on its way to the Atlantic Ocean. Despite its name, it is more of a village than a park, occupying a bit more than 100 acres. The community describes itself as "a peaceful haven in a hectic world where families come to enjoy old-fashioned values in a place of natural beauty."
The TI Park Landmark Society's history of TI Park states that TI Park at some point "became known as the 'Chautauqua of the North' or the 'Chautauqua of the Thousand Islands.'" TI Park was created by the Thousand Island Park Association, which was originally known as the Thousand Island Park Camp Meeting Association. Camp meetings were religious revivals that were very popular in the 19th century. Camp meeting associations are sometimes counted among the Daughter Chautauquas.
The focus of the TI Park camp meetings quickly expanded from programs of prayers, lectures and hymns to programs also featuring political speakers, cultural events and group conventions. In the process, TI Park itself was changing from a campground in the woods to a summer resort. Eventually some 500 cottages would be built. In 1883 the 400-room Thousand Island Park Hotel opened. By 1885, only 10 years after its founding, residents were debating the nature and future of the Park, as pressure was mounting to allow swimming and boating on Sundays. This debate continues today.
Divergence
The Thousand Island Park Hotel burned to the ground in August, 1890, and was replaced by the Columbian Hotel in 1892. The Columbian Hotel lasted only slightly longer than its predecessor; it too burned to the ground in July, 1912, taking the chapel, several commercial buildings and nearly 100 cottages with it. This event marked the start of a long period of decline in Thousand Island Park, exacerbated by World War I, the Great Depression and World War II.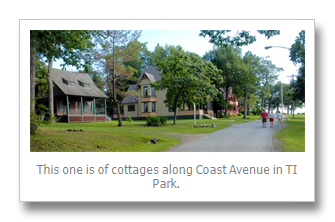 Conservation and environmental protection were not yet common practices. Tourism overall was in decline. The Columbian Hotel would not be rebuilt. With mounting debt, the Thousand Island Park Association failed. The Park was sold in 1933 to Wellesley Island Park Inc.
Deterioration of the Park continued unabated. The remaining small hotels closed. Dilapidated properties were torn down. By 1950 just over 300 cottages remained. In 1953, Wellesley Island Park Inc. became the Thousand Island Park Corporation. This closely held, for-profit corporation owns and governs Thousand Island Park today. The corporation derives its revenue principally from rent paid by cottage owners for ground leases, fees paid by concessionaires, and rent paid by shop owners.
The slide finally ended in the 1970s as interest in historic preservation took hold. Federal legislation to restore clean air and clean water also no doubt contributed to interest in TI Park as a resort area. In 1982 Thousand Island Park was listed on the National Register of Historic Places. The "preserved" TI Park, which includes 324 private cottages and several public buildings, including the Tabernacle, the Wellesley Hotel, the Pavilion (Main Dock), the Holden Library, and the gazebo, is the TI Park that most residents and visitors know today.
Though not without its own periods of difficulty, Chautauqua has fared considerably better. In 1973 Chautauqua was listed on the National Register of Historic Places. In 1989 most of its property was designated a National Historic Landmark District. (Properties listed as Historic Places are considered to be "worthy" of preservation. Properties designated as Historic Landmarks are considered to "possess exceptional value or quality in illustrating or interpreting the heritage of the United States." Only about 3% of Historic Places are recognized as Historic Landmarks.)
The Chautauqua Institution is a not-for-profit corporation whose charter dates from 1902. It receives financial support from the Chautauqua Foundation, Inc., which was formed in 1937. According to the 2013 annual report of the Foundation, the Foundation had net assets of $75.3 million. In 2013, the Foundation provided $5.1 million in direct support to the Chautauqua Institution.
The Chautauqua Institution also derives funds from its annual nine-week season of events and activities. Everyone over the age of 13 and under the age of 90 (except for active duty military) is required to have a gate pass or ticket. According to its 2015 Ticket Book, a gate pass can cost as much as $4,142 for the season. Parking for a car (outside the grounds – cars are not allowed on the grounds in season) can cost as much as $300 for the season. A season slip at the Institution dock can cost $510. There are also fees for golf, tennis, health and fitness facilities, and tuition for the various schools and classes.
Chautauqua began as an educational experiment and blossomed into a center for learning, culture and thought, with a comprehensive governing structure and a strong base of financial support. Its clientele is national; even international. Every major initiative through the year 2018 is subject to a Strategic Plan that was adopted in 2010.
TI Park began as a religious camp meeting place and quickly transformed into a vacation resort. Vestiges of religious and cultural activities remain, but they are not central to the Park experience.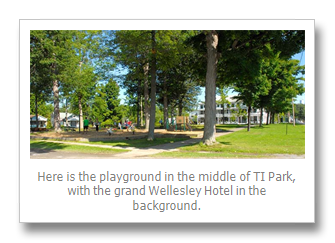 Although both Chautauqua and TI Park had similar beginnings, and although both Chautauqua and TI Park are recognized as Historic Places, the similarity ends there. Financially they are worlds apart. Culturally, there is no comparison. Chautauqua has a symphony orchestra, a theater company, an opera company, a dance company and a nine-week program of lectures and events, featuring nationally known figures. TI Park sponsors the occasional lecture, musical program or cultural event.
In Chautauqua, historic preservation is but one thread in the fabric of its identity. In TI Park, historic preservation seems to be the whole coat.
Cultural Institution versus Summer Resort
If Chautauqua is about the education, cultural development and summer recreation of the people, the question that must be asked is, "Which people?" In Chautauqua during the nine-week summer assembly season the public, including property owners, are excluded from the Chautauqua grounds unless they have a ticket or a pass.
This is a far cry from TI Park where cottage owners cherish the summer season and strive to spend as much time on the Park as possible. Many others look forward to spending some part of the summer season on TI Park as well. These include friends and guests of cottage owners, persons who rent cottages and local people who come for a visit to the Wellesley Hotel restaurant or to attend events at the Tabernacle.
TI Park Stands On Its Own
TI Park is not and realistically cannot be, Chautauqua. Nor is it a version of Chautauqua that can be called "the Chautauqua of the North." But that is not a bad thing! Thousand Island Park need not define itself in terms of someplace else. Thousand Island Park stands on its own as a first rate summer resort. This was true during the Park's "Golden Era" of grand hotels and it is true again now. The fresh air, the now clean, clear waters of the St. Lawrence River, the quaint cottages, the nearby towns and museums, the proximity of Canada, the Park's playground and the ball fields, the nearby golf courses, the religious and cultural events at the Tabernacle, and ice cream at the soon-to-be rebuilt Guzzle (destroyed by fire in 2014) — all of these things comprise the TI Park summer resort experience.
A renaissance is going on all around the Thousand Islands Region, as evidenced by the growth of the Antique Boat Museum and the opening of the 1000 Islands Harbor Hotel in nearby Clayton, NY, and the soon to open Aquatarium in Brockville, Ontario. For the future, Thousand Island Park need only step up and be part of it.
By Ray Kowalski © 2015
Ray Kowalski is a native of Rochester, New York.  He has a law degree from the George Washington University in Washington, DC.   He spent his entire career in Washington as a communications lawyer, first with the Federal Communications Commission and then in private practice.  He is now retired and lives in Gainesville, Virginia with his wife, Jean Ann.  They have three children and five grandchildren.  The Kowalskis have owned a cottage in Thousand Island Park since 2006.