Written by
Susan W. Smith
posted on September 13, 2015 12:30
"I know a new museum is in Chippewa Bay, but I am not sure where?" I said.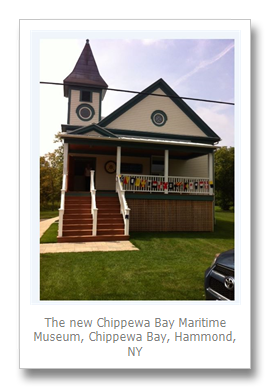 "Go back down the road, to the crossroads, and you can't miss it" was the answer.
It did not take long to notice the pristine building, beautifully painted and supporting proud waving nautical bunting flags.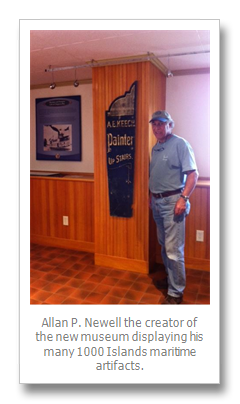 Yes, we had found the new Chippewa Bay Maritime Museum. Not only that, we found Allan Newell, the founder and creator of this wonderful treasure, on the way. We had stopped at the Chippewa Bay dock to ask directions and met Allan having lunch.
For those who have not met Allan, he is one of the most passionate Thousand Islands stewards in the region. Born in New York, he moved to Ogdensburg at an early age, and summered on an island in Chippewa Bay. He and his family have devoted many hours and countless dollars to far too many River organizations to list – suffice to say we owe them a lot. And he has a passion.
Ask any antique dealer, near and far, if they know Allan, and they may not know his name, but they will remember the man who has been finding and collecting antiques of local origin for decades.
So this year Allan, wanting to create enterprise in his beloved town of Hammond in St. Lawrence County, turned a former Methodist church into the new Chippewa Bay Boat Museum, where his important collections can be admired, studied and photographed by island residents, school groups and visitors.

Allan was even lucky enough to find the old store sign from the Keech Studio building, in what is today, the Save the River office in near by Clayton, NY.It is here you will find vintage boat motors, the history of the famed St. Lawrence Skiff, old Ogdensburg stoneware and the iconic Keech paddles. Each piece has a story to tell. In addition, those who are interested in architecture and renovations will see how much work went into preserving this beautiful North Country building.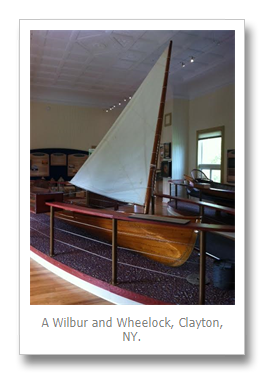 The building will close soon, most likely after Columbus Day/Canadian Thanksgiving, when the River traffic starts to slow down, but we certainly recommend a visit during the last month of 2015's operations.
Suffice to say, TI Life will be back in the spring and we look forward to doing an in-depth profile. Because, the artefacts that you will discover will allow you to understand and appreciate our River heritage.
Allan's collection showcases those artists and craftsmen who captured the love of our River and our Thousand Islands through their works.
Thank you Allan P. Newell, you have truly given a special gift to the region and we appreciate it.
Susan W. Smith, susansmith@thousandislandslife.com
Editor, Thousand Islands Life
See also: The Keech Family of Clayton and Fishers Landing and the & 7 News "New Museum Opens In Chippewa Bay."