Written by
Melody Brabant
posted on October 13, 2015 12:24
Editor's Note:

Melody and Ken Brabant live in the village of Clayton, NY. This article is a special combination introducing the planters (Melody and Ken) and poet (Melody.) Both are well known Thousand Islanders.

Keith, their second son, was a talented musician and composer who died in 2010. Since then Keith's family and friends hold an annual "KeithFest" music festival in his honor - with proceeds going to the Keith Brabant Music Scholarship Fund for youth in Jefferson County. The Northern New York Community Foundation administers the Fund.

This article pays tribute to the Brabants – who both make Clayton a wonderful hometown.
Queen Anne's Lace
The assignment: write a villanelle, a nineteen-line poetic form consisting of five tercets followed by a quatrain. There are two refrains and two repeating rhymes, with the first and third line of the first tercet repeated alternately until the last stanza, which includes both repeated lines.
I had a friend over in early spring and we painstakingly transplanted carrots that had come up in my garden from the year before. We dug them up, carefully putting them into a bucket of water to loosen the intertwined roots and keep them hydrated, then gently pulled the tiny seedlings apart and replanted in nice neat orderly rows.
| | |
| --- | --- |
| | And… Oh, and what I had left over, I kindly put out at the curb with a "free" sign to share with fellow gardeners - one of whom let me know that her "carrots" had grown really well, too! |
Autumn Walk
Second assignment: write Haiku. Mine describing a fall walk in 2010 (and one I've repeated each year since).
We lived on Grindstone when our boys were young and Keith attended the one-room school house (now the Heritage Research Center) shown in the picture. Other pictures are along the roads and TILT (Thousand Islands Land Trust) trails at the foot of the island – ideal for long peaceful walks.
"Leo Zion Wanders Off" is the name of an album of original music written by our son, Keith and his band, "Leo Zion."
-------------------------------------------
Ken Brabant's 2015 Sun Flower winners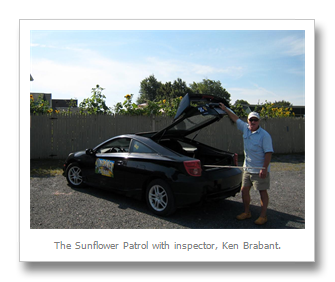 For the past 10 years, my husband Kenny and I have been holding the Clayton Sunflower Contest. Kenny starts the seedlings in the early spring and gives away about 1200 throughout May - via a table in our front yard on Webb Street.
We've had pictures sent to us from Utica, Buffalo, even Florida - of sunflowers from our seedlings. And of course, many around the village. We bought sunflower seeds the first few years, but now we have saved seeds from each year's plants to use the following year. These seeds result in a wide range of tall sunflowers - single head, multi-head, large leafed and small. It's really a lot of fun to see the sunflowers all around town, and to go on Sunflower Patrol throughout August.
We are pleased to announce the 2015 winners.
1st place, $100, Tom Tomasky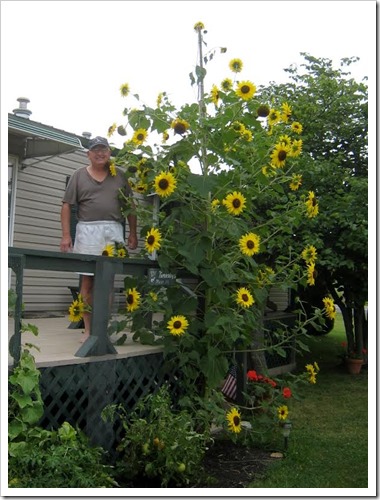 2nd place, $75, Steve McIntosh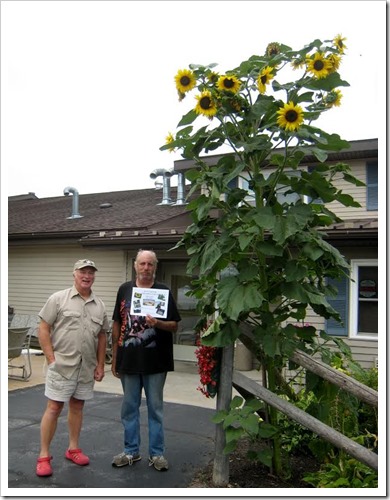 3rd place $25, Lyric Strouse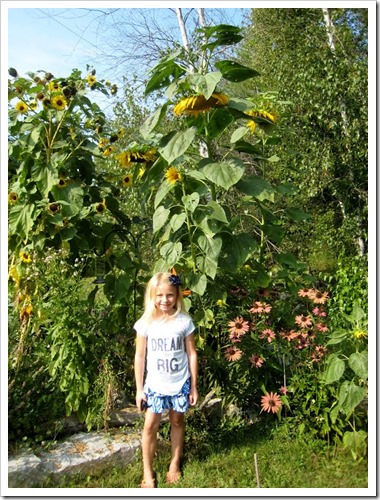 "TI Life" has offered to remind readers in the Spring, with the particulars for the 2016 contest, so please stay tuned.
By Melody Brabant
Melody Brabant is employed as a Revenue Assurance Specialist by Westelcom Family of Companies, a local communications company. She enjoys gardening, reading and volunteering in the community, including as a Master Gardener and at the Clayton Food Co-Op. In the winter you will find her helping husband, Ken Brabant, as he builds and maintains the Lion's Field Skating Oval and Sled Hill. The couple sponsors the Clayton sunflower contest each summer, and a snowman contest in the winter months - all with a goal of encouraging community spirit and outdoor fun for kids of all ages.