Written by
T. Chris Tormey
posted on October 13, 2015 12:28
Editor's note: As soon as "TI Life" received the link to The River Song, I knew I wanted to personally thank the three River Rats who helped make this happen. Soon after I met T. Chris Tormey, Andy Kane and Meredith Gould – the story of "The River Song" is a fine example of how this River brings us all together.
The challenge is that describing "The River" has been impossible, to those who have never been to my heaven on Earth. It has been impossible to relate or express the infinite beauty, the powerful storms, majestic sunsets, sunrises, and starlit nights, reflected on the River. Most important is the spiritual comfort I find on "The River, and the lifelong relationships that have continued for generations. Rachael Cole of Murray Island once said, while describing the Thousand Islands, "The islands are all connected underneath," and so are we. The River brings both life and death, as her dangerous beauty demands respect.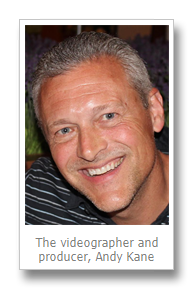 "The River" was a gift given to me as a child, by my parents who started spending entire summers at Thousand Island Park. I have managed to come back every year, since I was 11 years old, because this is where I am at home. It was in T. I. Park that I met the Kane's of Crystal Bay. I knew Linda Kane and her family, her brother Andrew, and his twin sister Kiki.
The Kane family grew-up on Round Island, as well as Thousand Island Park, Wellesley Island. Their parents, Tom and Cindy grew-up on the River as well. Andy began his business, "Feather in Flight Productions" last year, with outstanding video views that capture the moving wonder of the St. Lawrence River.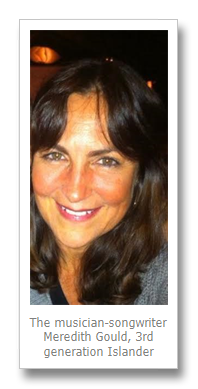 I have been fortunate through the years to be part of the greatest people on Earth: the River Rats. It all began with the friendships and love of Jim and Ann Dickson, of Castle Francis Island, and Helen Delong Brand, wife of Dr. Brand, their daughters, Marilyn Brand Gould, Sylvia Brand Cunningham, and Dorothy Brand Lore, whose wonderful families have shared Pullman Island*, or Dor-Syl-Mar, since the 1930s. Meredith Gould and I became friends, thirty years ago, and I remain one of her biggest fans.
Meredith Gould shares her personal gift of composing music and writing lyrics that reach everyone's heart, release and reveal our emotions, river reflections, or just the simplicity of a moment. Her gift is not unlike a gourmet chef, with a recipe of ingredients, mixed together and released, into a unique powerful dish, which only she could ever create.
I was watching a "Feather in Flight Production" video, with music that just didn't seem to flow, nor capture the strength and majesty of the St. Lawrence. I immediately contacted Meredith Gould, to ask her if she would be willing to work with Andrew Kane, as her music was perfect for the project. Once Meredith was onboard, I suggested my idea to Andy, who was excited to hear Meredith's songs.***
The challenge of describing the "The River" has been finally successful. We have visual and musical collaboration that fills our hearts and allows us to share our awe and wonder of The Thousand Islands, with those who, until now, were unable to understand our love for the Thousand Islands; our River, "The River."
By T. Chris Tormey
T. Christopher Tormey was born and raised in Syracuse, N.Y. He holds a B.A. in Political Science from SUNY Albany. He has worked in medical sales for many years and currently resides in Youngsville, North Carolina. His son Liam is 25 years old and resides in Niskayuna, NY. He writes, "My love for the river stems from happy, childhood summers spent at T.I. Park where I made lifelong friends. "Wherever Chris lives, whatever he is doing, "The River" beckons him.
Note * There are two Pullman Islands; one downriver near Alexandria Bay, home of George Pullman's Castle Rest, and The Other Pullman Island at the head of TI Park, Wellesley Island. It is the latter that is the home of the Brands, and was originally the Pullman Island House, a turn-of-the-century, historic hotel, destroyed by fire in 1904.)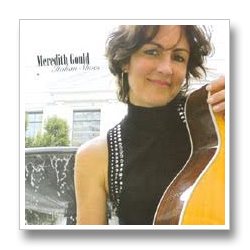 Note: ** Already the video produced by Feather in Flight, has over 6,000 views and dozens of comments.

Note: *** Meredith's Album - Italian Shoes, featuring "The River Song" is available by emailing Meredith at meredithgould@comcast.net.

What's next?
Andy is looking forward to finding more musicians and putting their music to flight! His videography company "Feather in Flight" has taken off (!) so you can expect to see more productions in the future. (Be sure to see his website and other videos)
Meredith is always working on music and now partially retired, is composing in earnest, to the delight of the River.
And Chris; well this editor discovered that he is a natural connector. We also discovered he writes poetry… so stayed tuned.