It has been several decades since I found my first book of Thousand Islands history. Since then, literally 100+ books make up my collection – but "Comfort Island: One Family's Generational Journey", by Tad Clark. is one of my favourites!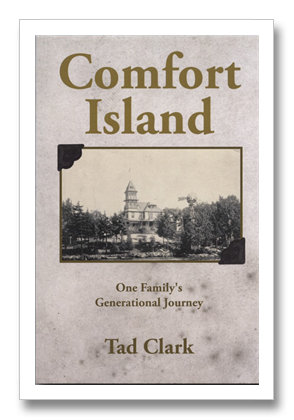 In 1883, in the wake of a family tragedy, Alson E. Clark built an eight-bedroom, 6,500–square-foot summer cottage at the entrance of Millionaire's Row on a slip of earth called Comfort Island.  Here in the scenic wonderland he and his wife, Sarah, forged a fresh start for their three young sons and established an unforgettable home that would last through six generations of Clarks.
I met the author in 2009, when I was invited to tour Comfort Island, with Patricia Tague and members of the Cornwall Brothers Museum, in Alexandria Bay.  The museum was there to collect artefacts for a show they mounted depicting the artwork of Alson Skinner Clark.  Soon after, Tad wrote asking if I would be interested in an article about St. Lawrence Skiffs.  Over the past 10 years, Tad has submitted other topics – all of which I appreciated and our readers were equally enthusiastic.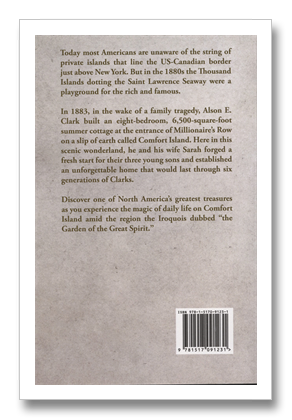 A month ago Tad announced he had published a book, available through Amazon.  I ordered a copy and as soon as I started, I realized this was going to be a favourite for three reasons:
1)  This is not a history book. He begins in 1961, when his architect father, Mancel T. Clark,  made the decision to return to the original family island after 25 years abandonment.  The reader is taken back and forth from the Golden Era of the 1880s, to their return in the 1960s (Tad's teen-age years and when he became a "River Rat"). 
2)  Rather than concentrating only on people or places, Tad describes island life and the need for reliable transportation, the never-ending-building maintenance  and the iron-clad rule....  What comes to an island is never given away or taken away – it is just moved under the house, put in a cupboard or up in an attic!
3)  Tad's writing style is simple, and entertaining. There is even sadness when the decision is made to sell.
There are far too many excerpts to include in this review, but I have permission to share my favourites. 
The Clark family returns in 1961:
Is One Car Enough For This Trip? – Chapter 3
 
  

Even next to the open window, I felt heat radiating from the asphalt roadway. Deb, Betsy and I sang refrains from a couple of traditional folk jingles that were popular with kids, taking long car trips, during this time period. The songs have repetitive lyrics and are easy to remember.  Best of all they helped to pass the time.  We started with "Found a Peanut, which was rotten but I ate it anyway, just now. I got ill, called the doctor, had an operation, but died anyway," and on and on to the tune of Clementine. Tiring of that sweet ballad, we moved to "99 bottles of beer on the wall, 99 bottles of beer, if one of those bottles should happen to fall, 98 bottles of beer on the wall."  The object is to keep eliminating beers, one refrain at a time, until zero is reached, but I recall that the heat eroded our enthusiasm and eventually we simply lapsed into silence.
     All of us were ready to cheer out loud, as we drove between the cement pillars that supported the "Welcome to Alexandria Bay" sign. I had never been here before and I was excited to arrive after years of anticipation.     "Where is the Island? Can we see it from here? I asked.
     It's about a mile upriver, Son.  We'll have to get a boat to take a look," Dad said.
    "Are we going to see it today? Deb asked.
Dad said, "That depends on Mancel Root who is doing the caretaking for us now. He was going to try to get the "Buzz" running, but the boat is old and hasn't been run much for quite some time.
Making New Friends and Water-Skiing – Chapter 34
 
In the immediate area I had the Papworth kids and Trey Vars to pal around with.  However by 1964 I had branched out and was routinely spending my days with Peiter Bergen and Rhea Inglehart, or the Thomas kids water skiing.
… Peiter and I were determined to become proficient water skiers, while Rhea had knee issues that limited her participation. The "Gibson Girl"  only had a forty horsepower motor, which wasn't sufficient power for water skiing or for doing tricks like skiing barefoot.  I remember using the "Comfort" for some of our skiing before Dad traded the outboard for a sixteen-foot Gar Wood Junior, which had an inboard motor and more power.  Pieter and I spent hours practicing the basics of getting up efficiently, skiing across the wake and then jumping the wakes.  It wasn't long before we developed a passion for mastering slalom skiing.  I wanted to ski all the time during that period.
"What's My Line? – Chapter 39
 
The region developed a reputation as a place for young people to go boating, meet the opposite sex, and generally have a blast for a couple of months.  My pals and I who were members of the seasonal resident community shunned the idea of staying near our schools or winter homes in order to get summer employment there…

… I discovered that my parents were not alone in their concerns.  I've been both witness and the focus of more than one session of parental interrogations with a mother and dad asking questions like, "Where are you going to stay? How are you going to support yourself? Are you mature enough to exercise good judgement in your actions and interactions?… We can't afford to pay for you to waterski, bask in the sun, and party all night.  Do you have a confirmed job offer and a legitimate place to live?"

… Another year Thumper Peach contracted island work that we performed together on other neighboring islands.  He was not only a good worker but an even better negotiator.  He retired young after putting his talent to work in the corporate world…
Romance – Chapter 44
 
In 1973 I wed Kira Duke. We had a brief romance two years before we became reacquainted.  I had won and lost at love often enough by then to know what I wanted for a wife and a long-term companion.  My close friend and former college tennis teammate, Stefan Krayk, was our best man and Kira's sister Laura, was the maid of honor. We were married at the Grenadier Island and followed the ceremony with a reception numbering 200 on the Comfort Island lawn.  Our engagement spanned a brief six weeks.

Kira and I have been lucky enough to share forty summers together in the 1000 Islands since that year when we married. And while some couples do not share a love of the islands initially, I have also seen cases of the dissenting member of the marriage gradually becoming an enthusiastic members of the community as time passes.
"It was the Worst of Times" –  Chapter 57
Several chapters follow where we meet  Kira and Tad's two children, Tory and Coty. Then in Chapter 57, Tad takes the reader through the agony of learning that his son, Coty is diagnosed with osteosarcoma, bone cancer.  No author would have an easy time writing about this most difficult time in their life, but Tad takes us through the agony compassionately. 
 
… We had a party at Comfort for my sixtieth birthday on September 3, 2006, and we took Coty to Turning Stone Resort Casino to celebrate his twenty-first birthday eight days later.  He had not been feeling well at the end of the summer, and he went to see the doctor after returning to Asheville… 

(The final line in this chapter)…Four months later on February 12, 2007 Coty passed away.
How Do You Clear Out a Mansion? – Chapter 64
 

When we put the property on the market in 2008, Kira and I began the monumental tasks of clearing out generations of the Clarks personal belongings from the house.  The accumulation of "stuff" in the Comfort Island mansion fit the definition of overwhelming.  For one hundred and thirty years clothes, artefact's and wares of every description had been brought to the island and almost nothing had left… 

… I marvelled at an exquisite white lace parasol that Kira retrieved from the closet at the corner of the living room.  At least a half-dozen century-old peaked captain's hats are found in closets and trunks throughout the house, which gives testament to their popularity for the men of that period.

I know one is not supposed to give away the ending… but the ending demonstrates what many of us who are fortunate to have discovered the Thousand Islands will understand…
 

"Saying goodbye to such a precious part of my heritage is difficult, but as I say goodbye, I know that I did my best to insure that this magical setting lives on as a venue that approaches the form that Great Grandmother and Great Grandfather Clark intended.  The passing of Mamie Clark provided the impetus to take up residency  at Comfort Island and ironically the death of Coty Clark sealed our resolve to end a Clark tenancy that lasted 131 years. 

"Goodbye Dear Comfort.  May you flourish again in the years to come."
What next?  We at "TI Life" hope Tad Clark will continue to share his Island stories, but purchase a copy of "Comfort Island, One Family's Generational Journey", in case he changes his mind.
By Susan W. Smith, susansmith@thousandislandslife.com, Editor, TI Life.