Written by
Sarah Ellen Smith
posted on November 13, 2015 12:18
Editor's Note:  The headline reads "Otter Creek Preserve is Open!" with "Thanks to you. our supporters…"  Yes, the Thousand Islands Land Trust announced the opening of the 1.9 mile trail created with funding from a New York State Office of Parks grant in their Fall 2015 Newsletter.  The first official opening Trek was held on October 4th at the Trail located in Alexandria Bay, NY.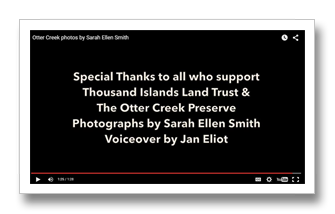 Sarah Ellen Smith, photographer and artist, captured the trail in photographs and generously shared them with TI Life. 
Tilt reports, "Although the trail is open to the public as of October 4th, we still have some final flourishes to complete over the winter and spring months including the installation of interpretive panels and the kiosk trail map."  A formal ribbon cutting ceremony will take place in Summer 2016.
Come out an enjoy this special Thousand Islands experience.
By Sara Ellen Smith
Sarah Ellen Smith began shooting and developing photos, with a brownie camera, along the shores of the St Lawrence River, Black River and Lake Ontario, during her childhood.  In the years since, she has traveled the world, taking images for various organizations. She worked special events, in photo processing, at "Sports Illustrated", during the pre-digital era and continues to see the world through the lens of a camera. In 2010, Sarah Ellen became a year- round River resident, where she and John Arnot opened a gallery of their individual and collaborative work;  St. Lawrence Pottery, is a working artists' studio, where Sarah Ellen works in glass and silver, decorating pottery, painting on canvases and giving demonstrations.