Patricia and Robert Mondore received good news this month. The Dove Foundation, has ranked the Mondores' newly released video: River-Lations - A Thousand Islands Inspirational Music Video, with their highest ranking: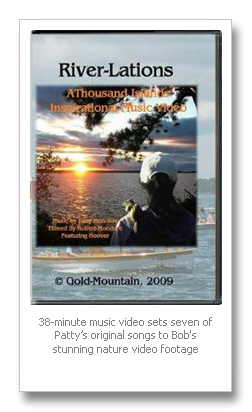 Dove reviewer: "Having been exposed to several DVDs of this genre, meaning a DVD which contains nature scenes and songs, I can truthfully say this is by far the best one I have ever seen. It is very well done. First of all the vocalist, Patty Mondore, can absolutely sing. She has a strong and yet sweet voice which mixes excellently with the scenes on the screen. She is a terrific singer/songwriter. The song "I Was There" speaks of a divine watchful eye when troubles are all around and may be the best song in the DVD, although I enjoyed every single song." Reviewer: Edwin L. Carpenter, editor Dove Foundation
Patricia (Patty) and Robert (Bob) are well known in the Thousand Islands. And this is their third movie project.
Patty told TI Life, "Even before the project began, it was due in part to Paul Malo and his book trilogy, and Ian Coristine and his photography trilogy that Gold-Mountain decided that we, too, needed a Thousand Islands trilogy of our own."
The movie was named after Patty's inspirational column in the Thousand Island Sun, River-Lations. This 38-minute music video sets seven of Patty's original songs to a three-year collection of Bob's stunning nature, wildlife and River video footage.
Patty discovered the chapel services at Jorstadt (now Singer) Castle. She became their regular singer and piano player and she would take the opportunity to debut here new songs as she wrote them.
We asked Patty to describe their new production:
Like our previous two movies, Proclaim His Praise in the Islands and Heaven & Nature Sing, the film clips in River-Lations include plenty of Thousand Islands wildlife such as loons, ospreys, and the great blue herons, along with ships, the lighthouses and its famous castles. Songs are also once again enhanced with nature sounds such as ospreys, birds, and loons throughout the movie. But River-Lations has several features previously not found in either of its two predecessors.

The movie opens with "The Heavens Declare" and a tour of the International Rift taken aboard a 1950's classic wooden boat (a Shepherd), compliments of its owners, Dan and Candy Cookes. We make sure to swing by Boldt Castle and the Thousand Islands Bridge on the way.
| | | |
| --- | --- | --- |
| | | |
| Photos © Patty and Bob Mondore | Photos © Patty and Bob Mondore | Photos © Patty and Bob Mondore |
| The film captures wildlife such as the loons great blue herons... | Ships and lighthouses play a prominent role... | Three years worth of film taken at the Antique Boat Parades... |
The song, "Foretaste of Glory" begins in an osprey's next located high above the River and ends in a field of buffalo (did you know there were buffalo in the Thousand Islands?). The islands are teeming with wildlife and you will have the opportunity to see several close-ups of some of our favorites including the Great Blue Heron, loons, a curious mink and more.

Springs in My Valley" combines three years worth of film taken at the antique boat parades and regattas in Clayton. (The Modores are hoping that movie viewers will recognize one of the boaters filmed as they would like to identify everyone).

"More Than These" is a visual feast of color as we intertwine bursts of flowers with some of the many wild birds and (not-so-wild) chipmunks near our camp.

"When the Wind Blows" is (no pun intended) a whirlwind trip from Tibbetts Point all the way to Ogdensburg stopping at each of the lighthouses along the way, as a steady stream of Seaway Freighters, a few pirate ships, and one errant kayaker pass by.
| | | |
| --- | --- | --- |
| | | |
| Photos © Patty and Bob Mondore | Photos © Patty and Bob Mondore | Photos © Patty and Bob Mondore |
| A tour of Singer Castle and its secret passageways... | The Great Blue Heron in all its glory... | A favorite River sunset... |
Of course no Gold-Mountain production would be complete without a stopover at Singer Castle. In "Glorious Victorious" we take you on a tour from top to bottom, inside and outside, and even include a few peeks from inside its secret passageways.

Since all good things must come to an end, so does each wonderful day at the River. In "What Kind of Love" we leave our viewers with some of our favorite River sunsets. Listen carefully and you may even hear a loon or two.
Hoover returns
And lest you think that the Mondores have strayed too far from one their favorite filming subjects, they most certainly have not! "Hoover" the famous Thousand Islands chipmunk performs interludes between each of the songs, including the popular YouTube hit, "The Attack of the Killer Chipmunk" (Patty wrote: "something that you kind of have to see to fully understand what I'm talking about").
| | | |
| --- | --- | --- |
| | | |
| Photos © Patty and Bob Mondore | Photos © Patty and Bob Mondore | Photos © Patty and Bob Mondore |
| One of the "not so wild" neighbors... | Hoover the famous Thousand Islands chipmunk plays a feature role... | Patty has a chip on her shoulder... |
The Mondores have created a 3-minute trailer of movie highlights and have made it available on their website
TI Life has also put the link on our Publications page. For anyone who can't wait until summer, they will be shipping copies of the movie through their website.
Patty says, "We hope that our Thousand Islands music video trilogy, and River-Lations in particular, will help round out the growing list of River Rat productions dealing with the most amazing place in the world.
[Editor's note:  The Dove Foundation is a registered US organization based in Grand Rapids, Michigan, known for its activities of rating, reviewing and endorsing films, and for campaigning against the portrayal of sexual activity and violence in film.]