It seems that each year, as the boating season winds down, I take a look backward and review the events of the River from the standpoint of the first responders. Memorable events are reviewed and opportunities for improvement has been sought. It is probably good that this is done from memory, as it saves a lot of time wasted on details.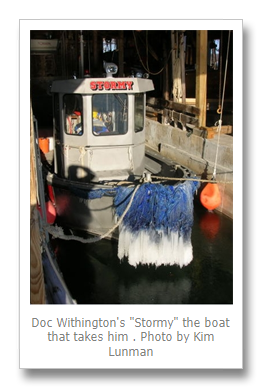 The big news for this year is that it was probably the safest, least spectacular, year in recent memory. Of course, there were the occasional fireboat calls, but for once, we had no major collisions, no major boat fires, no sinkings, and no major island fires. There were times in the spring and summer when the islands were very dry, but there were no large grass fires to report. There was a recreational diving accident at Rock Island that was promptly managed, and in the same area the freighter Juno, grounded under the TI bridge without injuries or damage to the environment or private property. Re-floating was accomplished in about three days, which is remarkably good time for such an event.
Of the fireboat calls, most were for medical emergencies. There were two major cardiac emergencies; both were recognized and evacuated to medical centers where pacemakers solved the problems. Two acute respiratory emergencies were  also resolved with quick treatment and evacuation to a hospital. There was a pediatric emergency that occurred while swimming. It may have been a near-drowning, but again resolved with quick response from Thousand Islands Rescue Service.
A few "soft groundings" were managed by local towing services, again, without reported injuries or environmental damage.
Visits by small cruise ships brought about a thousand travelers to the Port of Clayton. Close cooperation among the law enforcement agencies, the village and town authorities, and local businesses allowed the ship stop-overs to occur with a minimum of disruption. Crew exchanges and re-provisioning were challenged only by weather and unexpected schedule changes.
I am almost afraid to say so, for fear of jinxing ourselves, but from the standpoint of the fire/rescue this was our best summer in recent memory. We rather enjoy sleeping all night, staying home when the weather is misbehaving, and using the boats for training and safety patrols.
One of the high points of the summer, as always, is the people you meet. I encountered lots of folks from all over, but one event put the summer in focus.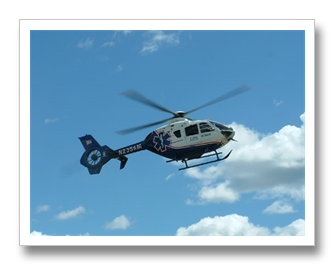 It was a Sunday in June, and I got a call to go to a cottage on an Island that was not an emergency. I was met on the dock by a group of seven men who had travelled here from Virginia, to rent a cottage and enjoy some first-class fishing. They reminded me that they had been there the year before and that one of them had become seriously ill.
The man had been evaluated and treated by Thousand Islands Rescue Service and transported by fireboat to Clayton,...and ultimately on to Syracuse. They had been told by doctors in Syracuse that the prompt attention afforded by TIERS and the Clayton Fire Department had saved his life, and they just wanted to say, "Thank you." I was taken aback. This is not an everyday occurrence.
They could have easily just gone fishing, but they didn't want to go until they had expressed their deepest appreciation for the care they had received a year ago.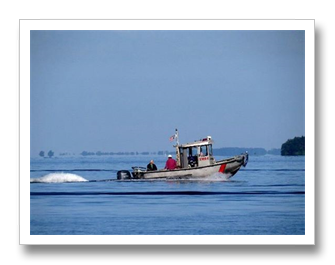 We all shook hands and exchanged pleasantries. Then they wanted to take a group photo or two. I thanked them for remembering us and started to leave when one came over and quietly asked me to pass a little gift along to those who had helped him. I was casting off and he handed me some folded bills. I glanced briefly at it and noticed a twenty dollar bill on top. I stuffed it in my pocket and completed the undocking.  On my way home, I thought that I should look more closely so I would be able to account for the gift to the rescue squad and the fire department. Imagine my shock as I rolled back the twenty and found that all the rest were fifties and hundreds!!
I called the chiefs and delivered the money as requested, but then I got thinking about what had just happened. These men had had a horrifying experience that ruined their vacation a year ago. Instead of being terrified by their close call, they got their friend, now fully recovered, and headed back to pick up where they had left off last year. Their fishing trip had been interrupted, but they were not about to have it spoiled. So they all came back to a place where they knew they were among friends and the fishing is good. And they couldn't fish until they had taken care of seeing to it that we were on the receiving end of a GREAT BIG VIRGINIA "THANK YOU".
Remember I said it was a Sunday in June?.....it was Fathers' Day.
Dick
By Richard L. Withington, Round Island
Dr. Richard (Dick) L. Withington is a retired Orthopedic Surgeon and is best known on the River for his rescue work with his boat "Stormy."   Each winter Dr. W. writes articles that provide his special view of the Thousand Islands – and we thank him for this.

Dick's first article for TI Life, A Winter Islander, was published in January 2009.  To see all of Dick's island experiences, search TI Life under Richard L. Withington. Also be sure to see The Doctor is in, February 2012, written by Kim Lunman, writer and publisher of Island Life, a print magazine.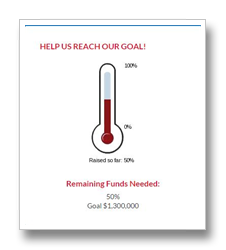 Several islanders and mainlanders have worked hard this summer to help raise $1.3 million to support building a new home for TIERS.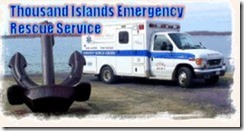 The "TIERS Saving One Life at a Time Campaign" seeks $1,300,000 to ensure the continued provision of the highest level of emergency medical care available to the Towns of Clayton and Orleans and their associated islands as well as to the broader Thousand Islands region through mutual aid.  We encourage our readers to give generously – it could save a life.
See Testimonial: Saving a Life, written by Jack Elder. September 2014.
Information:  http://tirescue.org/case-study/