Every night is a different flight to a different galaxy…
Do a sold out show, then I hit the road in my starship limousine…
Spaceship Superstar, Prism
Log entry for November 8, 2015:
08:25: We're almost home. Early Sunday morning on Lake Ontario, east bound, course 041 degrees. Weather: sunny, clear. Slight north-westerly swell.
Passing False Ducks Island light, "Wolfe Islander III" altered course to 031 degrees to parallel the Amherst Island shore. The 55 car ferry was finally returning home, after her five year inspection and lengthy refit at Heddle Marine in Hamilton, Ontario, to her Wolfe Island – Kingston run. The trip across the lake had taken about sixteen hours.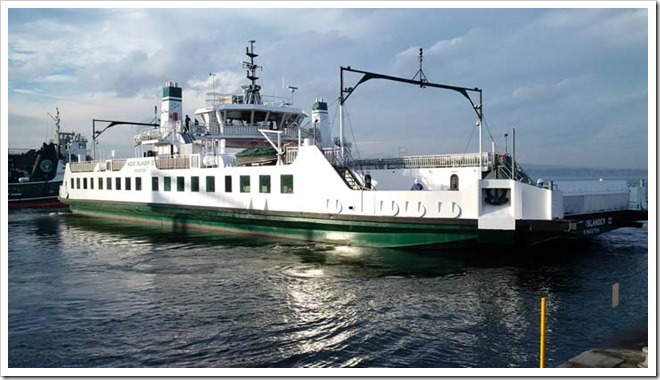 The "Wolfe Islander III" returns to Kingston in November 2015.
"There she is… "Wolfe Islander III"… I see it… I see it!" Little Ruby Di Rinaldo pointed out on Lake Ontario to the small speck slowly taking shape on the horizon. From her vantage point on Old Front Road, by Norman Rogers Airport, Ruby and her mom, April were among the first 'mainlanders' to spot the newly refurbished ferry, as we came into the approach area of Kingston harbour at the Lower Gap. At that distance, looking out from shore, the boat 'floated' over the surface of the water. "Look mom," she pointed out. "It looks like a space ship!"
Aboard, we watched as a car kept pace with us over on Amherst Island to our left. People knew just where we were the moment we left Hamilton dry dock, as our progress had been monitored by many at home on their laptop computers linked to our AIS (Automated Identification System).
It becomes a 'ferry boat shuffle,' especially if it involves the biggest ferry in the Eastern Region fleet of the Ontario Ministry of Transportation. As the "Wolfe Islander III" departed Kingston for Hamilton last April, the Prince Edward county area Glenora ferry "Quinte Loyalist" departed east for service at Amherst Island. So the Glenora - Adolphustown ferry was down to single boat service, using just the "Glenora."
Amherst Island now had the smaller "Quinte Loyalist" ferry serving that community. Further eastward, Wolfe Island, in turn, had the Amherst Island ferry the Frontenac II which carries 33 cars as compared to "Wolfe Islander III's " 55 car capacity. As a result, all three ferries were at capacity every day, with long, waiting lines almost constantly. It had been a long, frustrating spring/summer/fall for everyone. In a mid-summer Whig-Standard article, Randy Hillier, MPP for Lanark-Frontenac-Lennox & Addington, remarked on these delays: "This has caused significant hardship, because the "Frontenac II's" half the size and people are missing health care appointments with specialists. There are significant hardships getting to the mainland."
"It's totally unacceptable where people are waiting two or three hours in line for a ferry to get off the island," Denis Doyle, mayor of the Township of Frontenac Islands said in the same article.
November 5, 2015: At first glance, for me, she was a brand new ship.
Freshly painted with her brand new bridge deck and 'wheelhouse', the "Wolfe Islander III", with all of her lights on, looked just like the refurbished 'starship' Enterprise, majestically dormant in her 'space dock' with workers floating about from the late 70's movie 'Star Trek: the Motion Picture'. A familiar vessel sure, like the TV series, unseen for some time and now, here she is, bigger than life, resplendent in shape, size and bright, white paint. The replaced bridge changed her outward appearance almost completely; the new, larger eight sided octagon shaped wheelhouse simply dwarfed the now seemingly outdated previous one sitting down on the pier.
New ships today have their wheelhouse built in this manner; the forward end with longer windows with the next set at 135 degrees on either side giving the pilot an unobstructed view of the road ahead. And it blended in perfectly with the rest of the ship. New walk-about decks around the exhaust stacks made the launching of emergency life rafts far more accessible and easier than before. Inside the new wheelhouse everything was new and state of the art. The consoles on either side of the pilot's chair were brand new. Inside space seemed enormous. Right now, it was a hive of activity as technicians were check listing every piece of equipment for her shakedown run out in the harbour.
Down below on the car deck was a hive of activity. Electronic cables, wires, equipment and workmen were scattered about everywhere, doing what seemed, hundreds of jobs at once. Giant cranes moved about the pier like mechanical monsters out of Star Wars. High above on the end of its boom swung a likewise giant reeved block at the end of a long, thick wire. I adjusted my hard hat, suddenly realizing the futility of this. Activity on other ships all around continued into the late afternoon. Ahead of "Wolfe Islander III", on the one floating dry dock, was the Coast Guard ship "Griffon" getting hull work done and a final coat of paint. Just behind our ship, the American buoy-tender tug "Robinson Bay", was waiting her turn and just behind her, up on blocks, was the other Wolfe Island – Cape Vincent ferry "William Darrell" having her five-year inspection. If that isn't enough, two salties are off loading, just a pier away, while another is being guided in by a couple of tugs. A very busy spot.
Afloat now, a living thing once more, "Wolfe Islander III's" engines were running and everything was starting to come to life. Tonight was her shakedown test run for the Transport Canada inspectors. Slowly pulling away from the pier, Captain Bob Woodman put her through her paces around the harbour. About three hours later, she passed her inspection with flying colours. Preparations were now being made for the voyage home.
It had been exactly 6 months and 27 days since our delivery of the Wolfe Island ferry, "Wolfe Islander III", to Heddle Marine dry dock in Hamilton Ontario last April. April 9th to be exact. Conditions last spring for sailing Lake Ontario, although far from ideal, weren't too bad – weather wise. But it had been a tough, tough winter on the ferry.
Ice, to begin with, impeded the pathway for all of the ferries to get to their new destinations for 'the shuffle'. Thankfully, the Canadian Coast Guard icebreaker "Martha L. Black" had cut a path through the north side of Wolfe Island leading, to the north side of Amherst Island, on her way to Picton after opening the St. Lawrence Seaway for the upcoming season. By the first week of April, it was possible for the other two ferries to get in place and begin operations. The plan was to get "Wolfe Islander III" to her dry dock destination, as soon as possible, to commence work.
The ship was to undergo a major facelift, involving a brand new bridge deck, wheelhouse and a completely replaced electronic system inside. Outside and below decks everything would be thoroughly scoped out and repaired or replaced as necessary. Calcium and road salt, even used sparingly, is badly needed to assist in clearing the decks of the ferry, for safety, in harsh, winter weather conditions. In turn, much of this material finds its way into corners and drains. Scuppers, pipes and even outer decks needed to be repaired and replaced in many places. The work began; one week ran into another.
"Ferry Delayed yet Again" ran another headline in the Kingston Whig-Standard. "The 'Wolfe Islander III' will not be returning to service the week following Labour Day…" Again, long line-ups combined with hot summer days left many frustrated passengers – on all of the ferries – to vent their complaints on the ferry crews tirelessly working the decks to accommodate everyone. Fender benders happened… tempers flared… In Kingston, even the nearby Tim Horton coffee shop was closed for repairs…
In the end, the promise was made for the "Wolfe Islander III" to return by very early November. This would return all of the other ferries back to their original locations. Meantime, many were still – and are still - frustrated about the seemingly unanswered question: Why did it take so long?
Final log entries: November 8:
09:30: Crew hoist signal pennants up forward, reading: 4 – 0 – W – I – 3, topped by MTO house flag. Original christening flags from 1975 hoisted fore and aft.
12:40: One long and two short saluting crew of Frontenac II. Secure at Kingston amid horns honking and cheering crowds with television crews. MPP Sophia Kiwala with Regional Director Kathy Moore and staff board ferry. Mayor Denis Doyle welcomes us back.
14:00: Voyage complete. Enter service.
By Brian Johnson, retired, former Captain. Hired to bring her home.