Written by
Michelle Caron
posted on December 13, 2015 12:19
Editor's Note: In 2005 when Paul Malo created Thousand Islands Life.com he did so with a hope that much of the "past" would be appreciated. He wrote at that time: "In the interest of finding appreciative stewards of historic properties, housand Islands Life presents some real estate of exceptional importance when offered for sale." Capricorn Motel Royale in Ivy Lea is one of those properties. Be sure to visit our Properties page to see other historic properties all in need of new stewards.
Capricorn Motel Royale
Since 2003, Bill and Moira Dow have been proud proprietors of the Capricorn Motel Royale in Ivy Lea Canada Located directly across from Gananoque Boat Lines and Smugglers Run Restaurant. Their story is simple, they fell in love with the Thousand Islands, and especially the village of Ivy Lea…it is unique and beautiful and a wonderful community to be a part of; steeped in history. Becoming a tourism operator when you are from the city is daunting, but they were captivated and loved their new adventure.
Here is their story as told by Bill...
Our son, who lives in London, called us in the month of March and offered to take our family pet, a lovable Lab named Sam, for the week so that we could go on a "get away" week end. Quick to take up the offer, I met our son on a Friday at lunchtime, put Sam our dog in his car, had a quick coffee with him, to catch up on all the news, then I headed back home to Ajax where we are from and lived for 19 years.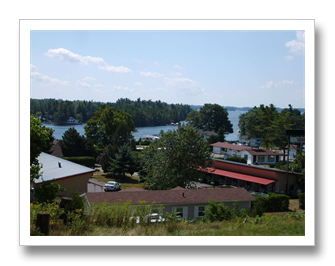 Moira was waiting at home wondering where we were going since we had not yet agreed on a destination for the weekend. When I returned we loaded the car with all the necessities for a weekend adventure. As we began our journey she asked, "Now where are we going?" I said "Kingston" -I don't know why, it was the first thing that came into my mind. She agreed and we set off east on the 401.
We booked into a hotel in Kingston, had a leisurely dinner discussing the options for the next day and decided to wait and see what the weather would bring the next morning. The morning proved to be the first good day of the spring. The sun was shining, the sky was blue and we felt great. We decided to drive along the 1000 Islands Parkway and just enjoy the scenery on this the first beautiful day of spring.
We found ourselves in Gananoque and decided to keep on going as we were both enjoying the drive and the scenery. We passed the new casino then stopped in at the marinas near Ivy Lea to look at the boats and the River. We are boaters ourselves and love being "dock rats". This is when we saw the motel with the "For Sale" sign on it. We commented to each other that this could be a life style we could both enjoy and then carried on with the rest of our day.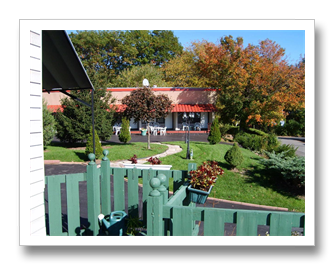 We returned to Gananoque for lunch and by chance saw the real estate office that had the motel listed. It was 5 minutes to twelve, and the office closed at twelve. I went in to the office and requested a copy of the listing. The listing agent was in the office and insisted that he was on his way out to another appointment in the area of the motel and would be happy to open it up and let us see inside some of the rooms. I told him I was only curious and really thought there would be no point in him taking the time, if it would make him late for his appointment. However, curiosity got the better of us and we did follow him out to take a look inside the motel.
That night in Kingston we found ourselves talking about the motel over dinner, at great length, and musing over the many things we could do if we owned such a place. Still enthralled, the next morning we found ourselves back in Ivy Lea taking a second look. We still liked the area and the adventure that could be awaiting us seemed very appealing, so we decided right there and then that owning the motel was the right thing to do and decided to jump in and take a chance. For a couple from Ajax, It was worth the risk to live in this beautiful part of the world and get out of the city!

Well - we found ourselves in the real estate office in Gananoque that afternoon, writing an offer, and the offer was accepted! Back to Ajax, we then put our house on the market and sold it in three days….we were now the owners of a motel. This was meant to be! Kismet? We both quit our jobs in the city and started our new life…and now here we are living in one of the most beautiful parts of the entire world -with some of the nicest people for neighbours. We love what we are doing and love the people we are meeting here in the village. It is still "The Garden of the Great Sprit".

By Bill Dow
After 12 years of happily running their motel, Bill and Moira have decided they would like to travel and enjoy their retirement. Making their motel clean & comfortable is important to them and they try to make everyone who stays in their motel feel like family.
The motel is their home and they treat people the same way they did when they lived in a regular home. It is important to them that everyone leaves their home feeling that they were made to feel welcome, enjoyed hospitality and want to return to Ivy Lea….and they do!
The Capricorn Motel Royale is currently up for sale for $579,000. It is directly across from the public launch and Gananoque Boat Lines in Ivy Lea, and is situated on 3.73 acres.
By Michele Caron, TIP International Brokerage
Michelle Caron is a tourism product development consultant. She moved to the Thousand Islands region in 1989. When Michelle and her husband, Lou, lived in Toronto, they convened for all family holidays at Dewar's Inn, near Prescott, ON. She is passionate about the Thousand Islands region and both have dedicated careers in tourism. They were so enamored with the River, they were married on a boat just next to Boldt Castle (where they had their first date) and then hosted a family wedding picnic on Heart Island. They now live on the Canadian mainland with a view of Chimney Island.