Written by
Susan W. Smith
posted on January 13, 2016 12:34
Take the power of giving, add a touch of social media and top it off with a "never say die" individual, named Doug Tulloch, and what do you get?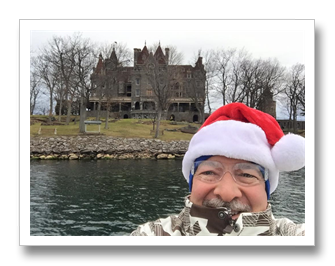 A joyous Christmas for dozens of children and their parents, who gathered at the Alexandria Bay upper James Street Dock on the afternoon of Christmas Eve!
It was back on Dec. 19th that Doug Tulloch and I were emailing back and forth. He came up with the idea of getting in a boat, dressed up as Santa, lights on his boat, out on the water and going past Bonnie Castle. What I did not know was Doug had been talking to a teacher friend, Brian Hudon from a local school when he learned that there were several families who could still benefit from a little bit more Christmas Cheer. What to do? How about a message on his timeline?
19 December 2015 at 15:41 · Alexandria Bay, NY ·

December 19th

OK; so here's the deal. This Christmas Eve just after dark, around 5 PM, I'm going to arrive at the upper bay dock in Alexandria Bay dressed as Santa Claus in a boat with Christmas lights on it. We are looking for two things.

A. If you know a child who would benefit from a Christmas present, that might not otherwise get one then please have that child at the village dock at 5 o'clock for a surprise visit from Santa. If you were aware of a child that you would like to have there who could benefit from this please message me so we have an idea of what would be needed to meet their particular needs. Please let me/we know who we can expect as far as age and gender in advance.

B. Any and all gifts are needed for children. Whatever you may have that's excess and can be wrapped and labeled will be appreciated. We don't have a real good grasp because of the late planning of what is needed but from experience I can tell you any and all gifts work. We will try to make it age-appropriate as long as gifts that are dropped off are labeled so we know what they are. All donated presents would need to be at my boat house by Wednesday night. Yes, I know this is last-minute but how often do we have the chance for Santa to arrive by boat in the village.

I'm reaching out for any and all clothing or toy donations for children. I'm going to ask if I can get a volunteer or two in town here close by to help sorting and making sense of all this on Wednesday night or Thursday day time. The hope is that the weather which we know is going to be warm will remain dry for Thursday evening. Some wet weather should move out before that and the temperature should be in the mid 40s to 50°.

Thank you in advance for any help. If you have any questions please send me a private message. Thank you and Merry Christmas.
Suddenly the messages came fast and furiously. No gifts for a child, no propane for a heater, no food for the table.
Two days later he was on the move…
By the time I checked the GoFundMe page, over a $1000 had been contributed but it only took two more days to be amazing. First the media and websites all over took hold.
WWNY TV 7 News brought more awareness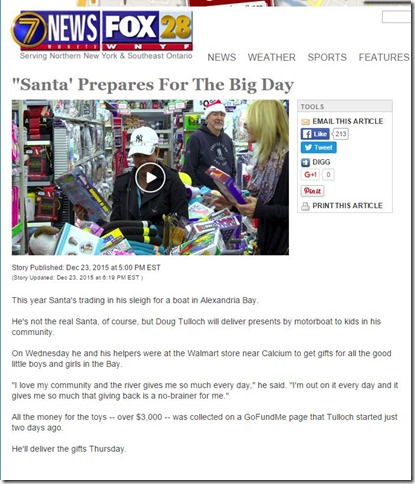 [Click to open in a separate window]
Now what to do with the presents – not just your average Christmas tree… but over 450 gifts all needing wrapping? No problem for Doug – for he has friends! Lots of them who promptly took over the Dancing Dog in Alexandria Bay and never stopped until the task was accomplished.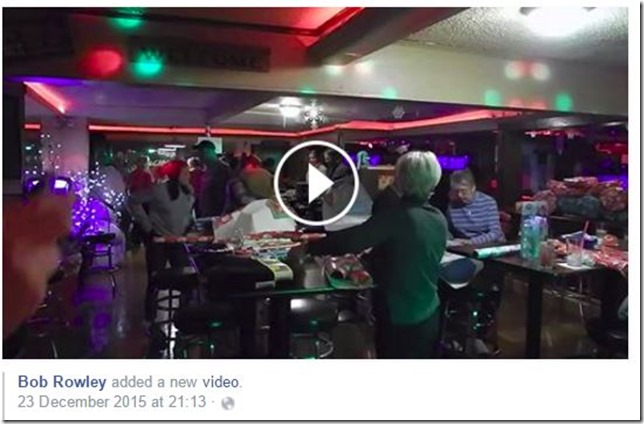 [Click to open in a separate window]
And now the big day comes. Poor Doug worried about the weather, the children, their safety… the list was long.

So what happened? Let's let Doug tell his story:
Doug Tulloch

26 December 2015 at 17:52 · GoFundMe ·

Merry Christmas and now Happy Boxing Day.

It's time to summarize what we accomplished. WOW!!! First the numbers.. We raised total almost $4000. GoFundMe takes a small cut, which in the big picture is ok. Their system works. They however don't transfer the $ quick enough for us to have the money to shop on this short notice so a big Thank You goes to Heather Carbone who helped me front the money to do the shopping on the 23rd. We bought $3000 worth of gifts. The number of presents wrapped was about 450!!! When the balance of the funds arrive, gift cards for the local grocery store will be given to the school nurse and principle to send home where most needed. Back to the gifts. At least 25 to 30 volunteers showed up at the Dancing Dog on the 23rd to wrap them all. It was amazing to see. Thank you to ALL the people who showed up.

On the 24th we had at least 20 people on the dock as elves and as safety for the children. The children had a great time and many received multiple gifts. There were smiles and tears by them and by us. The left over presents were delivered to Samaritan Hospital's Children Ward on Christmas Day. A perfect idea and well received.

This would never have been made possible without the donations you all made. Thank you. The number of volunteers shocked us all. SO many people stepped in to help make this an absolute success the very first year. Yes, that makes it sound like we'll try again next year. We will. I could never name all the people who helped without having an omission but I absolutely must thank Brian Hudon and his family for the huge amount of effort they put in to this event. The same goes for Marta Beach and Kelley Gribuski Payman and her mom, Linda. All of them pulled a marathon. Also to George Ruddy for going way above and beyond for a family in need. You showed what being selfless is. You ALL have. I could never have done it without Geronimo and Lonnie's extra boats.... And of course Santa and his elf!!!! :) Thank you to every single person who pulled together to make this a great event. Also thank you to the US Coast Guard who escorted Santa's boat and the 2 other boats full of gifts in with Christmas music playing. The four Guardsman, then stayed on the dock as added safety for the children. Thank you all. The true spirit of Christmas was seen and felt by all. This touched a lot of lives and even more hearts.


We learned a lot from this first annual Santa by boat adventure and will improve it for next year. Wishing you all a happy, healthy and safe 2016


Enjoy the video provided by Horizon Aerial Media Services and Jason DesJardins
How do you say thanks?
Maybe Bob Rowley said it well when he put on Facebook: "A BIG SHOUT OUT TO Doug Tulloch & all his elves & Helpers!!! Present wrapping for SANTA'S boat delivery, AWESOME job everyone and thank you to all who donated!"
By Susan W. Smith, Editor, TI Life, info@thousandislandslife.com