Growing up in the Thousand Islands the old homes and boat houses always fascinated me. As a teenager, in the spring and fall - before and after the summer people were in residence,- the river and the islands were our playground. My summer job in high school and through college was as a tour guide and later captain for Uncle Sam Boat Tours, during which I learned an abbreviated history of the islands. If anything, it made me curious for more information than I would normally repeat during the two hour tour of the river.

As an architecture student I used the architecture of the river as inspiration for projects and as a graduate student in Historic Preservation at Columbia University in New York City.  When it came time to pick a thesis topic, I knew that I needed to do something that would be interesting to me personally, in order to make sure that I would complete it. (and therefore graduate)
The old Thousand Islands' boat houses always fascinated me, my family kept their cruiser in the old yacht house behind Pine Tree Point when I was young and going to the yacht house and running around amongst all of the "old boat stuff" while dad got the cruiser ready or put it away after our trips, was as much fun as going out on the boat itself. Later when I had my first boat, poking in to look at the grand old boat and yacht houses was part of our life on the river. I was already familiar with the Peacock Yacht House, working for Uncle Sam Boat Tours, who was its owner, I went there on several occasions, including the former gas house that was turned into a workshop. In the Peacock Yacht House I found a unique subject for my thesis.
Rick Tague, Westminster Park, NY.
[Editor's note:  We are grateful to Rick Tague for providing TI Life with an adaptation of his Master of Science in Historic Preservation thesis.  The author provided a number of photographs which were given to him by Alexander Peacock's grandson in the 1970s.  Unless otherwise identified these photographs are from an original family photo album. Photographs will expand and footnotes will appear by clicking the mouse over the highlighted photo or text.]
Thousand Islands and the Rise of the Summer Colony
The Thousand Islands began its rise into one of the major summer resorts of the Northeast during the 1870's. It was in 1872 that President Grant, family and friends vacationed at George W. Pullman's island, Castle Rest, near Alexandria Bay1. Prior to this the area was noted solely for its fishing. But as the nation prospered, the custom of spending the summer in the country began to become an important part of American life for those that could afford it. People began to have both the time and the money to enjoy long vacations. At the same time rail service and steamboat service were expanding at a rapid rate.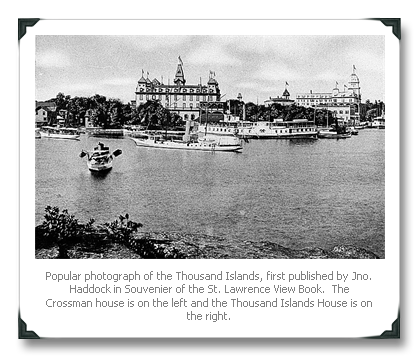 Although there was no direct rail service to Alexandria Bay, it was available to nearby Clayton, N.Y. and Cape Vincent, N. Y.  Steamboat service was then available to Alexandria Bay and other points along the St. Lawrence. It was possible to have a sleeping car that would travel without change from New York City to Cape Vincent. With this kind of travel available by the late 1870's the Thousand Islands began to gain in popularity as more and more people discovered the great natural beauty of the river and the islands.
Large resort hotels, such as the Crossman House and the Thousand Island House in Alexandria Bay, were built to accommodate those who either could not afford their own island and cottage or preferred to live for an extended period in the care of a grand hotel. They also were the first introduction for many future summer home owners, to the wonders of the Thousand Islands.
As industrialization swept the country, during the late 1800's, a new class of people emerged. These were people who became rich practically overnight. Subtle distinctions were made between new money and old money, the rich and the very rich. When the newly rich were excluded from such resort areas as Newport, Rhode Island, they looked elsewhere. It was in the Thousand Islands that they were able to indulge in their forever conspicuous consumption. They built magnificent monuments to themselves, always trying to outdo their neighbors. This competitiveness carried over into their other activities, one of which was yachting and later motorboat racing. It was in this atmosphere that the utilitarian function of boat storage was transformed into a powerful statement of function, form and beauty.
Alexander R. Peacock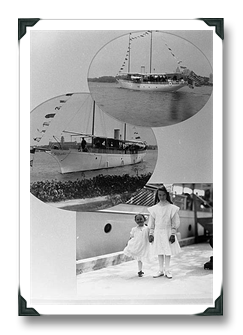 Alexander R. Peacock came to the United States as a young man from Dunfermline, Scotland where he was born in 18622. While working as the manager of a dry goods store in New York City, he favorably impressed the future Mrs. Andrew Carnegie. When she mentioned him to Mr. Carnegie and that they were from the same home town in Scotland, he offered him a job in the credit department of the Homestead steel works in Pittsburgh.
Peacock proved that he was an able salesman bringing many large orders to the Carnegie steel mills. He became a stockholder and subsequently millionaire, when the Carnegie Steel Company was taken over by the United States Steel Corporation. He retired from the steel business soon after the takeover. His estimated worth in 1907 was approximately $15,000,0003.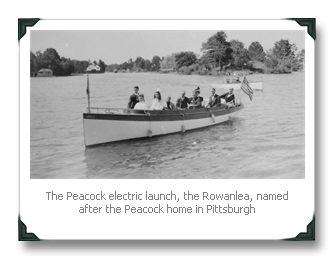 Peacock was just one of many millionaires associated with Andrew Carnegie and his steel empire. Others include such men as Henry Phipps, Henry C. Frick, Charles M. Schwab, William E. Correy and F.T.F. Lovejoy.
These men all had a great deal of money to spend. One of the favorite ways was to build lavish mansions for themselves, and in 1903 Peacock had just completed a new mansion on Highland Avenue in Pittsburgh, called Rowenlea. It was designed by the architects Alden and Harlow of Pittsburgh4, who designed many other mansions in the Pittsburgh area. The house was decorated by the firm of Duryea and Potter.
The first account of A.R. Peacock coming to the Thousand Islands area5, was during the summer of 1903. It was reported then that he had purchased the yacht Irene the previous fall and that he and his wife were staying at the Hotel Frontenac, a popular resort hotel on Round Island near Clayton, New York6. The yacht Irene was the first of many vessels owned by Peacock. (Figure 1-4) It was purchased from Charles Goodwin Emery of New York City and Calumet Island, near Clayton. Mr. Emery was also the owner of the Frontenac Hotel. A large number of the Thousand Islands summer residents were from Pittsburgh, and it is probably through one of these people that Peacock learned of the Thousand Islands area .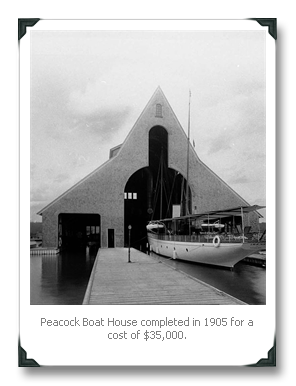 In the Summer of 1904 it was reported by the Syracuse Herald American that Peacock was renting Belle Island (and its cottage) from George C. Boldt.7 Belle Island is located directly across from Alexandria Bay, New York. Boldt was the owner of the Belleview Stratford Hotel in Philadelphia and operator of the Waldorf-Astoria in New York City. He had extensive land holdings in the Thousand Islands area and had recently built a castle on nearby Hart Island and an impressive yacht house on Wellesley Island. On August 31, 1904, Peacock purchased a parcel of land on an island near Fern and Wellesley Islands from Gilbert T. Rafferty, also of Pittsburgh8. Gilbert Rafferty owned the adjacent Imperial Island and a large yacht house located near the land sold to Peacock. The land was for Peacock's new yacht house, but since the land was less than a quarter of an acre and mostly marshland, Rafferty supposedly gave him the land.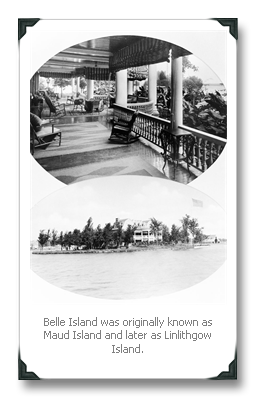 The Peacock Yacht House was completed sometime during 1905, for a cost of $35,0009.
Mrs. Waddier of Alexandria Bay, now in her nineties, remembers her husband, Frank Waddier working on the construction of the yacht house11.  Frank Waddier was working for J.B.Reid, a local contractor who built many summer homes in the area. Peacock had begun to acquire an extensive fleet of boats which were housed in his new yacht house. There are several references to one of these boats, he Radium, which was raced during the summer of 1905 as an entry for the newly formed St. Lawrence Yacht Club, of which Peacock was a member. On September 30, 1905, Belle Island was purchased by Peacock from Boldt12.
An article in the Thousand Islands Sun dated June 21, 1906 describes his "Beautiful Summer Home and "A New Yacht House ". An earlier article notes Peacock in town to inspect improvements on Belle Island13.
Belle Island was originally known as Maud Island and later as Linlithgow Island, before it was purchased by George Boldt. Early photographs from before 1900, show a much different cottage on Linlithgow Island than shown in the photograph accompanying the article announcing Peacock's rental. (Figure 1-7) It is probable that George Boldt built the classical revival style house that Alexander Peacock bought.
On November 5, 1906 Peacock acquired additional land from Rafferty, adjoining the land originally given him in 190414. This land was for a powerhouse and machine shop for the yacht house. The price of the property was determined by the flip of a coin, $1,500 or nothing. Peacock won the toss and paid nothing for the property15.
One of the boundaries of this new property is referred to in the deed as "100 feet from the west corner of A. R. Peacock's Yacht House16". These boundaries were later contested by Mr. Rafferty, who claimed that Peacock's yacht house had not been built in front of the original property and that he in fact owned a strip of land between the two pieces of property owned by Peacock. The case was brought to court and settled in Peacock's favor in a judgment dated January 2, 1912, and further upheld by a second judgment dated October 3, 1914. Mr. Peacock also owned over 14 acres of land on Wellesley Island which was probably used as a farm to supply produce and flowers for the summer house.17
Many of the summer residents, including Peacock, employed people from the area as tourism was the area's largest industry. In 1910 he employed the following men18:
L. D. McWilliams, superintendent of all Peacock's properties. Captain Carnegie; Alexander Gladd; A. E. Anson; Frank Lathrop; Edward Sweet; Fred P. Chayne.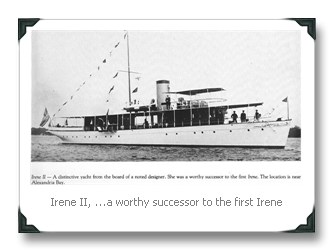 In 1910, Peacock had his yacht the Irene II built, in City Island, N.Y.19 She was 122'-6" long and had a 17' beam. Even though she was over 23' longer and 3' wider than the Irene, she was easily accommodated in the yacht house.
The Irene was sold to Mr. Edmund Stevenson Burke Jr. of Cleveland, Ohio, and Jewel Island, near Alexandria Bay, later that summer20.
Peacock and his family enjoyed many summers on the St. Lawrence River leading an active social life. He was a member of the Thousand Islands Yacht Club, the Chippewa Bay Yacht Club as well as the previously mentioned St. Lawrence Yacht Club. He was noted as having the most extensive collection of boats in the Thousand Islands, including steam yachts, electric launches, gasoline launches, St. Lawrence Skiffs and high powered gas engine racing boats21. Peacock's son, Clarence, did most of the racing, and his racer the Pirate won several races.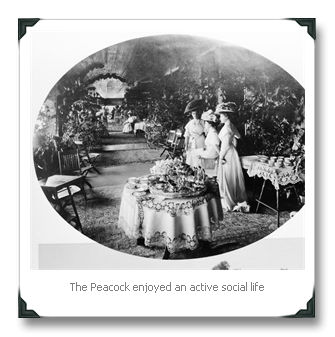 Sometime before 1920, Peacock sold his home in Pittsburgh and moved to New York City. He began to speculate unsuccessfully in the real estate market there. The peacock properties in the Thousand Islands, including the yachts were sold to Rolland Realty Co. Inc. on May 1, 192322. The Irene II had been put up for sale the previous year and it was probably around this time that the Peacock family stopped coming to the Thousand Islands.
Alexander B. Peacock died of pneumonia in New York City on July 12 1928. In his obituary, The New York Times reported that he owned the Hotel Broztell23 at 3 East Twenty-seventh Street.
The former Peacock properties were bought by Edward John Noble on November 20, 1928 for the sum of $10024.  Noble had made a fortune in the candy business by inventing the Lifesaver Canada. He owned the Beechnut Gum Co.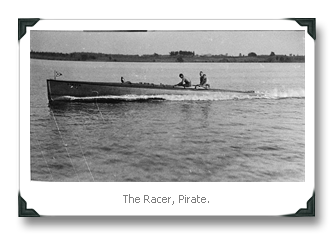 E.J. Noble also purchased much of the vast land holdings of the late George C. Boldt. One of these properties was a club Boldt had built for his guests. The Thousand Islands Club later became a separate corporation and purchased the parcel of property including the yacht house on February 2, 1946.
Having no particular use for the Peacock Yacht House the Thousand Islands Club sold it to Combined Thousand Island Boat Tours Inc. on March 20, 1950, for $10,00026.
The Combined Boat Tours operate a fleet of tour boats under the name of Uncle Sam Boat Tours and previously included the now defunct Pilgrim Boat Tours. The Peacock Yacht House was ideal for storing their tour boats and repairing them during the winter months.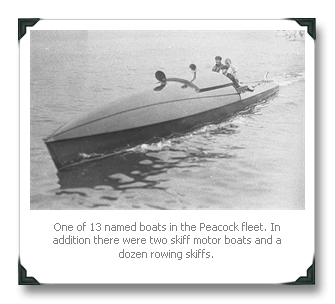 When the yacht house was purchased, these tour boats used by Uncle Sam and Pilgrim were all made of wood and ranged in length from 50' to a maximum of 65' with an 8' to 10' beam. However, over the years the wooden tour boats have gradually been replaced by much larger steel tour boats. These steel vessels do not need nearly as much maintenance and can be left frozen in the ice during the winter with no ill effects. The number of wooden tour boats had been reduced to the point that the owners no longer really needed the Peacock Yacht House to house their tour boats. One of the old tour boats, the Uncle Sam II which had not been used for a few years was in the storage there when it tragically burned to the water in mid 1990's.
To be continued, Conclusion: April 2009
By Rick Tague
Rick Tague graduated from Alexandra Centre School in Alexandria Bay and received a degree in Architecture at the SUNY campus in Buffalo. After graduating he took a job with New York State as Historic Sites Restoration Coordinator. Working on historic buildings for NYS piqued his interest in Historic Architecture, culminating by attending Columbia University in New York City and receiving a Master of Science in Historic Preservation.
Rick is President of Bernier Carr and Associates (BCA) . BCA is a multidisciplinary architecture, engineering, surveying and construction management firm with offices in Watertown, Buffalo and Syracuse. BCA specializes in public projects with the Architectural Division working on schools, municipal buildings and healthcare and the Engineering Division working on water and waste water projects for municipalities. Rick has completed several important projects in the region including work on the Boldt Castle properties for Thousand Islands Bridge Authority, the historic court house restorations for Jefferson and St. Lawrence County. Rick and his wife Tricia are active community members. Rick is the immediate past president of the Thousand Islands Land Trust and Tricia is the current president of the Thousand Islands Association.
1  "The Pioneer Years of Alexandria Bay", Thousand Islands Sun, August, 1936.
7 "George Boldt's Belle Isle Cottage Rented to A. Peacock", Syracuse Herald American, June 19, 1904.
9 Jefferson Rafferty and County Supreme Court, Edgar Rogers, October 8, A. R. Peacock vs. G.T.
10 L.L. Britton, conversation with Mrs. Frank Waddier, Alexandria Bay, N.Y., November, 1981.
11 Social notes, August 23, 1905.
12 J.C. Clerk, Liber 320 of deeds, pg. 508.
14 J.C. Clerk, Book 322 of deeds, pg. 441.
17 J.C. Clerk, Book 319, pg. 500, July 21, 1906.
19 Gilbert Mercier, Pleasure Yachts of the Thousand Islands, Shipyard Press, 1981.