Craig's List read "Boat For Sale: 1949 Chris Craft 34 EXP. $29,000."
My son-in-law saw the listing and shared the view. I passed if off, as often Mother-in-Laws do… until he wrote back, "But did you see the history?" Suddenly the email made more sense. The beginning of the advert read:
""HISTORY & OVERVIEW: Meet Miss Adventure, a 1949 CHRIS CRAFT Express Cruiser. In her earlier years this 34 CHRIS CRAFT was originally owned by the Edgewood Resort in Alexandria Bay, NY. The resort would give the guests cruises on the St Lawrence River, touring the 1000 Islands region, Her name "Miss Adventure" came from Adventure Town where one could experience the thrills of a real live western town and she still maintains that name today. In the early 1980s, the present owner purchased the vessel from a marina in Cape Vincent, NY, saving her from being demolished, because he wanted to preserve her history. . .
Here was a very special boat looking for another steward to continue a proud tradition. Here is the story as told by Ernie and Lori Passaro: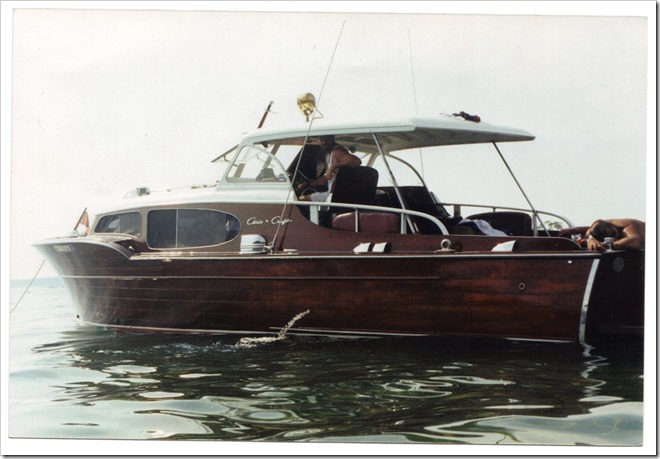 "Miss Adventure," 1949 Chris Craft 34 EXP
Editor's Question: How did you find "Miss Adventure"? What shape was she in?
Answer: We found her at a Marina in Cape Vincent, in 1987 and she was scheduled for demolition. She was in need of a thorough restoration that took seven summers to complete and get her back into the River.
Editor's Question: What was the hardest task?
Answer: Working against the elements under tarps in my parent's backyard of their summer cottage. Two of the hardest things were changing and fabricating the new cabin sides and building a custom trailer to fit the boat's needs.
Editor's Question: How did you know how to fix her? What experience do you have, and did you have help?
Answer: I had a strong supportive family, including my father, Ernest F. Passaro, my uncle, Jerry Peters and a very good friend of mine, Johnny Lachance who knew everything about boats and boat engines.
Editor's Question: Once she was shipshape - then what?
Answer: We launched her for the first time after restorations in 1994. We spent that whole summer cruising the St. Lawrence River with family and friends.
Editor's Question: Tell me about your family. (We had a Fjord cruiser in the '70s, and our memories are all filled with family stories - like my son not wanting to walk the dog at a marina so he "made his younger sister do it." She found several hundred dollars on the walk in the tall grass... you never saw a madder 13-year-old in your life... or a happier 12-year-old!)
Answer: Our family, consisting of five children, my wife Lori and myself had many summers with "Miss Adventure." We would take day trips to Potter's Beach and once we would anchor her, the kids would wonder and ask why is everybody looking at us and I would tell them that they are admiring the boat and just have fun and not worry. So they all decided to show off by jumping off the hard top and make cannonballs into the water. We sometimes would spend the night right there and make a bonfire on the beach and later go back to the boat to sleep, just to do it all over again the next day.
There was also the time when we made reservations in January, for a July Poker Run in Gananoque, Ontario, Canada. When we approached the Marina and called them with our ship-to-shore radio, to confirm our dock space, they told us we were not allowed to dock because of the Poker Run event. We informed them that we had paid six months in advance for a dock slip and so we ended up staying in the middle of the event with our getting as much attention as the cigarette boats.
One year we entered "Miss Adventure" in the Antique Boat Show in Clayton, NY. The only reason why we lost to another cruiser was because they had photos of Marilyn Monroe being on their boat. But we had a blast because everyone loved the fact that we stayed aboard her each night and then rode our Harleys to work each day.
Another great story was all about my good friend Johnny, who was about 20 years older than me; he would constantly tell me, when working on my boat together, that there was something about "Miss Adventure" that looked and seemed familiar. Later, we took "Miss Adventure" for a cruise and an overnight stay at the newly built Riveredge Hotel in Alexandria Bay. While staying dockside, an older gentleman was admiring the boat and said, "I went for a ride on that boat when I was a young lad, when she belonged to the Edgewood Resort." I replied, "How do you know that this is the same boat, 100 of them were made between 1947-1949?" He said, "I am pretty sure this is the same one that the Edgewood owned and you should really check out the history of this boat.
So later that evening my friend Johnny came up with this idea to use my ship-to-shore radio and called out to other boaters to see if anyone had any information regarding the history of any boat owned by the Edgewood Resort. I immediately received a response back from someone who asked what kind of information are you looking for. I quickly explained the story about my boat and he replied back, "I will be right over to check your boat out."
Within half an hour, a gentleman pulled up along side my boat, with a 26 ft, racing boat, introducing himself as the grandson of the Hebert family who owned the Edgewood, back in the 40s and 50s. He said immediately that this was definitely the boat. I replied, "How can you tell?"
He then asked, if when we stripped the boat down to bare wood, was the first coat of paint powder blue?"
I was shocked and said,"Yes". Then I turned to Johnny and he had a stunned look on his face. "What's wrong with you? I asked.
Johnny replied "I knew there was something familiar about this boat, I worked on her back in the late 50s early 60s when it was owned by the Edgewood Resort."
Later we contacted the older grandson, Jeff Hebert, and he told us the history about "Miss Adventure" being a part of Adventure Town. That is how she got her name and for years she would give the guests of Edgewood Resort cruises on the St. Lawrence River.
Question: What are you hoping will happen to "Miss Adventure" now?
Answer: To find a new owner who will appreciate and enjoy her as much or more than we did!
_____________
I agree… Please readers, help us keep "Miss Adventure" adventuring.
By Susan W. Smith with Ernie and Lori Passaro
Ernie and Lori Passaro live in Victor, NY. In addition to having 5 children, 2 grandbabies, one on the way, they are owners of three businesses, EJP Welding, All About Wood and Cape House Rentals. They write, "We both share a special passion for what we do for a living and are always using the philosophy that if you can envision something you can create it. Along with our family and businesses we enjoy boating, fishing and touring the country on our motorcycles."