The images below were part of a first-time exhibition titled "The Glass River" which opened in mid-January to a filled and delighted gallery of visitors and photographers.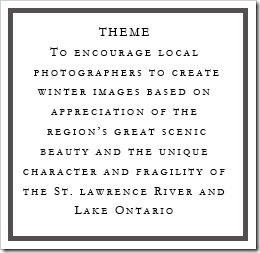 The exhibition was a community event open to anyone in the area that wanted to participate.  Because of the incredibly positive response this exhibition will become an annual event. Please be thinking about submitting an image for next year's show and check our web site for details.
There are many things to celebrate at the Handweaving Museum and Arts Center and one of the more important items is our new name!  We are officially changing our name to The Thousand Islands Arts Center ~ Home of the Handweaving Museum.  We hope the new name is more descriptive and perhaps more user-friendly.  
The Arts Center is filled with creative minds and exciting times, from the Wednesday Weavers who fill the studio with their talent every week to our Potter-in-Residence who conducts vibrant classes and keeps the pottery studio spinning with fun nearly every day.  
The Thousand Islands Arts Center is located at 314 John Street, Clayton, New York.  For more information and to see a complete listing of the 2009 Schedule please visit our web site at www.hm-ac.org
Award winners:
People's Choice - Stephen Diehl
Juror's Choice - Melanie Curley and Christiane Langer
Honorable Mentions - Stephen Diehl, Ralph Eastman, John Slattery, Lesley Vars, Gary Walts, and Vici Zaremba.
By Rebecca Hopfinger, Assistant Director, Thousand Islands Arts Center