It's a small world… after all. No, I am not talking Disney World's favorite exhibit, but rather a simple fact that the whole world does revolve around the Thousand Islands and I can prove it.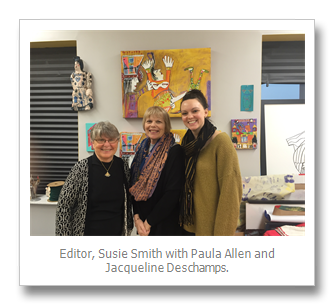 In January 2016, I received an email from Paula Allen. She had written before, back in January 2015. At that time, she sent a photograph that she thought would complement a story written by Anthony Mollica a year before, in January 2014.
Last year, I had said I would publish the photograph, but I forgot… completely forgot. So this year when she wrote again, I apologized profusely and in closing, asked, "where do you live?"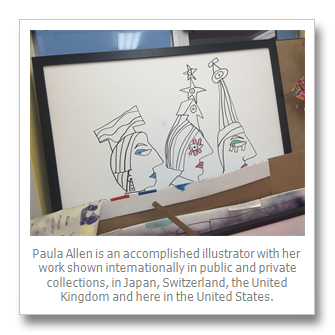 The answer, "St. Petersburg, Florida." Ha… I am spending two months in St. Petersburg (my home town for my growing up years), so we promptly agreed to meet for lunch on February 8. But the story does not end there.
Paula, I discovered, is a professional artist, illustrator and educator and she and her daughter, Jacqueline Deschamps have the Pollyzoom Studio located in the Morean Art Center, in downtown St. Petersburg.
My husband, Marceli Wein, and Paula's daughter Jackie, joined us and the small world closed in. First, Paula teachers film animation and my Marceli spent much of his career creating software for computer animators and then we discovered that Jackie is getting married in March and has bought a house next to my old high school in St. Petersburg. During the next two hours we travelled back to Alexandria Bay, while touring their creative studio and even skipping over the pond to London England, where Paula and Jackie, both keen 1000 Islanders, made a name for themselves during the 2012 London Olympics.
Paula's Thousand Islands Family and the Photograph
I grew up every summer along the Thousand Islands, raised by a native of the area. I am sending this photograph in response to this article I read in TI Life from January 2014: Poetica, a Fitzgerald & Lee Classic Sedan, by Anthony Mollica.
I have a classic photo of famous Thousand Islands boat builders and one of the participants is my dad who was an apprentice.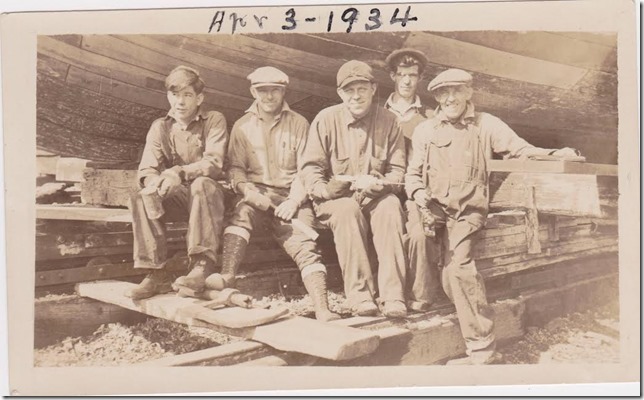 Left to right: Cornelius T. Allen, Mel Brown, Pete Linden, Lou Britton (in the back) and Orville Eichorn. We believe the photo was taken in the Fitzgerald & Lee shop, Alexandria Bay, NY.
My dad, Cornelius T. Allen, is on the left and his uncle, Lou Britton, is in the far back of the photograph, taken in 1934, in Alexandria Bay, New York. Orville Eichorn, on the far right, was the caretaker for Cherry Island, in those days, and he was my dad's father. He and his wife Alta Britton adopted my father.
Boat building in the Thousand Islands was such a huge part of the life and the energy of the times. This photograph shows the crew taking a break. This was probably taken at Fitzgerald & Lee Boat Works, but I am not sure. The photo was taken by Lou's wife, Alta Britton, and kept in her scrapbook.
When I got married at the Thousand Islands Club in 1981, I paid a visit to Lou Britton, with my dad before the wedding. Lou was very old but he was working on a wooden skiff and he showed it to us. As he showed us his work, he beamed all over talking about the Thousand Island Skiff. I was amazed by the boat, the unbelievable level of knowledge and years of craftsmanship placed into that skiff. Boats are part of the River - they are not separate when we look at them and talk about them and watch them move, in the special way they cut through the water.
The color of the wood, the sleek details, the hands that contribute to the beauty of the vessel, are such a part of the Thousand Islands experience. My home movies are filled with scenes from the River, in the 1950s, taken in wooden boats going under the 1000 Islands Bridge, with my mother holding babies. There are several home movies taken from the front lawns of Wellesley Island, with wooden boats cutting across the channel.
My father's stories of the 1920s in the Islands were fascinating, right down to the film stars he met. He was a golf caddie at a local public course and caddied for Irving Berlin and other Jewish Hollywood producers, who were not allowed to play at the 1000 Islands Club in those days. He was a skinny freckle-faced kid. One of the producers invited him to go to Hollywood, to be in "Our Gang" comedies, but he stayed in the 1000 Islands and I am grateful.
By Paula A. Allen
Paula Allen received a Human Rights Award from the Tampa/Hillsborough County Human Rights Council at the 38th Annual Humans Rights Awards Breakfast, in Tampa in 2011; an award based on her humanitarian work in the community with children. In 2008, the St. Petersburg Chamber of Commerce nominated Allen for "Woman of the Year", in the category of community service. Her latest new focus is working on animated stories for children at Vermont College of Fine Arts in the MFA program in Film, with final animations to be completed in 2016.
Spending time with Paula and Jackie was a delight. There was not nearly enough time to hear all the fascinating stories behind their many teaching and street art projects. In fact, Paula has completed over 500 public art pieces, but the one that caught our attention was an Olympic Mural, involving 90 children from St. Petersburg, taking drawing, painting, and visual arts lessons and completing a 6-foot by 4-foot fabric and paper mural.
Daughter Jacqueline has spent most of her working career, in the arts and entertainment business, in Los Angles, London, England and Tampa Bay. Jacquie made arrangement to have the mural installed in London, England for the 2012 Olympics. It was an enormous hit and generated much pride in each student involved. (See complete article about the Olympic Project, written by Chris Kuhn, on www.83drgeesmedia.com as well as videos.
Together mother and daughter have created numerous international art exchanges between American children and children in Jordan, Australia, New Zealand, Japan and the United Kingdom. Paula is passionate about her purpose in life - teaching dozens and dozens of children in classes and camp programs. Now we need to find a way to bring her back home.
By Paula Allen, former Thousand Islander, and Susan Smith, Editor, TI Life