Written by
Richard L. Withington
posted on February 13, 2016 12:34
In the January issue of "TI Life" Rex Ennis presented The Tiffany Story – about West Crawford Island. Soon after comments were posted Jack Patterson wrote one, suggesting that West Crawford Island acted much like a "stopper in a bottle," as he has spent more than 70 years going around West Crawford, while making his way from the Clayton dock to Axeman Island, located in the Lake Fleet on the north side of Grindstone Island. As I read Jack's comment I was reminded of a night many years ago when Crawford Island served as a true "stopper" – thus helping to save lives.
All islanders know that there are a few nights each year when we go to bed "weather-bound". This was such a night. It was Easter weekend, and there was still lots of ice floating in the river. The wind was blowing 20-25 knots, not quite a gale, but surely a night when you just hope that nothing will happen before morning. And it was dark; no moon or stars. Getting or receiving assistance would be difficult to impossible until daybreak.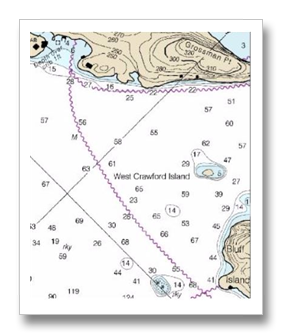 Islanders are like sailors on nights like this. They sleep with one ear listening to the wind and hoping to hear nothing else. At about 0300h the phone rang. This was before the days of computer-assisted dispatch. The fire chief said that he had received a call that there were several young people who had left Grindstone Island for Clayton to get supplies. They had left at 2200h (10 PM) and had not returned. Friends and family were requesting a search, but the fireboat was not yet in the water for the season, and it was thought that I might be able to help out.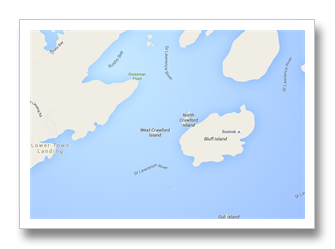 My initial response was that I would be glad to search the shores of Round Island to see if they had fetched up here, but I had only my wife's little boat in the water, and it was too rough to use it for a water search. After checking the boathouse, I decided that I might be able to get out, but with the wind blowing spray, I could not drive the boat and search alone. I agreed to pick up a firefighter in an immersion-survival suit at the town dock. It took a while to get to Clayton, but finally we started the search between Clayton and Grindstone. Given the elapsed time, we extended the search down-stream from the direct course. We encountered large ice flows, and searching was hampered by freezing spray. We found no evidence of the boat or the young people, and we clearly feared the worst.
Meanwhile, word was spreading in Clayton, and the fire department was preparing to expand the search. Finding anyone with a boat available was a challenge. I recall radioing the chief that I was running low on fuel and that I was going back to Round Island to re-fuel. Just as I was getting to our dock, I heard a radio call that indicated that the boat had been found mostly submerged near West Crawford Island. It had filled with water, but the flotation under the seats had kept it near the surface. Every so often the bow would show above the waves, and, believe it or not, the red bow light was still functioning. We re-fueled as quickly as possible and headed for West Crawford.. It was still a scary ride. I remember that just as we were approaching Pine Island, on plane, I slowed down. Almost at once we plowed into a large ice flow. I am so glad we didn't hit that at speed.
Now we were getting reports that there were survivors on West Crawford!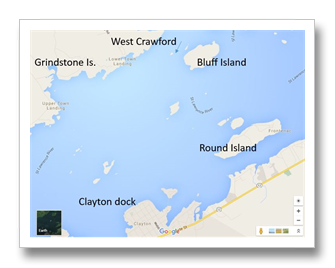 As the story unfolded, the youths had been returning to Grindstone Island with their supplies when they ran up onto a large ice flow. The boat stopped and then slid backward off the ice flooding the boat over the transom. The boys jumped out onto the iceberg and managed to stay afloat as the berg got progressively smaller. I am guessing that they may have been on the ice for 2-3 hours. Finally, just as the ice was becoming untenable, they drifted close to West Crawford Island. They were able to swim or paddle themselves ashore. The owner, Julian Fitch, had a small hunting cottage there, and he left it stocked with some surplus sleeping bags, and enough supplies to save someone for a while. Fortunately, Donnie Badour had been able to launch a boat, and had spotted the bow light of the sunken boat. He heard the calls from the survivors and picked them up to be transported to Clayton. I recall taking my observer back, but we did not transport any of the survivors. The wind was dropping and everyone went home happy.
In a singular act of appreciation, the survivors and their families sponsored a special celebration for the fire department, and those involved in the search and rescue. I have recently encountered one of the boys, and it was one of life's really great feelings!
By Richards Withington