Have you met Steve Sturtz? That's a question many have been asking this past summer, as Steve attended several Island gatherings with camera in hand. I met Steve in person at the Thousand Islands Land Trust party last July, and then I met him several times on Facebook. Each time I saw his photographs, I was more impressed. Finally, in the late fall I said; "Steve, we need to profile you for TI Life." He scoffed at first and then agreed. To say, I have had a grand time learning about this photographer, would be an understatement. You will see why, from my interview.
--------------------------------------
The early years
I was born in Watertown NY and immediately moved to Canton NY, where my dad was a student at St. Lawrence University. We lived in Washington DC, Detroit MI, and Rochester MN, before moving back to Watertown where my father set up his practice. I then moved to Lenox Mass, where I attended the Cranwell School, eventually graduating from University (Mercy College, Dobbs Ferry NY, Magna Cum Laude).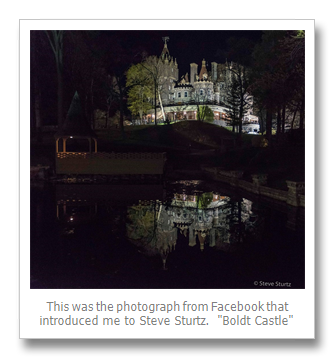 I started my career in the institutional brokerage business, which I loved in the back office. I had never seen an adding machine, didn't know a stock from a bond, nor a debit from a credit. I became a block trader, held the syndicate book and went back to school at Notre Dame, where I earned an MBA with a finance concentration. If you have seen the movie Rudy, I was at that game and president of my class, "God, Country, Notre Dame in Glory Everlasting" as it says above a door on the east side of Sacred Heart Basilica.
Then back to the brokerage business as a new member of the Chicago Board of Trade. Years later, I went back upstairs and traded Government bonds. My customers were large institutions and once in awhile I would day trade in the billions.
A chance meeting
One fine morning, there was a short older woman on the floor of the Chicago Board of Trade, before the opening of the markets. It was against the rules, so I had never seen a guest on the floor before the open. It is just too hectic and settling problematic trades, is way too expensive to allow guests. With my luck, I bumped into her; I immediately apologized. Just then a man appeared to my left, from behind her. He was followed by a couple of other men. He walked directly up to me, extended his hand, and said "Why good morning Sir, I'm Jimmy Carter." Unbelievable...My response was ..."Good morning Mr. President." There I stood with my two new "best friends" chatting for about half an hour...thrill of a lifetime. I was wearing Gucci's, but every time I looked at my feet, I saw Hush Puppies. All I could do was keep asking myself; how did I get so lucky and at the same time asking myself; how does a 30-year-old small town nobody get to chat, just chat, with the President of the United States and his wife.
My career, although great fun for me, had nothing to do with my love of the arts.
The advent of Marbles…
By the time I was in second grade, my parents would drag me to antique shops, galleries, museums and the ballet. I became a collector of baseball cards and marbles. I loved the colors and continued collecting marbles, going to museums, galleries and antique shops.
About 10 years ago, a friend asked me to go to Syracuse and have dinner with a couple of Economics professors who had never met a member of any of the exchanges. Over dinner, one of them said eBay was a very "efficient market". I responded by telling him that in my world, an "efficient market" was a very technical term. He looked over his trifocals and said, "I used the term correctly." He had to have been wrong! So, the next morning, I trotted off to the Alex Bay library and this enemy of computers, was taught by a librarian how to get onto and use eBay a little. And so it began. I looked at marbles and they were all newer than what I owned. That was great because I knew I had the first two books in the bibliography of American Marble Collecting. I bought a computer, a few more books, and started buying and selling marbles.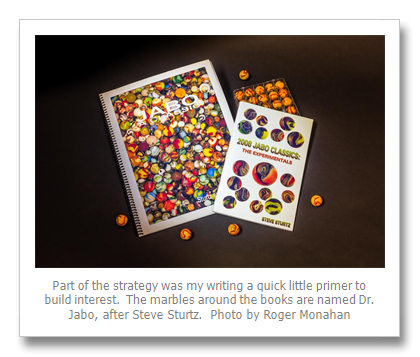 An eBay friend told me to go to a marble show...a what?...Yep, he said it, and out of curiosity I went. While there, I went to a marble factory. The owner and I became friends. They were going to go out of business so I spoke with him often, asking all kinds of questions. I finally told him I could save his company. The company closed for a couple of months and then reopened. Our strategy worked well and they are still in business today!
Part of the strategy was my writing a quick little primer to build interest. That led to three more books about marbles, how they are made, and pictures of marbles. Writing books and articles requires pictures. A friend cropped the pictures from my little digital camera and away we went.
The advent of Steve Sturtz Photography…
Some friends started teasing me about my pictures so I bought a Nikon and started trying to take better pictures of marbles. I took an off-camera flash course at St. Lawrence College, in Kingston. It turns out that the instructor, Blair Meighen Robertson, is a former investment banker and a brilliant photographer. That was three years ago. Blair is still my rock and go-to guy. He once asked me my goals in photography and I gave him the broker-to-broker answer - I wanted to make at least one cent more than he does.
I would say I have learned lots from Blair and I hang on every word, but when it comes to plain old go out and take pictures, I have the most fun with David Hamel and Roger Monahan from Kingston. We shoot together regularly. We critique each other's work. We talk over a ton of pictures of our own and others. We talk technique and we each root for the other. I think their encouragement as friends and photographers has been more important than anything else. We encourage each other to find ways to improve. If on any given day, one of us has a great shot, we all feel like it was successful day.
I read "tons of stuff" about photography and its subspecialties. I guess it would be safe to say I have a library of photography books. I can hardly wait to finish one and start the next.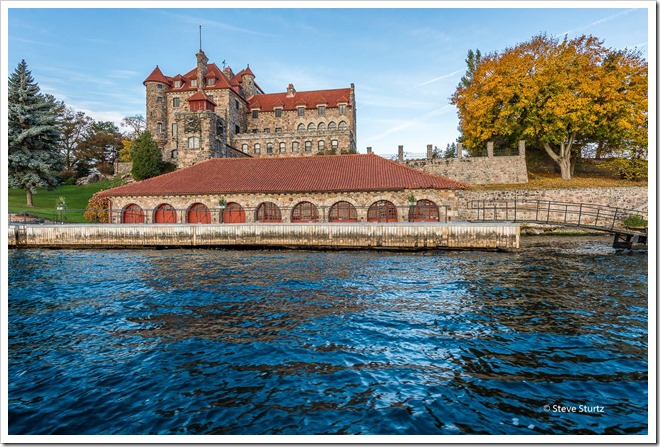 "Singer Castle Dressed for Fall"
Steve Sturtz ©2016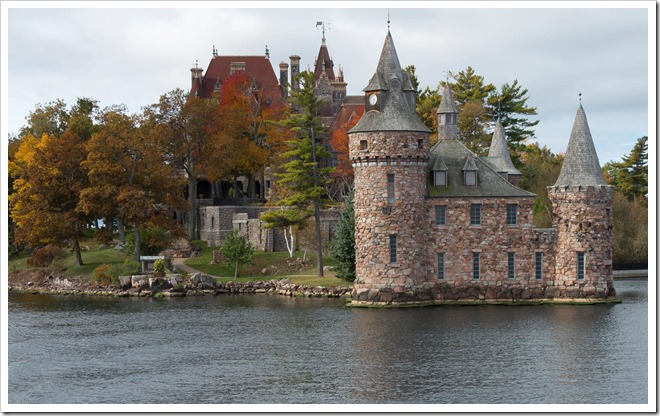 "The Power House"
Steve Sturtz ©2016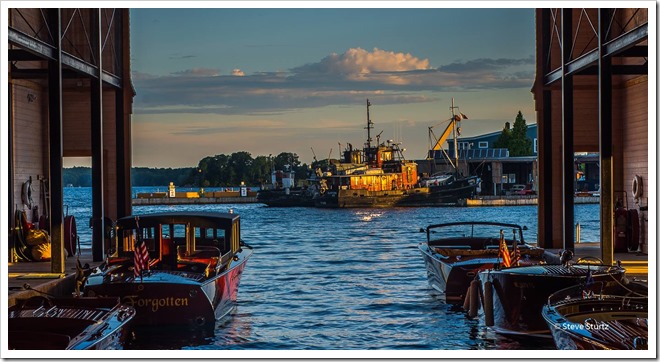 "McNally Yacht House, Antique Boat Museum"
Steve Sturtz ©2016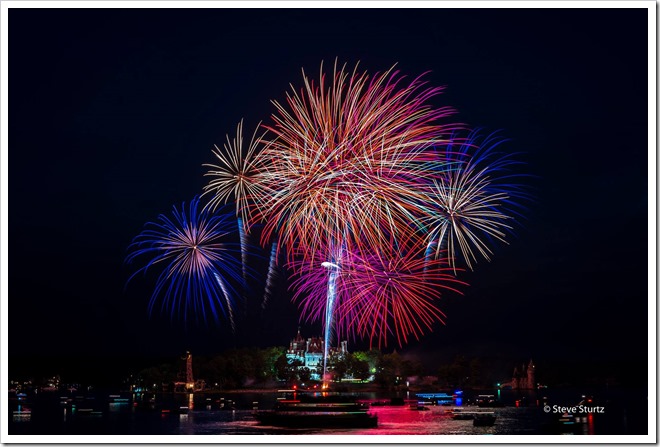 "Fireworks over Boldt Castle as seen from the Riveredge Resort"
Steve Sturtz ©2016

"Robinson Bay; a tug boat built in 1958, to help with the construction of the St. Lawrence Seaway. She will be retired soon."
Steve Sturtz ©2016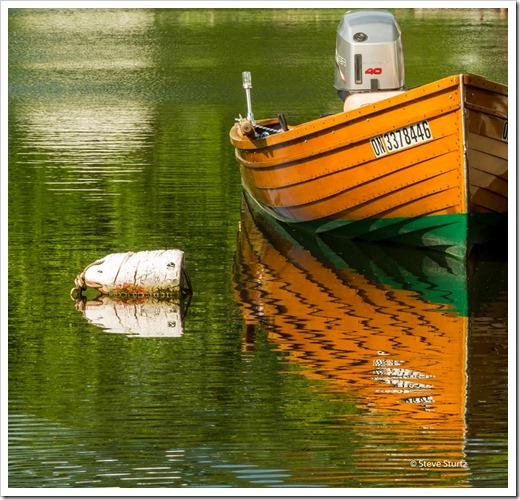 "Lazy day on the Rideau Canal."
Steve Sturtz ©2016
--------------------------------
Steve Sturtz does not have a photography business, nor does he try to sell photographs – but he is quick to say, "Yet." He does sell upon request; his photographs are on his Facebook page (which is attracting a great deal of attention.) He does hope to one-day sell enough to pay for his travel and equipment – and I think that will happen very soon. In fact, his work will be shown this next summer, at Captain Spicer's Gallery near Clayton. In the meantime, you will most likely find Steve behind a camera, generously giving his time to help promote a number of St. Lawrence River and Thousand Islands organizations. He has covered photo shoots for Singer Castle (Scroll through to the last five pictures), Thousand Islands Land Trust, the Antique Boat Museum and the Clayton Decoy Show (TI Museum). In fact, Steve thanks Tom Weldon, at Singer Castle, Jake Tibbles from TILT and Mike Folsom at ABM for giving him his first chance … and it has grown from there.
"As every young seventeen-year-old with a Senior Driver's License did, I came to Clayton and the Bay as often as possible. We got here early and stayed late. The more I saw, the better I liked it. My father bought a 26' Lyman and I was hooked forever. My guess is that we all have those sorts of epiphanies and know we are where we want to be."
"I just try to take pictures of the happy and wonderful people, places, and things in our little Paradise," says Steve. "I am trying to show the world, the beauty and joy I see every day. I could only explain to another photographer how many wonderful things happen, when I meet people, camera, in hand." I agree – especially when it is Steve Sturtz behind the lens.
By Susan W. Smith, susansmith@thousandislandslife.com
Editor, TI Life.