When we received this letter, we realized that it is an example of  the old TI Life's  "Readers Exchange" . We coupled it with Mike Folsom's Danger on the Ice - Coast Guard Training as both stories link to winter safety.  We thank Ian Coristine for passing this letter to TI Life and we thank Michelle Argersinger for allowing us to share it with our readers.
Airboating
(Readers' Exchange letter to Ian Coristine)
Ian, We were going to contact you about going airboating with us, but we had a small mishap a few weeks ago.
We had an absolutely beautiful morning and early afternoon exploring around and meeting many of the year round island dwellers (awesome, interesting, nice people). It happens that Phil said to me at the last second before we left to bring a sleeping bag along (hey, you never know) Did I mention it was a beautiful but well below freezing temperature day?. I did not, however bring my purse because I didn't want to risk the loss of any of the contents. Big mistake-never leave home without ID.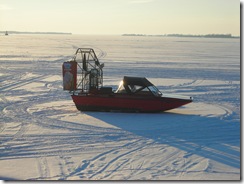 Philip and Michelle Argersinger's Airboat
Anyway, we were enjoying the day, just having passed under the Canadian span of the bridge heading west and approaching open water (as it never freezes there due to the current), when I hear Phil exclaim through my earmuffs "Oh that isn't good!"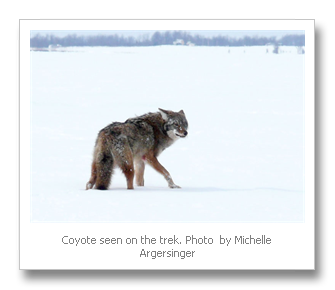 As I look over at him to ask what he's talking about, I hear the engine sputtering, I feel the boat lurching and stalling and I smell smoke.
I said "I smell something burning" and he turned around at that moment and hollered "Flames. Get the fire extinguisher!"
As he's unzipping the canvas to get fresh air (as by now, we are in a completely smoke-filled cabin), I'm reaching for the fire extinguisher. Fortunately, we didn't have to use it as the fire went out as soon as the engine died completely.
Now I grab for the paddle while Phil gets on the VHF to hail the coast guard (we found out later we were in just about the only dead zone on the river for radio transmissions). As he's unsuccessfully trying to get assistance on the radio in one ear and calling his friend who built the airboat with his cell phone in the other ear, I am having a really difficult time trying to paddle us out of the current and over to the nearest island. (We were in Ivy Lea, but I couldn't tell you which island)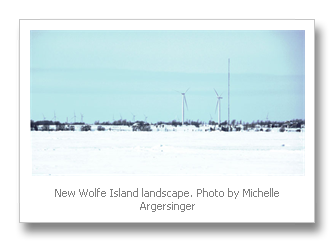 Turns out his friend was way up north on a snowmobile adventure and couldn't be reached, but he was able to reach some folks at the Rockport Country Inn. While he was talking to them trying to get someone with an airboat to come rescue us, I was able to get us tied to a tiny island (don't know which one- I think we were north of Ash Island ?, but it had a beautiful retaining wall around the entire island)
Well, we remained there for a few hours and as darkness approached, we decided we had better get out the tools needed to break into the cottage for life-saving warmth if it became necessary.
A while later under a blanket of darkness, we spotted our savior. A man named Kevin sent by the good people at the Rockport Inn. We flashed our lights several times as it looked like he was going to pass to the other side of the island next to us (Ash?).
Anyway, he found us and was kind enough to give us a tow to the Inn. Those are some of the kindest people you'll ever meet. They opened up a room for us to stay in for the night and the hospitality was outstanding.
Phil got a hold of his friend from Polar Airboats and he was awesome in providing us a ride the next day to Cape Vincent. I thought I was going to have trouble getting through Customs with no ID at all, but it wasn't too bad other than the sharp reprimand from the Customs agent.
Then we had to get my Dad to bring our snowmobile from home so that we could get over to Carleton and get our stuff that was still over there.
As bad as all of that could have turned out, we still had a great day and it was only the third scariest time I've ever had on the river. But those are stories for another day.
Oh yeah- We had to get a whole new engine put in the airboat.
Anyway, I attached some photos from earlier in the day for you....... Regards, Michelle
Michelle Argersinger
Michelle and her husband Philip describe themselves as: "long-time explorers and boaters of the St. Lawrence River region and live in West Monroe, NY with 2 daughters (Sarah and Haley), 5 Labrador retrievers, 3 horses and a cat."  Phil owns Flex-Hose Company in Syracuse and Michelle is a stay-at-home mom and a hobby potter. Their summer (and occasional winter) home is on Carleton Island.  (Editor:  Again we thank Michelle for allowing TI Life to share this winter experience)