Written by
Susan W. Smith
posted on March 13, 2016 12:18
Sure – dipping into the St Lawrence River on Victoria Day or Memorial Day Weekends may be necessary if you want to be a real River Rat – but those who take that dip in February's icy waters need special recognition.  This year the Friends of the River Hospital Polar Bear Dip saw 112 official "Dippers" take the plunge.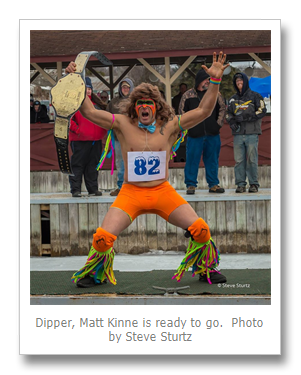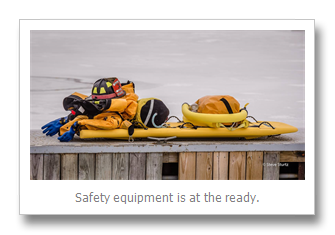 2016 marked the 26th annual event.  Yes, the number is correct; for the past 26 years, community members, their friends and families have gathered in Alexandria Bay to raise funds for important River Hospital needs. 
Andrea Pfeiffer, Director of Marketing and Communications, reports proudly, "This year those "dippers" raised $60,000 towards the purchase of a C-Arm, which will allow enhanced surgical capabilities in the River Hospital's' Ambulatory Surgical Unit. 
What was the weather like on  Saturday, February 27th, 2016?  Weather archives report the temperature reached a maximum of 37F (2.75C) with strong winds. ("extreme strong winds" was the quote of the day.) 
This year we are fortunate to have two video productions taken from different perspectives.  Also there are a number of Facebook albums capturing still shots.  The videos were filmed and directed by Justin Liggett and Steve Weede.  In addition, Steve Sturtz shared his photographs on Ascene by Steve Sturtz Facebook) 
| | |
| --- | --- |
| | |
| | [Click to enlarge all photos] |
Published on Feb 28, 2016, Justin Liggett
We attended the 26th Annual Polar Bear Dip, hosted by Friends of the River Hospital at Bonnie Castle Resort & Marina in Alexandria Bay, New York. Over 140 people jumped into the 33 degree water as air temps dipped below 20 degrees. It was a lot of fun and supported a great cause. I hope you enjoy my film
Published on Feb 27, 2016, Steve Weed Productions
Condensed Video of the days dippers by Steve Weed Productions benefiting the River Hospital in Alex Bay Annual Fundraiser.
We suggest you support the River Hospital throughout the year and if you want to show your appreciation to these 122 Dippers, send a donation now!
Mark your calendar for 2017!
By Susan W. Smith, Editor.  susansmith@thousandislandslife.com