Henderson Harbor, on Lake Ontario, is more than 100 miles by boat from Waddington, N.Y., where the Bassmaster Elite Series launched a tournament, in August 2013. Most of the competitors believed that it was too far, through too rough waters. Idaho-native Brandon Palaniuk didn't. He made the trip four days in a row, stopping for fuel multiple times and dodging a poker run, near Kingston, Ontario, along the way. He returned to the town of about 2,300, on the St. Lawrence River, each time with enough Smallmouth Bass to win the $100,000 first-place prize.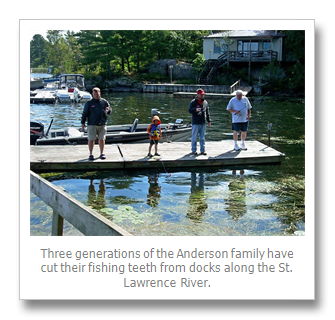 You don't have to travel that far to find good fishing, if you spend all or part of your summer on the River. Some of the best spots are as close as the nearest dock.
Dock fishing, during Thousand Islands vacations, is a long-standing tradition in my family. My brother and I honed our angling skills on one that was a few cast lengths up River, from the one our Dad stood on, when he was young. Now the three of us are joined by my two young nephews. Dock fishing suits novices, because it involves a little fishing and a lot of catching.
At most lakes and rivers that freeze solid during winter, docks are pulled from the water each fall. Some sport wagon wheels, to make that process easier. Dock builders take a different approach on the St. Lawrence. They use timbers, in a Lincoln Log fashion, to build boxes that are filled with rocks. These "cribs" support docks and boathouses and stand strong, against powerful winter ice. They also help create a perfect home for schools of panfish — Sunfish, Crappie, Yellow Perch and Rock Bass.
Docks, and the boats moored to them, create shade, which hides panfish from larger fish. Cribs, or even the posts that anchor floating docks, attract micro-organisms that are food for the insects and small minnows that panfish eat. Submerged aquatic vegetation, around a dock, adds to its fish appeal, by providing more cover for hiding and feeding. Bigger docks, especially those out of the main current, attract more fish. And they aren't all small panfish. Northern Pike will shoot from under a dock, to make an easy meal of a hooked Perch. Largemouth Bass sulk around docks, especially where mats of floating vegetation collect,during late summer, and feast on Sunfish.
You don't need fancy equipment to catch panfish, on live bait or lures. A 6-foot, light-action rod, matched with a spinning or spin-casting reel, is perfect. Spool it with a quality monofilament or braided line, in 4- or 6-pound test. Don't skimp on the line; the more you pay for it, the less you'll be untangling it. If you're going with a time-tested Night Crawler, thread it on a No. 8 or No. 10 hook and squeeze a 1/16 or 1/8-ounce split-shot weight, about a foot up the line. If you'd rather use a lure, rig a 1-inch soft-plastic grub — chartreuse, or pink and white are good colors — on jig heads, of the same weight as the split-shots. Scent-infused soft plastics, such as Berkley's Gulp!, are effective, too. Panfish, in Chippewa Bay, are especially fond of Gulp! Crickets.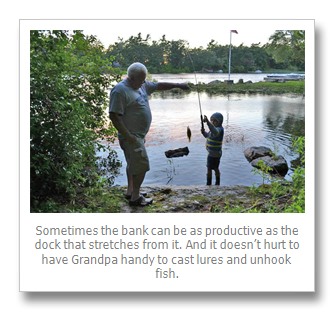 With your rod rigged, it's time to walk to the dock and drop your line into the water. If you're using live bait, keep it a foot or so off the bottom. Fish lures, at about the same depth, but give them a little shake, by repeatedly squeezing and releasing your rod's handle. The bites are typically fast and furious at first, but taper off quickly. So move around, dropping your offering next to different cribs, in holes in the vegetation, or between the dock and a moored boat, until you find another small school of willing biters. If fishing really slows down, try a short cast and a slow retrieve. Once you figure out the spots, on and around the dock, where most panfish swim, rotate through them. It only takes a short break, for a school that has stopped biting, to start again.
The only limit on dock fishing is your supply of bait or lures. When my brother and I were young, frequent trips to Thousand Islands Bait Store, near Alexandria Bay, ensured we could keep fishing. A carton or two of Night Crawlers would be purchased; back at the cottage, they were kept fresh in the refrigerator, once our Mom gave approval and sequestered them to a lower shelf.
Before we left the shop, we would admire the Bass, Pike and Musky tackle, dreaming of the day when we were old enough, and patient enough, to spend hours in a boat, chasing those larger fish around the Summerland Group, Lake of the Isles, Whiskey Shoal, Bayfield Bay and other spots up and down the River. Now we both own boats and run to those and other destinations, without thinking twice. We still make time to head to the dock, with our spinning rods and small lures, though. The panfish swimming there might not be worth $100,000, but we get enough bites to feel like a million bucks!
By Pete M. Anderson
While growing up in the Syracuse, N.Y., suburb of Manlius, Pete M. Anderson spent many days on the St. Lawrence River, chasing fish with family and friends. He and his wife, Angela, live near Charlotte, N.C., where he is a freelance writer, Bass tournament angler, improving Musky hunter and daydreamer of their next Thousand Islands trip. You can see more of Pete's work, which includes articles that teach readers new fishing techniques, on his http://www.petemanderson.com.