Editor's note: Already, descriptions of the Aquatarium are appearing in the media – this one was written by Jennifer Pinarski, for The Great Waterways.
The Province of Ontario's support for tourism is divided into nine districts – with the Thousand Islands falling under The Great Waterway. Thus we are able to use the Ministry of Tourism to promote attractions, such as the Aquatarium and others along Lake Ontario, from Prince Edward County in the West, up the Rideau Canal to the North, and to the Quebec border in the East.
It's safe to say that The Aquatarium is one of Brockville's most eagerly anticipated attractions. An ambitious, $25 million dream five years in the making, the 27,000 square foot interactive learning centre is dedicated to showcasing the waterways and wildlife of the St. Lawrence River and 1000 Islands. Excited by the prospect of peeking inside a warship, seeing River Otters up close and trying out the ropes course, I recently visited The Aquatarium with my 6-year old daughter and 9-year-old son. While each of the exhibits garnered comments like "this is so cool!" from my children, we consider these seven to be must-sees, at The Great Waterway's newest family-friendly attraction.
Ropes Course and AquaDrop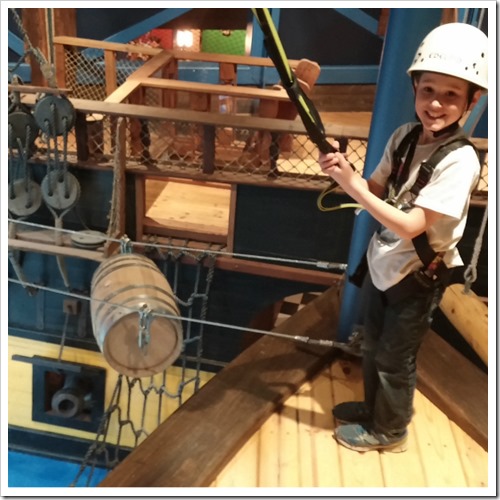 The Ropes Course is one of The Aquatarium's most popular and thrilling exhibits. Photo: Jen Pinarski
If you've ever imagined climbing the rigging of a tall ship, the Ropes Course is your chance! My agile and fearless son loved the course, which features rolling barrels, narrow planks and a mast. Instructors fit you with harnesses and a helmet and give you a short lesson on how the carabiners work, plus follow along behind you, to ensure your safety. When you're finished, take the gentle slide or the much more exciting AquaDrop – the 40 foot harnessed and controlled drop, to the ground. Age restrictions are enforced for safety reasons (no, your mature and tall 7-year-old should not do the ropes course).
Power of Water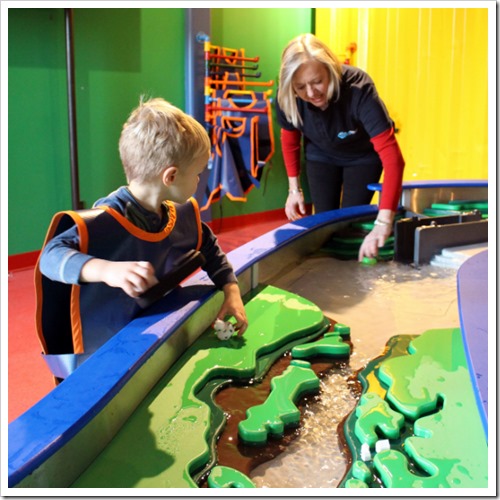 Hands-on activities make a splash at The Power of Water. Photo: The Aquatarium
Two hands-on exhibits make a splash here (literally). At one, the St. Lawrence River is re-imagined, as a kid-friendly water table, complete with the Thousand Islands Bridge, the Lost Villages and functioning lock systems – and children can float foam ships down the seaway. At the second, kids learn the complexities of generating hydroelectricity as they try to harness the power of water with miniature dams (go head-to-head with another family to see who can generate the most power from their dams). Plastic aprons are available, but your kids will love getting wet here.
Salt Water Touch Tank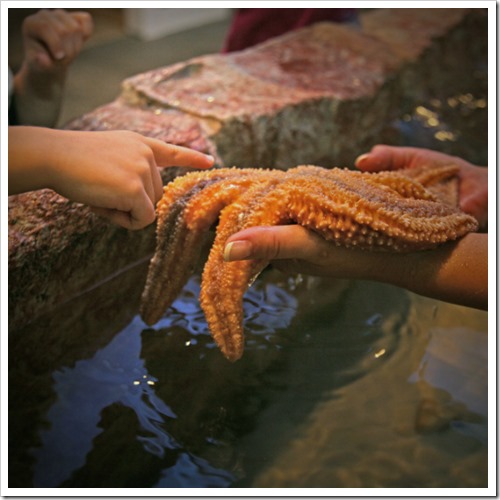 Starfish are among the creatures in The Aquatarium's Salt Water Touch Tank. Photo: The Aquatarium
Starfish are among the creatures in The Aquatarium's Salt Water Touch Tank. Photo: The Aquatarium
Sea Stars, Spider Crabs, Star Fish, Anemones and more, are housed in the salt water touch tank, near the Creation exhibit. While these creatures are not native to the region, it's a rare and fascinating opportunity to see them up close. Knowledgeable AquatariumAmbassadors help small hands gently pick up tank residents – but mind your fingers with the crabs!
Singer Castle Library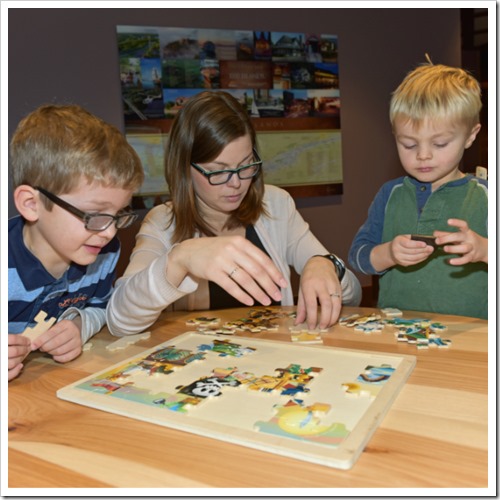 Singer Castle Library has quiet toys and activities, when kids need some downtime, during your visit to the Aquatarium. Photo: The Aquatarium
Singer Castle is one of the River's most recognizable landmarks and its mysterious library is recreated here (can you find the secret passage?). It's a quiet escape from the busier exhibits, with colouring and activity sheets, iPads and quiet toys, when you need downtime, making it a great spot for kids who are easily overstimulated.
HMS Ontario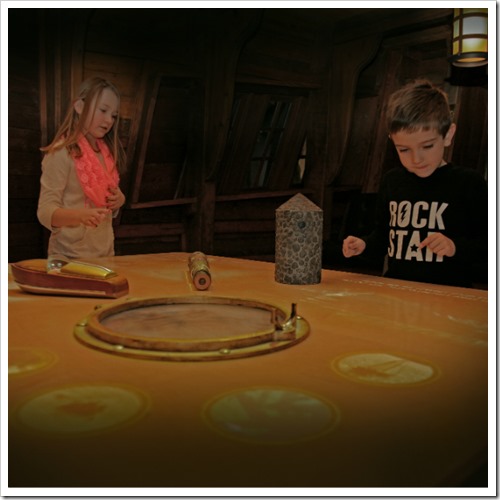 The interactive Captain's Table explains the 1000 Island's history. Photo: The Aquatarium
A replica of the British warship that was shipwrecked, on October 31, 1780; this version of the HMS Ontario is full of nooks to hide in, rope ladders to climb and the interactive Captain's Table. Kids (and adults) will be amazed at the touch-activated artifacts, which cue-up videos, about the region's watery legends. Nearby is a sensory bin of kinetic sand that will keep wee hands busy, while bigger kids explore.
Otter Habitat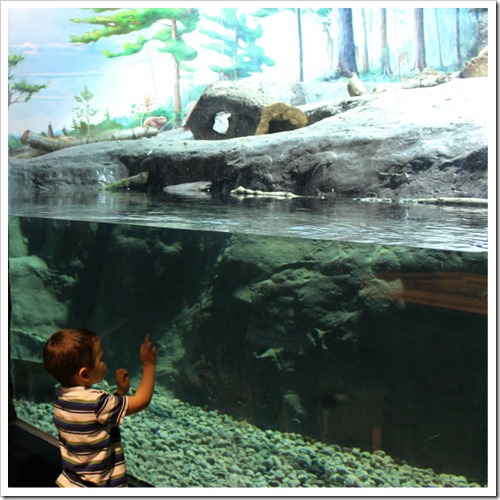 The Aquatarium's Otter Habitat houses three playful River Otters. Photo: The Aquatarium
The St. Lawrence's most playful residents, River Otters, are the stars of the show here. You are most likely to see the three otters, during the1:30 pm feeding, so you may wish to plan your visit accordingly. During our visit, one shyly poked her head out of the water and swam towards my kids, during a break in the crowds.
Aquaria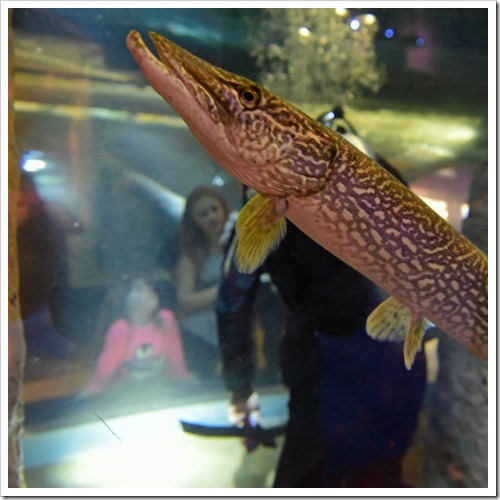 See several species of native fish in the Aquaria exhibit. Photo: The Aquatarium
See several species of native fish in the Aquaria exhibit. Photo: The Aquatarium
As avid fishermen, we all loved this exhibit because it was a chance to see our most common catches, up close. Three tanks representing the region's lake, river and shore habitats, house Bass, Perch, Pumpkinseed and Sturgeon. The crawl tunnels, underneath Aquaria, let kids (and curious short adults like myself) poke their heads up into tanks for a unique look.
---
Know before you go
Driving Time: From Ottawa; 1 hour, 15 minutes / From Kingston; 59 minutes / From Oshawa; 2 hours, 45 minutes/From Watertown; 1 hour.
Hours of Operation: 10 am to 5 pm, 7 days a week
Best Time to Visit: We visited in the late afternoon, on a weekday, and the crowds had fallen-off by 2:30 pm. Expect The Aquatarium to be busier during fish and otter feeding times.
Admission: Adults $19.95 / Senior (65+) $14.99 / Youth (13-17) $14.99 / Child (4-12) $9.99 / Child (3 & under) FREE / Groups (15+) $12.99
Ropes Course: admission fee + $7.00 (minimum age 8 years old, kids 8-12 years old must be accompanied by an adult)
AquaDrop: admission fee + $5.00 (minimum age 8 years old, kids can do this one solo)
Save on Admission Fees: An Annual Family Pass is $149.97, a worthwhile investment if you plan on visiting more than twice per year, a family of 5, or kids age 13-17. Brockville residents can check-out an Aquatarium Pass, at their Public Library with a valid City of Brockville Library Card.
Speed-up the Ropes Course Process: download the waiver forms here and fill them out before you arrive, to minimize wait times.
Parking: There are several pay-per-hour parking spots, within a short walk of the Aquatarium, which accept credit cards or coins. Two-hour complimentary parking spaces throughout downtown Brockville are available, but you will spend more than two hours here and the parking bylaws are enforced (you will be ticketed if you exceed the time limit). Park in the facility's Heated Underground Garage(great for families with little ones) for $2 per hour.
Family-Friendly Factor: Elevators and family bathrooms are roomy, for strollers and visitors requiring wheelchairs. Washrooms are all equipped with change tables. Exhibits, for the most part, are child-sized, and when they aren't, stools and benches help kids get the most from their experience. Staff go out of their way to make sure that you are having fun and learning.
What to (and Not to) Bring: Snacks are not permitted inside The Aquatarium, so make sure your children are well-fed before starting your adventure! Your kids WILL get wet – a change of clothes and small towel will come in handy, for the hands-on water exhibits. If you plan on doing the Ropes Course, bring a pair of Running Shoes (Flip Flops are not permitted).
By Jennifer Pinarski, First published March, 18, 2016 by the Great Waterway,
Jen Pinarski is a family travel writer, based near Kingston, Ontario. As a parent to two young children, you can often find her in the great outdoors, exploring all of the active adventures that The Great Waterway region has to offer.