In March we announced that Ian Coristine's photographs were featured in the March edition of Lakeland Boating. This month we are able to present the magazine's story, as well as a link to www.1000islandsphotoart.com where the entire PDF version is available for your enjoyment. Simply click on Media at the bottom of the window.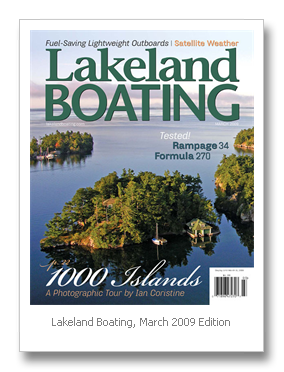 Lakeland Publisher Walter "Bing" O'Meara, allowed us to share this story and his dedication to Ian is included in his column "from the helm".
Canadian author, Mark Stevens, wrote the article describing the traditional-and-historic tales of the region as well as the unique cruising channels. He also mentioned some safe moorings in secluded bays.  "Other favorite spots to drop the hook include Thwartway Island (also known as Leek), Brakey Bay south of Howe and the east side of Mulcaster. With so many to choose from you'll have no trouble finding your favourite where you can hoist a hammock and while away an afternoon."
Mark was fortunate to tour the islands with Tennis-Island residents Suzanne Bixby and Ron Mowers on board the "19th Hole" which Mark described as a "beautifully maintained Egg Harbor 33."  He learned much from Don Ross, author of Discovering the Thousand Islands, published in 2003. Don also worked on Lakeland Boating's "Lake Ontario and the 1000 Islands Ports O'Call Cruise Guide" in 2003. Together they tell our story.
The magazine was launched in 1946 under the name Lakeland Yachting and Motor Boating.  In the fifty years to follow, Lakeland Boating has provided cruising boaters with factual information about freshwater boating in the Great Lakes as well as on the connecting waterways and inland lakes.  The magazine now has more than 50,000 subscribers.
It is a glossy, full-color magazine published eleven times a year. In addition to this magazine O'Meara-Brown also publishes the Great Lakes Angler, and twice annually they publish an updated Cruising Guide to one of the Great Lakes. In addition, thousands of new and used freshwater boats are listed online in a sophisticated, searchable database.
Visit their site: http://www.lakelandboating.com/.
Lakeland Boating is a strong supporter of the Thousand Islands region. This is the second major spread they've done using Ian Coristine's images, in just over a year. The first was the 2008 Buyer's Guide, published in their January 2008 issue.
When the magazine hit the news stand, Nicole and Vance Mendenhall realized their island in the Admiralty Islands was front and centre on the cover.  They wrote, "Thanks to Ian Coristine, we have a totally different perspective of the island and the landscape....the never-ending horizon similar to Talis' infinite space, the mind.  It is breathtaking. One can really appreciate the genius of the architect, Frank T. Lent, as to how he integrated so harmoniously over a hundred years ago, the boathouse with the landscape. From the sky, it is difficult to imagine that the island is an elevated rock (as it appears to be flat), on which sits the cottage, at approximately 100 ft from the water, in the midst of over a hundred old growth oak and pine trees"
from the helm...

Ian Coristine's 1000 Islands

Ian Coristine is the aerial photographer whose work appears on this month's cover and in the Port O' Call feature on the 1000 Islands, which begins on page 26. Ian is a family man—father of Hayley and Scotty, husband of Mary, and owner of Molly, his Irish setter and constant companion.

Prose does not always work when attempting to describe the indescribable. One needs poetry, and for that I leaned on Ian's good friend, the now-deceased Paul Malo, poet and professor emeritus of Syracuse University. He wrote the forward to Ian's book

Water, Wind and Sky.

The Coristines' island is classic 1000 Islands, formed of ancient granite, irregular in shape, providing a tenuous foothold for the white pines, pitch pines, oaks and varied flora so characteristic of these islands. These fragments of land, floating in the ceaseless current of the St. Lawrence River, are small worlds, each comprised of species, some quite rare, that cling to life in the nooks and crannies, the cliffs and coves. Each island is unique—Ian often observes that although there are some 1,800 of them, no two are the same. Every one is different, and from each the river appears to be a totally different place.

These photographs are the art of Ian Coristine. Through them, he shares his intense love of this special place and the privileged view from above. Read his story on page 36.

Ian has produced three books of photographs and has an impressive website, 1000islandsphotoart.com, where his work is available.

 

 

 [PUBLISHER Walter "Bing" O'Meara]

P.S. This 1000 Islands issue is the second in our Great Lakes Islands series. The first appeared in February, which was devoted to the Lake Erie Islands. The third will appear in next month's issue—the Apostle Islands of Lake Superior.
A Magical Place
by Ian Coristine
Some books have the power to fully absorb you: A Year in Provence, Under the Tuscan Sun, The Olive Farm. Each tells a story about falling in love with a magical place. Hopelessly smitten, the authors uproot their lives to make these places home.
When I took off on a random flight in my Challenger float plane in the summer of 1992, I had no idea such a thing could ever happen to me. Two hours after leaving my home near Montreal, I found myself looking down upon the most beautiful and fascinating place I have ever seen—the 1000 Islands.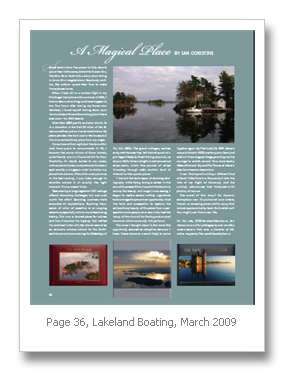 More than 1,800 granite and pine islands lie in a shambles in the first 50 miles of the St. Lawrence River, just as it exits Lake Ontario. My plane provides the best seat in the house, but this is an extraordinary place from any angle.
It was love at first sight, but the love affair took three years to consummate. In '95, I became the owner of one of these islands, quite literally one in a thousand. Not far from Brockville, it's ideally suited to my needs, with a natural harbor and protected tie-down spot exactly a wingspan wide to shelter my plane from storms. Offered for sale just once in the last century, I was lucky enough to stumble across it at exactly the right moment. It was meant to be.
Resurrecting a long-neglected 1917 cottage offered interesting challenges but was well worth the effort. Spending summers here exceeded all expectations. Exploring thousands of miles of coastline is an ongoing adventure, especially with so much fascinating history. This was a favored place for natives and then became the highway that settled the continent. Later still, the islands served as an exclusive summer retreat for the Northeast's business barons during the Gilded Age of the late 1800s. The grand cottages, castles and yacht houses they left behind speak of a privileged lifestyle. Great fishing abounds, as does wildlife. Divers delight in well-preserved shipwrecks, while the parade of ships threading through adds another level of interest to this special place.
I learned the techniques of shooting photography while flying during a career in the aircraft business. When I couldn't find books to convey the beauty and magic I was seeing, I began to realize several unlikely ingredients had converged to present an opportunity: I had the tools and perspective to capture the extraordinary beauty of the place from a perspective most people never see. I also had the luxury of time to wait for fleeting and unusual moments which only come with patience.
The more I thought about it, the more this opportunity seemed an obligation because I knew these elements weren't likely to come together again. My first book, The 1000 Islands was published in 2002, and two years later, had sold out three large printings, providing me the courage to switch careers. Two more books, Water, Wind and Sky and The Thousand Islands also have become bestsellers. I now find myself writing a different kind of book. Titled One in a Thousand, it tells the tale of my flight of discovery and the unlikely adventures that followed—with photos, of course.
The moral of this story? Go discover someplace new. If you're not sure where, there's an amazing place not far away that is best appreciated by boat. But watch out! You might just find a new life.
[Lakeland Boating Editor's note: On his site, 1000islandsphotoart.com, Ian shares more of his photography and monthly  screen-savers. He's also a founder of the online magazine  ThousandIslandsLife.]