Written by
Susan W. Smith
posted on May 06, 2016 12:49
How do you say thanks to those community members who do extraordinary things?
We all know that financial gifts don't come easily. In fact, in the fundraising world, we say people give to people, not to causes. So a team began their work when the building started. At the grand opening, the importance of Federal, Provincial, City and Private funding was stressed many times. Yes, expressing the community's deep appreciation, to those individuals who have stepped forward, is not easy.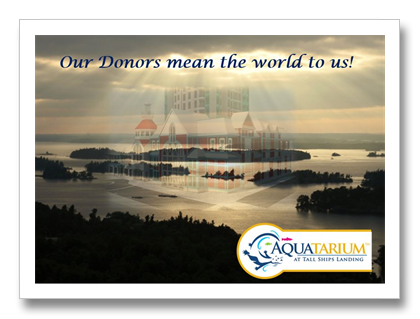 When I asked that question to Trish Buote, Aquatarium's Director of Development, she quickly said that it was difficult to find the right words. A simple thanks seems not enough, "Suffice to say, we are hoping that each one of them will know their support is appreciated by seeing the smiles on the faces of the visitors."
There is a beautiful donor board located in the Welcome Centre, commemorating some of the tremendous support given, to make this project happen to date.
One of several stories stands out. When Simon Fuller began his project, he was given permission to build two 8-storey buildings. He felt that would block off the City's view, but if he put one 8-storey building on top of the other, the architecture would have much less impact. Many did not share his vision, and suggested that he was only looking to make more money. He stood at the next open house, and claimed that he would charge more for those on the top floors, but he would take the difference, $1.4 Million, and put it towards the fund raising program in the Aquatarium. However, he did not consider the money his donation – rather he asked that the credit for those funds be commemorated on a special plaque, for the two dozen families who made the difference.
Kim Lunman, owner and publisher of the in-print magazine, "Island Life," was given a special task last summer by asking the question. "Why did you support this project. Why was it important to you?
Their answers were all similar: "Because this is our River!"
Throughout Summer 2015, the Aquatarium thanked their donors with these published photographs. Since that time, more generous families have joined the circle and their gifts will be recognized this summer.
The committee's task is not complete and they remain committed to raising more major gifts.
TI Life is honoured to share their comments at this time:
[Presented in Alphabetical Order]
By Susan W. Smith, susansmith@thousandislandslife.com
Editor, TI Life.