Written by
Kim Lunman
posted on May 13, 2016 12:48
It's time for island time again, in the 1000 Islands, as this year's print issue of "Island Life Magazine" is available this month.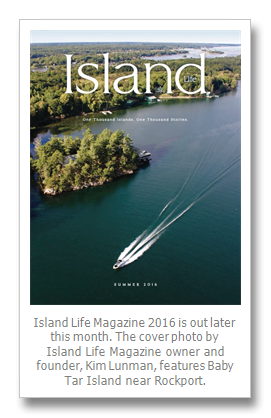 "Island Life Magazine" is distributed to 25,000 homes in eastern Ontario and northern New York in mid-May, in the "Thousand Islands Sun" and the "St. Lawrence News."
I founded "Island Life" in 2009, to showcase the spectacular scenery and stories of the 1000 Islands, in a glossy annual magazine, which made its debut in 2010. With more than 1000 islands to explore in the area - there are actually 1,864 of them - I've never run out of material. I've long been fascinated by the region's castles and cottages, not to mention its natural beauty, along a magical stretch of the St. Lawrence River.
It's an amazing archipelago. I like to say that every island tells a story. And boy do they!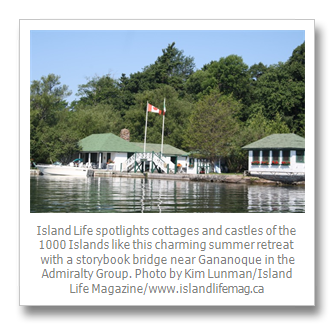 This year's "Island Life Magazine" takes readers on another voyage to islands, including Downie Island, a cottage colony near Gananoque, once the site of a hotel; Prince Alfred Island, a cottage shaped like a ship, in the Brock Isles, and Lalone Island, a Chippewa Bay N.Y. cottage that has been in the same family for nearly a century. I also feature an article on what it's like to spend a night at Singer Castle's Royal Suite, on Dark Island.
A picture is worth 1000 words, and, the breathtaking 1000 Islands make for some spellbinding photography. This year, "Island Life Magazine" features the photography of aerial photographer and award-winning author Ian Coristine and the 'riverscapes' of Joseph T. Meirose IV, of Sackets Harbor, New York, in photo essays of the region.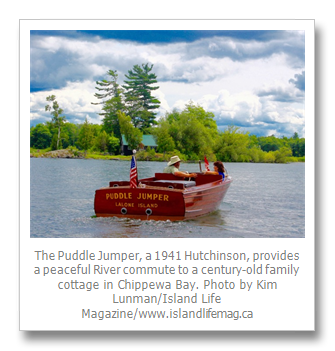 There's a lot more aerial photography, including the cover which I took of Baby Tar Island, near Rockport, while flying with 1000 Islands Helicopter Tours. I had the opportunity, several times, to fly with the Gananoque-based aerial tour company and feature a bird's eye view of the experience, in a photo essay titled "Up In The Air."
This area is home to great River communities, including Brockville, Rockport, Kingston, Gananoque, Clayton, Alexandria Bay, Morristown and Cape Vincent and more that share the 1000 Islands in their collective 'backyards': One River. Two Countries. And so many islands to explore.
Summer's here. It's time to enjoy Island Life!
By Kim Lunman
Kim Lunman is the owner/publisher of Island Life Magazine www.islandlifemag.ca. Her company, Thousand Islands Ink, is based in Brockville. Lunman is an award-winning writer whose work has appeared in the Boat U.S. Magazine, Lakeland Boating, Reader's Digest, Globe and Mail and The National Post.
To see all of Kim Lunman's TI Life articles click here, and to read a more complete biography see our About page.

Editor's Note: Congratulations Kim – You have done it again… The 2016 issue will sit on my island veranda table as it will on 100s of others… We all look forward to May and the new stories. Thanks for all you do for the Thousand Islands!