Most "Thousand Islands Life" readers will know me for my work on Rock Island Lighthouse, but genealogy and local history across Jefferson County have been my passion for even longer.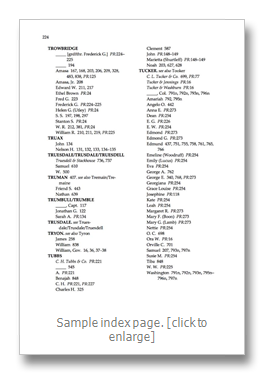 When I started researching my roots in Jefferson County in the 1980s, I quickly learned which of the early history books were considered "must-read." To my dismay I also quickly found that indexes were almost always, either an afterthought, or entirely omitted. So I did what every researcher has done for more than a century… I thumbed blindly through the pages, hoping to discover that one relevant mention of a name that would lead me up the branch of my family tree that I was trying to climb.
It was tedious! And worst of all it was frustrating, because I knew I was probably missing so much more, I just couldn't find it.
Fast forward to the late 1990's… I landed a job at the National Geographic Society, in Washington, D.C., where I learned the skill of professional indexing.
I was one on a team of three people who diligently read every magazine article, and each page of every book, before it was published.
For the magazines, we'd enter important names, places and topics, into a searchable database for the crack in-house team of writers and researchers to use. For the books, we'd do the same and then format those entries into an index, suitable for inclusion at the back of the book.
Indexing is always the last step before going to print, and the printing schedule is usually set well in advance. If the writers and editors took too long, then the time to read the book and write the index would get squeezed. I loved the pressure though. And I loved getting the layout just right. I remember the thrill of that first time walking into a store, picking a book off the shelf, and seeing my name in the credits (ok, I still get excited!).
I eventually decided to put my passion for Jefferson County history and my indexing skills together. The results are three new "every-name indexes" to some of those essential Jefferson County history books, namely:
Edgar C. Emerson's 1898 "Our County & Its People: A Descriptive Work on Jefferson County, New York."

Emerson's book was over 1,200 pages and included detailed histories of the towns and their residents, in Jefferson County, including those living along the River. He discussed more than 15,000 people in the book, but his index included only about 4,000 of them. I've gone through the book and compiled a complete list of all 15,000+ people, including more than 26,500 references.

Jeremiah Coughlin's 1905 "Jefferson County Centennial."



In that year, the Jefferson County celebrated its 100th birthday, with a week of festivals and speeches, that featured many first-hand stories about early life and settlement, including along the River. The stories are a fascinating read, but the book was printed without an index so it's always been hard to use. I've created a comprehensive name index, listing all 4,150+ individuals; over 5,400 references in all.

George W. Reeves' 1920 "Jefferson County in the World War."



Reeves' book contained the names of those men and women, from all towns in the County, who served during World War I, including the names of nurses, welfare workers and members of various supporting committees across the County. This book was one of the first to record the contributions of Italian immigrants in the County. The book was published un-indexed. I've created a comprehensive index totaling nearly 4,000 references, to over 3,900 people.
Each of these three indexes includes hundreds of cross-references to related names. Name spelling variations are combined so that nothing is missed during research. Women are captured under both birth and married names, and an "unknown surname" section, with helpful identifying details, is also included.
With many old books being digitized and made searchable online, by sites like Google Books and Internet Archive, I'm often asked what point is there, in writing an index after the fact. From my perspective, there are plenty of reasons:
Indexes save time by providing a unified, at-a-glance view, of all families and individuals with the same last name — compare that to paging through potentially hundreds of search engine hits.
Indexes include surname groupings and cross-references, that point to spelling variations (e.g. Bronson, Brownson, Brunson) and name changes over time (e.g. MacGowen to Owen) that a user, otherwise would not know, to look for in the book.
Print indexes can be used anywhere, at anytime, which is an asset in those libraries and small historical societies, where there is no internet access.
Only a person who has read and comprehended the book can create an index containing these time-saving paths to discovery—search engines cannot.
Readers will find these three indexes on my website at www.AncestorIntroductions.com under the "Indexing" section, through amazon.com, lulu.com, or by emailing me at mark@wentlingresearch.com.
Copies are also available in the Jefferson County Historical Society, in Watertown, NY, at 228 Washington Street.
My goal in writing these indexes has been to make exploring the past easier for everyone who shares a love of the County. I sincerely hope I've achieved it and wish all my fellow genealogists and local historians good luck in their research!
By Mark A. Wentling
Mark Wentling is a native of Sackets Harbor and grew up in Carthage, NY. He currently lives in the Boston area, where he owns and operates Ancestor Introductions, a professional genealogy research company. He has studied local and family history in Jefferson County for nearly 25 years, and manages numerous projects to benefit other researchers, including the Rock Island Lighthouse Historical & Memorial Association and the Jefferson County NY Pioneer Portraits Project. Mark graduated from Houghton College in 1996 with a Bachelor of Arts degree in Sociology, and in 2002 from the University of Maryland at College Park with a Master of Library Science degree. He has lived in Washington, D.C., where he worked as an index writer for the National Geographic Society, and performed freelance genealogical and historical research at the National Archives and other libraries. In his free time, Mark enjoys hiking, and he returns to the Thousand Islands area several times a year.