Written by
Susan W. Smith
posted on July 13, 2016 12:25
It is too hot to cook! I don't want to get dressed up and go to town! Forget about buying an expensive dinner – I want Take-out! … A quote from dozens of families around the River…
Yes, I said all three comments before I discovered Ben's 1000 Islands Indian Cuisine - Take Out & Catering! We live on an island near Gananoque, ON and this takeout restaurant is located about a block from our Marina and very close to the Gananoque Boat Line. Now in its third season, Ben Mukerjee and his wife, Bobby, have a loyal clientele and it is no wonder.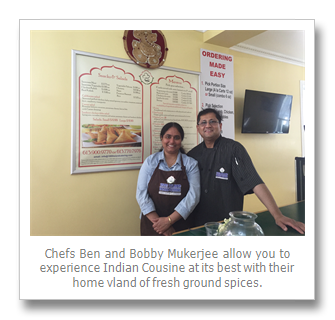 The day I interviewed Ben, I was being filmed by ARTE (Association Relative à la Télévision Européenne) a public Franco-German TV network much like our Discovery Channel.
We were invited into the well organized kitchen and Ben made a sweet tea with a blend of spices and he started a food demonstration for the cameras. Certainly, I did not have as much time as I would have liked, as Chef Ben, with 25-years' of hotel and restaurant experience, has many stories to tell. He was a regional manager for various corporations in USA and Canada including India's Best "Taj" Group of Hotels, Hyatt hotels, Ritz Carlton Hotel, at George Washington University, Sodexo and many more elite Institutions including the White House in Washington DC.
Ben is a life member of the James Beard Foundation (An elite designation for Culinary Excellence ) and a voting member for Michelin Star Chef.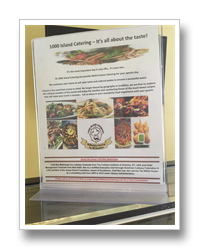 The first time we ordered samosas Ben told us how proud he is of his TripAdvisor ratings – and a quick review of latest will attest to the popularity of 1000 Islands Cuisine.
1-.07.2016 15.38: My relatives from Ottawa/New Jersey/China had a wonderful takeout meal and ate it on the waterfront before their cruise. Before they even finished meal, they planned another takeout to take to Ottawa
05.07.2016 12.38: We stopped by here a few nights ago, and the food was just absolutely heavenly, the spices practically created an explosion of flavor, and not to mention, the owners Ben and Bobby were so friendly too.
The Catering division is also appreciated in Gananoque, discovering that Indian cuisine is not the only fare. This past winter Ben served the local Curling Club an "Indian dinner" and then followed up the next month with "genuine Greek cooking." Ben explained that the secret to the versatility is his knowledge of blending fresh ground spices.
So the next time you want a day off… you don't want to get dressed up… and forget about an expensive dinner out… order in from the 1000 Islands Cuisine, Take-out and Catering House at 136 Main Street, Gananoque. - you will not be disappointed.
1000 Island Indian Cuisine

Take Out & Catering

136 Main Street, Gananoque, ON

613-900-9770 or 613 – 770-7976
By Susan W. Smith, susansmith@thousandislandslife.com
Editor, TI Life