Written by
Susan W. Smith
posted on August 13, 2016 12:24
John Poland, a retired Queens professor and author of the 'Pictorial Pocket Guide to the Butterflies of the Kingston Region' spent a day in late July hunting butterflies in the Thousand Islands. Geoffrey and Carolyn Pratt were the hosts, and I was invited to go along to discover a whole new world.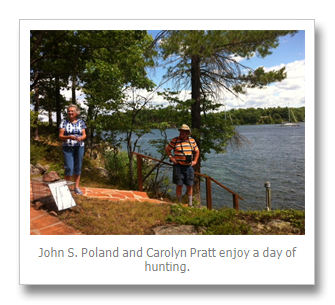 First, I discovered a new chart of the Thousand Islands! It is not for mariners, nor road travellers, but rather for Ontario field naturalists. John is a member of the Kingston Field Naturalists a well-established nature club connecting those interested in all that is nature - from birds to insects - with Butterflies being just one area. Take a quick look at the KFN website and you will find the latest news for the region, including research and reports dealing with bird sightings and wind turbines in the area.
The day we hunted butterflies was sunny, hot and windy. I have to admit that I looked around for my butterfly net, but John quickly explained that today butterfly enthusiasts are more likely to be photographers.
We did see three species of butterflies, including a small white one, called a Cabbage White. Our problem was not the time of day, but rather that butterflies are constantly searching for nectar - If there are no flowers or blooms on the islands, then there will be few butterflies. The long dry spell this summer has depleted all wild flowers, except those on the waters edge. Also each butterfly species has its own preference of plant or plants, on which the females will deposit her eggs. If they are not present then the butterfly will move on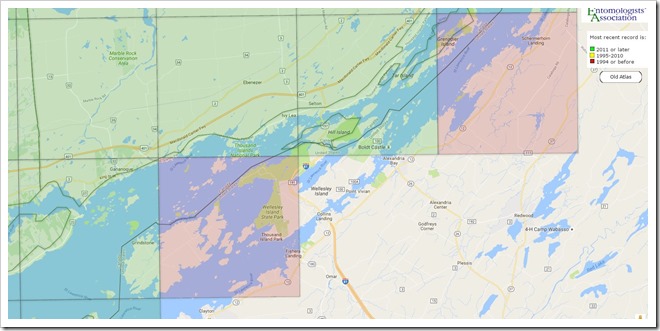 An atlas of the Province of Ontario is depicted in 10-square Kilometre sections. This is an enlargement of our area.
John did take me on a tour with my computer. "The Butterfly Atlas is readily found on the Web by Googling, "Ontario Insects" which will take you to the Toronto Entomologists' Association website. Click on the Butterfly Atlas on the left sidebar; sightings have been recorded on this atlas and colour coded: Green for 2011 or later, Yellow from 1995-2010 and Red from 1994 or before.
When one zooms in on our Thousand Islands, you quickly see that we have some work to do to help John and the KFN discover our Butterflies.
In John's pocketbook, he writes: "The Kingston Field Naturalist's welcome any, and all, records of butterflies. Basic information such as date, location, and species is sufficient but the exact location (latitude and longitude) with a GPS uni,t helps in the mapping and, ultimately, the conservation of species. For rare species, a photograph is essential unless several observers are present. With the advent of digital cameras, with optical magnification, the KFN discourages the collection of specimens. The KFN submits data to the Butterfly Atlas annually or this can now be done directly through e-butterfly."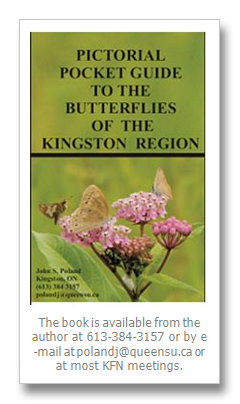 Further information on how to report sightings can be obtained from John Poland, who welcomes all data and who would especially like to hear of any rare sightings as soon as possible. Contact him at: polandjs@gmail.com. This year John has a personal goal to sight 80 varieties. When we met him he had his list of 75!
And, please keep TI Life, posted by sending photographs of the butterflies you find. We will publish them throughout the year. What about this editor? She is, at this very moment, looking out the window, at the Wanderers Channel, and hoping to see one of nature's most beautiful fly by.
By Susan W. Smith, Editor, TI Life. Susansmith@thousandislandslife.com