Swami Vivekananda
Written by
Trude Brown Fitelson
posted on April 13, 2009 07:45
Spending the month of August every summer of my youth at my Grandmother's cottage in Thousand Island Park was a child's delight. Here was the river, the rocks and all the wildlife that enchants one at a young age. I had no reason to venture uptown where I suppose the action was as my action was spending long days in the river, fishing and kayaking or lying upon the rocks that to this day warm my spirit.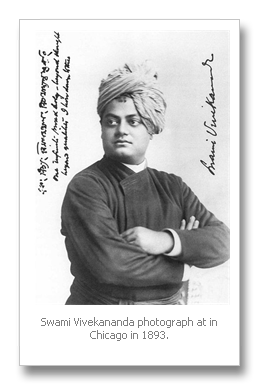 One of my strongest memories from that magical time of my life, in the early 50's, was watching a tall and very erect dark skinned gentleman come to the rocks on Prospect Point just below my grandmothers cottage, robed in terry cloth to take his daily swim.
No one at that time talked about the Vivekananda cottage or least of all to a ten year old. My curiosity led me to follow the gentleman and edge myself closely on the hillside below the Vivekananda cottage. I would lie in the tall grasses for what seemed like hours, listening to the lovely sounds that were so foreign to my ears. I was fascinated. The gentleman was Swami Nikihilananda, the leader of the Ramakrishna-Vivekananda Center.
The story of Swami Vivekananda and how he came to be associated with Thousand Island Park is a fascinating story.  Today, the cottage is known as a sacred site to the followers of Vivekananda.
The following excerpts are presented from a pamphlet written by my dear friend, Susan Testa Turri, to commemorate the Centenary of Swami Vivekananda at Thousand Island Park in 1995.
Trude Brown Fitelson
Thousand Island Park Landmark Society
by Susan Testa Turri
A MYSTERY OF TIME, PLACE & CULTURE
If you listen carefully on a summer day, you can hear "magical sounds" drifting down from behind the Tabernacle. At dusk, sounds of bells and hymns of praise in ancient Sanskrit rise from a peaceful sanctuary among the rocks and pines. These meditations are reminiscent of a time, a century ago, when Thousand Island Park was a summer community devoted to the fostering of religious, social and family values.
Vivekananda was and is an integral part of that tradition: Who was Swami Vivekananda and why does a cottage bear his name? Why do millions of people belonging to different faiths follow his teachings and those of his great teacher, Sri Ramakrishna?
How did a Victorian cottage on the St. Lawrence river achieve such a spiritual significance?
100 YEARS AGO
Swami Vivekananda's arrival at the main dock of Thousand Island Park a century ago, on June 18, 1895, was the result of a convergence of events that would have a lasting effect on millions of people, both here and abroad. He came to the Park at the invitation of Miss Mary Elizabeth Dutcher, an artist and cottage owner who had attended his spiritual classes in New York City and was struck by his strength of purpose.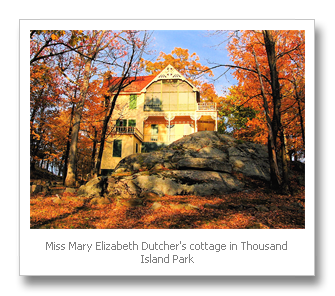 In preparation for Swami Vivekananda's arrival, Miss Dutcher added a wing to her cottage for his comfort and privacy. The three-story addition housed a guest room on Swami said he was "at his best" at Thousand Island Park. The ideas he refined and expressed there grew, during the years that followed, into institutions both in India and elsewhere. Yet, this work would take hold. Upon Vivekananda's return to India in January 1897, he was denounced by some for his new social and humanitarian teachings, but welcomed by those who believed in him as the herald of a new age for his country.
Now back at home (though in failing health), he founded the Ramakrishna Order of India, dedicated to the realization of Truth through service to humanity. He devoted his time and energy to improve the condition of India's masses. He died less than six years later, at the age of 39, exalted by the credo of his mission "In the work is the Worship of God" In but a short life, he had reached so many. Indeed, his humanistic views would profoundly influence generations of individuals such as Mahatma Gandhi who openly acknowledges his debt to Vivekananda's ideals.
the lowest floor, a classroom on the first floor, and the Swami's room on the top floor which opened onto a porch with a magnificent view of the river. "WELCOME VIVEKANANDA" read the banner that greeted him as he entered the cottage for the beginning of a remarkable seven weeks. Today, one hundred years later, the cottage stands much as it was then, revered as a holy place by followers of his teachings.
SISTERS AND BROTHERS OF AMERICA
This young and remarkable philosopher monk, Swami Vivekananda, was only 32 years old at the tme of his visit to the Park, but he was already a celebrity in America. A follower of Sri Ramakrishna,( a Hindu sage who preached the harmony of all religions and the universality of truth ) Vivekananda had arrived in the United States only two years earlier, in July 1893. He had journeyed from India to Chicago at the urging of his fellow monks and admirers to represent Hinduism at the World Parliament of Religions.
An unknown monk he had not been invited to attend this convergence of all the world's faiths nor, certainly, to speak. However Professor J.H.Wright of Harvard University, through a chance meeting with Vivekananda, was so impressed by this young man's depth of knowledge and charisma that he arranged for the Swami to address the entire Congress.
His humble -- yet electrifying -- address came at the end of an opening day of sectarian speeches and completely changed the tenor of the conference, a conference which is generally regarded as marking the birth of the inter-faith movement. Ending with an inspired plea for the end of sectarianism, bigotry and fanaticism, he was given a standing ovation. As the New York Herald noted: "He is undoubtedly the greatest figure in the Parliament."
A WELCOME RETREAT
Exhausted by the nearly two strenuous years of lecturing throughout the U.S., Vivekananda was grateful to find refuge at Thousand Island Park. Here was a place that, from its inception, had encouraged the exchange of ideas in a setting conducive to contemplation and relaxation. The Park was only 20 years old in 1895, yet it had already attracted enough people to form a community of 600 cottages. Its several thousand summer residents supported a program of recreation for both mind and body, attracting celebrated preachers and speakers as prominent as Susan B. Anthony and Frederick Douglas.
Vivekananda, rejuvenated by the Park, gathered his spiritual power to train the twelve students, who followed him there. His thoughts and teachings were transcribed into the collection, " Inspired Talks " a compilation of ideas that married the East and the West; and which joined the spirituality of Ramakrishna with his own deep concern for the political freedom and material well-being of humanity. Unlike the religious mystics of India who were often blind to the suffering of mankind, he taught the virtue of "seeing God with one's eyes open."
THE CALL TO INDIA
Today the Ramakrishna Order of India founded by Vivekananda for the "service of God in Man" has more than 1,000 monks throughout the world, and millions of followers in India and abroad. In India the order is best known for its humanitarian and educational efforts, operating schools and hospitals, providing social welfare and relief work while
also conducting religious and temple activities. Here in the West, its role has been that of spiritual teaching and guidance, with 13 Vedanta (Hindu) Centers in North America, 1 in Argentina and 5 in Europe.
The Ramakrishna-Vivekananda Center of New York has resumed use of the original Dutcher cottage as a summer retreat, and each summer hundreds of students come to study the ways of Sri Ramakrishna and Vivekananda. Thousands more have made pilgrimage to this site, sacred to many of Vivekananda's followers. Yet, for over fifty years after Swami left the Park, the cottage had returned to obscurity. It was not until 1947 that Swami Nikihila anda, the leader of the New York Center, came to the Park searching for the site of Vivekananda's stay. He found the cottage in total disrepair.
Setting an early example in the Park, and in recognition of the heritage of the place, he arranged to purchase the cottage and had it completely restored to its condition at the time of Vivekananda's visit.
By Susan Testa Turri
Conclusion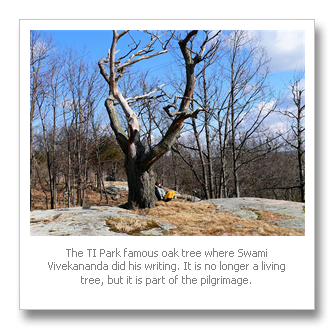 The restoration of the cottage began in the early spring of 1948. One of the students came to Thousand Island Park to oversee the work. A student and his son put in all the electrical wiring. A group of woman students came early in June and fixed curtains, repainted old furniture, purchased necessary articles, planted flowers, etc. The kitchen, which contained an old wood stove used in Swami Vivekananda's time, was modernized. Modern plumbing was installed. The shed-like structure over Miss Dutcher's studio was transformed into a sleeping porch. On the outside of the house the
original fluted and scrolled decorations were restored by Tom Mitchell Sr., who had worked on the original wing added by Miss Dutcher.
The summer of 1950 saw fireplaces added to the study and the bedroom below. The cottage was ready for occupancy by July 1948. Swami's Aseshananda, Satprakashananda, Yatiswarananda, as well as Nikhilananda spent the summer there. Earth from holy places in India was buried outside. Ganges water was poured into the St. Lawrence. Puja and Homa were performed in the garden.
Swami's room is used to this day as a chapel. In the early days of the rediscovery of the cottage some of the students agreed that a rock -  a good half mile behind the cottage - was the most likely place of Swami Vivekananda's inspired talks. It is a beautiful flat rock beneath a great oak tree, overlooking a broad expanse of meadow and commanding an inclusive view of the river. Year after year, students make this rock a place of pilgrimage and it has become known as Vivekananda Rock.
Today in Thousand Island Park, a National Register Historic District, on Wellesley Island, Vivekananda's followers can be found at the end of July each year on retreat at the Vivekananda cottage! They mingle effortlessly with the summer community and share in the joy that Swami Vivekannda found here among the pines, rock and river. When Swami left the islands he said, ʻ I bless these Thousand Islands ʻ in this he gave to the United States a holy place.
Compiled and written by Trude Brown Fitelson, Thousand Island Park.
Trude Brown Fitelson has developed a special understanding of this unique area. Exactly a year ago in April 2008, Paul Malo paid a special tribute to Trude Brown Feitelson in TI Life. He announced that Trude was being recognized that month by The Preservation League of New York State. Each year the League honors notable achievements in "retaining, promoting and reusing New York's historic resources". Trude was presented with the Individual Excellence in Historic Preservation Award.
Paul explained, "The citation honors her work of several decades, at Thousand Island Park, where Trude has long been a driving force in protecting historic buildings from demolition or inappropriate alteration, and has been active in enhancing the appearance of the community."

Trude has a successful real estate business in the region and when not on Wellesley Island she and her husband have a home in Rochester, NY.  
Comments
Comment by: lori moose ( )
Left at: 9:14 AM Thursday, April 16, 2009
---
Loved this article, I never knew the whole story behind the Swami and found this very interesting as I too spent my summers as a kid in TIP and still do with my children and extended family. Thanks for the wonderful article Trudy.
Comment by: Hope ( )
Left at: 1:16 PM Thursday, July 22, 2010
---
I am going there Sunday, this article was a great primer for the adventure. I agree with the Swami, the Thousand Islands are a gift from God.
Comment by: Biren Patel ( )
Left at: 11:14 AM Monday, June 24, 2013
---
A very informative article, on swamiji's stay there. I have read his book titled " Divyavani" , where his daily morning lectures are published , given during his stay at the Thousand Island Park. It is my dream to see this cottage one day.
Comment by: easwaran.t.l ( )
Left at: 6:41 PM Sunday, August 4, 2013
---
I am inspired to read the article. iam indelibly delighted to read that swmi vevekananda gave his inspired talks. no doubt t.i.park is as holy as benares of india. iam eager to visit t.i.park.
Comment by: Apurba Chakraborty
Left at: 10:30 AM Sunday, April 19, 2015
---
I had never visited US though I had some good American friends in connection with my profession. I nurture a fond wish that if ever I get the oppourtunity to travel to US , it would be solely aimed at visiting the sacred Thousand Island park which was once the epitome of inspired talks by our great Swamiji who spoke about the divinity already in ourselves and how to elevate it close to our real self which is all pervading blissful ever.