Written by
Susan W. Smith
posted on September 13, 2016 12:15
Russ Disotell has an interesting title: "Facilitator, Brockville Culture Days", but he is not alone. You see Russ and his committee of volunteers are part of a Canada-wide movement - to raise awareness of the Arts and Culture available in their respective communities.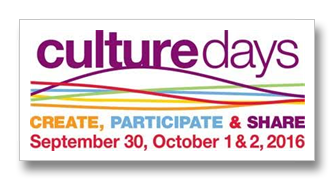 Culture Days in Brockville began last year, with 37 participants, but the movement officially began in 2010, and in 2015 over 900 communities participated. From now on the last Friday in the month of September is dedicated for Culture Days.
Simply put Brockville Culture Days is a Free Community Street Festival. You will find artists, dance, music, food, writers, storytellers, crafts, artisan demonstrations and more, spread throughout Brockville's downtown.
Wherever possible, participatory activities are included. Want to try tai chi, yoga and chair exercises? You'll find those and much, much more. Dance recitals, live music, art of every description and discipline is included. This year with 50+ groups and individuals participating there is something for everyone and everyone is welcome.
Last year Culture Days worked with the Brockville Downtown Business Improvement Association (DBIA)and Ontario Culture Days and this year they are continuing these beneficial relationships. Once again, the DBIA has arranged with the City for a road closure of part of King Street, this year from Perth Sreet to Buell Street, to serve as a venue. As well, there are a number of activities outside this central hub, spread throughout the downtown. There will be directions and listings of these other venues. The best place to see the list is on their Facebook page: Brockville Culture Days.
TI Life is pleased to wish all those participating in this year's event, great success. We also suggest visitors take along a camera and send us photographs of a favourite activity!
Russ Driscoll is quick to thank all those involved, and adds. "We'll work as hard as possible to make this event a success!" and knowing Russ and knowing Brockvillians, I am sure it will be!
By Susan W. Smith, susansmith@thousandislandslife.com
Editor, www.thousandislandslife,com