Early on Sunday morning, the phone would ring at the Tremont Island cottage. My husband groaned, "It's your mother, no one else calls on Sunday at this hour." Sure enough, my father was going fishing for Perch and, would the grandkids like to go? Only our second daughter Ellen, was keen. But Ellen was keen to fish any time.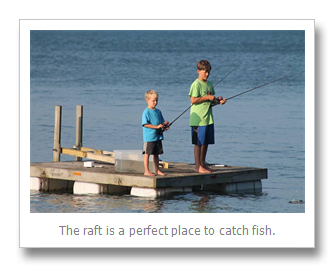 She began to fish off the dock, in her life jacket, when she was five or so. Because no one wanted to clean the fish that she caught any more, she was given a kitchen knife and a fish scaler. We should have taken her picture the first time she used the scaler. Fish scales were everywhere, on her clothes, in her hair, even on her eyelids. She loved everything about fishing.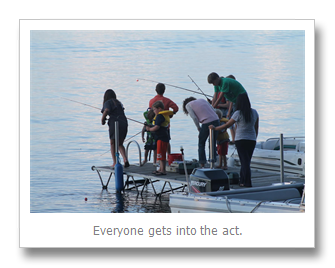 Once when she was very young and was standing on the small dock fishing, we saw huge waves rolling in. "Just sit down", we called loudly, and she did, riding the dock up and down when the waves hit shore. Her little life jacket was part of her daily wardrobe.
So Papa would pick her up on Sunday mornings, they would bait the hooks with worms and come home with a load of Perch. Breakfast was outside, back at the cottage, and the whole family would enjoy Nana's blueberry muffins and fresh Perch.
Now, Ellen's two boys and her husband fish with all the grandkids, from ages five to twelve years old. They tour the properties,on their choice of docks, or a raft, or from the aluminum six horse, the various ages, old and young, mixing up and having fun. Most of the fish go back into the River, only a few are ever cleaned. Now our oldest grandson Jack, cleans the keepers with a fish knife, but no scaler is used.
This year, Jack went Muskie fishing with a family friend. He had a great day on the big water, caught a good-sized pike and was happy and proud.
When" Island Life" magazine featured the cottages on Tremont Island, where we live all summer, Kim Lunman, its talented owner/publisher, took a photo of old Muskie lures that have been hanging on our porch for years. It was a surprise to us that they caught her eye.
We visited the big Bass Challenge, at Joel Stone Park, in Gananoque this summer. The little boys' eyes were round, as they viewed the prize fish and they learned to hold onto the Bass with a thumb, pinching the inside of the bottom jaw. They were not keen on the "kiss for luck" though. Now they use the thumb pinch, on the fish they catch at the cottage, and hold them up for pictures, before throwing them back.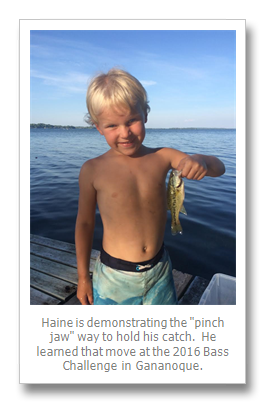 The worm business is a lucrative one when the grandkids come to Tremont and the bait is kept cold and juicy in the keg fridge for the next day.
Wouldn't it be fun for Ellen's Papa, to see what he started. I hope he knows what fun these guys are having, just like their mother did in her youth.
By Jane Taylor
Jane Taylor, a retired teacher, is a long time resident of the area.  She lives on Tremont Island, with her husband John, their 4 children, their spouses and 8 grandchildren, in the summer.  The grandchildren are the sixth generation on Tremont.  In the winter, Jane and John live near Gananoque and travel, when they can, to visit the children and their families, in their various homes, across the country.
Editor's Note:  I take this opportunity to thank Jane for her incredible assistance in putting  TI Life together each month.  For the last six years or more, Jane has proof read articles and found dozens of mistakes.  Also her granddaughter, Kate Modler, has helped capture summer in the 1000 Islands, in two articles.