Yes, New York State's craft beverage industry is alive and well in the Thousand Islands.
Taste Thousand Islands Craft Beverage Series: Regional Video
It was back in mid-September that dozens of families and friends on Grindstone Island gathered to harvest the Grindstone Island Winery's 2016 grape crop.  Mark and Maria Purcell started the  winery on Grindstone, as a way to produce a dry red wine they would enjoy drinking. "It sort of grew on its own.  We planted more and more grapes and eventually it became a small business."
The Coyote Moon Vineyards began as a family affair.  Phil Randazzo is the winemaker, while his wife Mary, a well known artist, designs the labels.  It was back in 2008 that they planted their vineyard and a year later they began selling. Today, the whole family joins together at Coyote Moon Vineyards, which is one of New York State's most award winning wineries with over 700 medals from the largest wine competitions, nationwide.
Michael Aubertine and his partners, Roger Howard and Michael Ingerson own Clayton Distillery, which is housed in a distinctive building on the east side of Clayton, NY. "Our products begin on our fifth generation family farm in Cape Vincent, New York." States Michael, "The four hundred acre farm was an active dairy farm until, 2006 and is now used only for growing corn, wheat, soybeans and alfalfa.  Clayton Distillery currently utilizes approximately twenty acres, to grow forty six tons of corn, used for production at the distillery."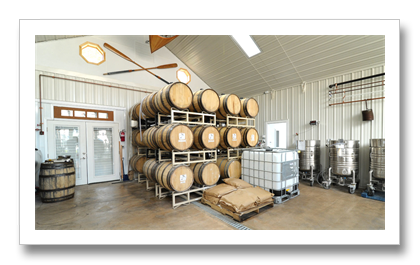 There are two distilleries near by. On the west end of Clayton is the new St. Lawrence Sprits where the Garrett family restored the former home of the Sisters of the Holy Cross and then the Fairview Manor, into  a farm-based distillery and tasting room.
A short distance away in Alexandria Bay is the Dark Island Distillery.  Names like "Island Vodka," "Snow Wheat Whiskey," "River Blues Bourbon," takes you to their website and a history of Rum Running, during the Prohibition days.
Three new wineries on the Thousand Islands Seaway Wine Trail are the The Cape Winery,   Northern Flow Vineyards and Otter Creek Winery.  The first is  located on historic Deerlick Farm in Cape Vincent,which was purchased by the Fralick family, in 1996. Cape Winery holds a number of sell-out wine tasting events throughout the summer months.  Then, downriver in Clayton the DeLuke family at the DeLuke Gardens launched Northern Flow Vineyards, complete with a Tasting Room and patio connected to their garden center.  Phil Deluke says, "By the end of 2016, we hope to have over 4,000 vines on six acres of land representing ten different grape varieties." The third, Otter Creek Winery, is located inland in Philadelphia, NY.  The winery, named after Otter Creek which flows to the St. Lawrence River, is owned and operated by Kyle Hafemann, the youngest person to ever start a New York Farm Winery, opened in 2007, they currently produce over 7000 gallons of 13 different varieties of wine.
And, to be a brewer in Clayton would be a new experience, says the brewer from the Wood Boat Brewery, "basically we are bringing back an industry that was popular before the War."  With names like, "Pardon Me Pale Ale," "Channel Marker IPA" and "Lyman Light Ale," it is no wonder the Wood Boat Brewery is a popular year-round destination.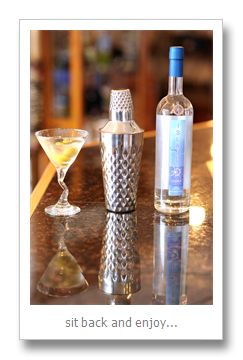 Yes, New York State's Craft Beverage Industry is alive and well in the Thousand Islands, so much so, they were successful in receiving a $182,000 Craft Beverage Tourism Promotion Grant, in August, 2015. The grant was matched by $40,000, from the 1000 Island International Tourism Council, headed by Gary DeYoung. In fact, it was Mr. DeYoung who reported on the popularity of the industry in the Council's 2015 report, which recognized that the Food and Craft Beverages were not only boosting local economies and creating jobs, but also creating a position within the NY State's agricultural sector.
Now a year later, the quality of the industry is becoming well known. There are a dozen online videos introducing these enterprises to potential visitors coming from far away, or just down the road.
Le JIT Productions has continued this important promotion by applying for further funding from NYS to market the businesses. While creating quality content was the goal of the past funding, raising awareness and exposure for the businesses and in turn the region is the goal of the latest grant. Le JIT Productions applied on behalf of nine craft beverage producers and received $116,800 from New York State, which is matched by $29,200 by the businesses themselves. They have created a website and Craft Beverage Trail,  And they are helping each business market themselves and create more exposure for the trail as a whole. 
When I asked filmmaker Julia Purcell why this project is so important to her, she proudly stated, " Highlighting the Craft Beverage industry in the Thousand Islands is a dream project. Each Craft beverage producer that I have gotten to work with, has a unique and compelling story and getting to know them and the products has been a lot of fun. These producers are making some amazing products and just need some help promoting themselves; that's where we come in. "
We now sit back and pour your favorite…  and Taste 1000 Islands…
"The 1000 Islands - where Ontario and the United States meet... their cultures blending in the waters of the mighty St. Lawrence and Great Lake Ontario. Today, many people remark that this gorgeous garden of woods and waters is truly one of the most beautiful places on the planet. Others will tell you its friendly atmosphere, fresh outdoors and laid-back pace makes the 1000 Islands a place that inspires the spirit and renews the soul.

Visit:  (http://www.visit1000islands.com)

| | |
| --- | --- |
| |   |
| | |
| | |
| | |
| | |
| | |
| | |
| |   |
| [Editor's note:  The video for St. Lawrence Spirits is not completed, but once it is online, we will add it to the list.  In addition, we will continue to help promote the Craft Beverage Industry,as they become destination tours  on the River.] | |
By Susan W. Smith, susansmith@thousandislandslife.com
Editor, www.Thousand Islands Life.com