Written by
Kim Lunman
posted on December 13, 2016 12:45
The Thousand Islands International Bridge is an iconic symbol of the 1000 Islands, connecting southeastern Ontario and northern New York over the mighty St. Lawrence River. The bridge opened to much fanfare at ceremonies presided over by Canada's Prime Minister William Lyon Mackenzie King and U.S. President Franklin D. Roosevelt in Aug.18 1938. The bridge between Collins Landing N.Y. near Alexandria Bay and Ivy Lea east of Gananoque is 8.5 miles long. When it was built, it was jokingly referred to as the 'bridge to nowhere.' Remarkably today about two million motorists drive across the bridge annually linking the 401 in Ontario to Interstate 81 in New York. The Ogdensburg-Prescott Bridge, or the Seaway Skyway, was built in 1960.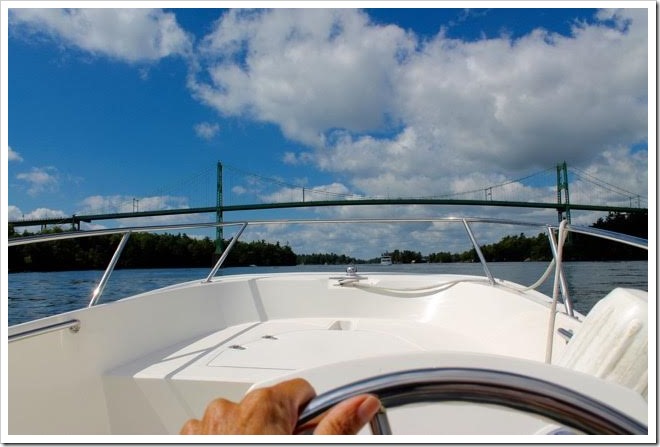 Photo by Kim Lunman/Island Life Magazine/www.islandlifemag.ca
But there are actually many other lesser known historical bridges of the 1000 Islands that can be found along this amazing archipelago of 1,864 islands on both sides of the border. Private bridges in the islands are not uncommon. Some of these storybook bridges were built by millionaire business barons, during the region's Gilded Age more than a century ago, connecting islands to each other and nearby islets. Some have become famous as island folklore while others are simply - and beautifully - bridges less travelled.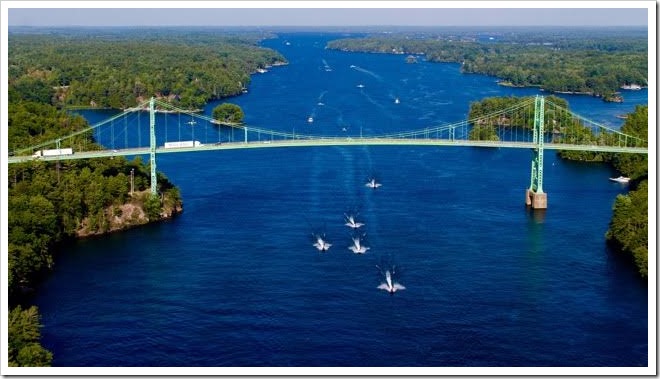 Photo by Kim Lunman/Island Life Magazine/www.islandlifemag.ca
SKY BRIDGE: The 1000 Islands International Bridge offers a panoramic view of the islands near Ivy Lea. The suspension bridge is 150-feet over the St. Lawrence. I've driven by boat underneath the bridge and travelled across it by vehicle many times but seeing it from above in a helicopter aboard 1000 Islands Helicopter Tours gave me a birds eye view of 'The Bridge' as it is locally known here on 'The River'.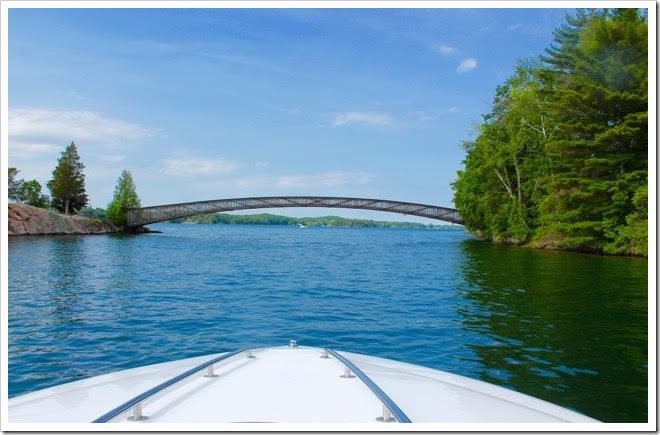 Photo by Kim Lunman/Island Life Magazine/www.islandlifemag.ca
SUMMERLAND: This iron bridge, between Sport and Little Lehigh Islands, is in the Summerland Group of Islands near Alexandria Bay, N.Y, a popular spot for boaters near Rockport. The islands were part of a summer retreat owned by the Packer family from Pennsylvania, in the late 1800s. Asa Packer derived his fortune from the Lehigh Valley Railroad. The family owned a side-wheel steam yacht named "Sport", and had many servants on staff at the islands.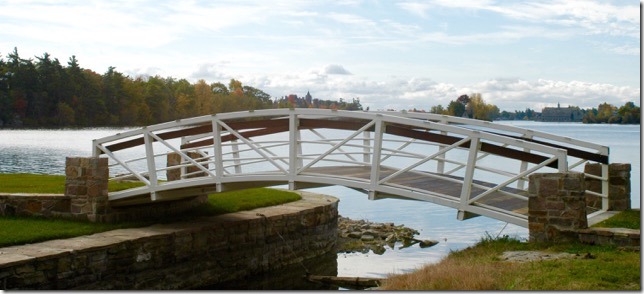 Photo by Kim Lunman/Island Life Magazine/www.islandlifemag.ca
FAIRYLAND ISLAND: I love this fairy tale bridge on Fairyland Island, near Boldt Castle's Heart Island and Alexandria Bay. The castle and the Boldt Yacht House on Wellesley Island, can be seen in the distance. Another bridge connects Fairyland Island to Estrellita Island.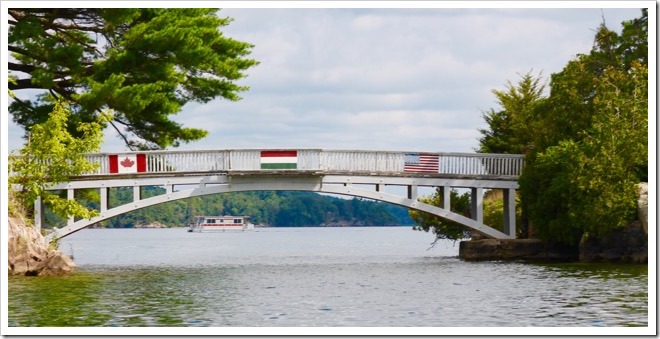 Photo by Kim Lunman/Island Life Magazine/www.islandlifemag.ca
ZAVIKON BRIDGE: Zavikon Island near Rockport is famously known for having the world's shortest international bridge joining its cottage in Canada to another island in the U.S. A great story - if only it were true. Both islands are actually close to the U.S. boundary but are actually located in Canadian waters. The bridge even sports Canadian and U.S. flags. These frequently photographed and long-fabled islands, featured on vintage postcards as far back as a century ago, is really just a short bridge with a tall tale for tourists.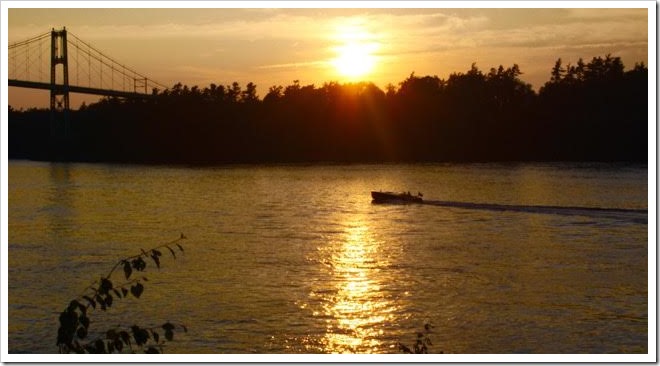 Photo by Kim Lunman/Island Life Magazine/www.islandlifemag.ca
SUNSET BRIDGE: An antique wooden boat rides off into the sunset under the 1000 Islands International Bridge near Ivy Lea.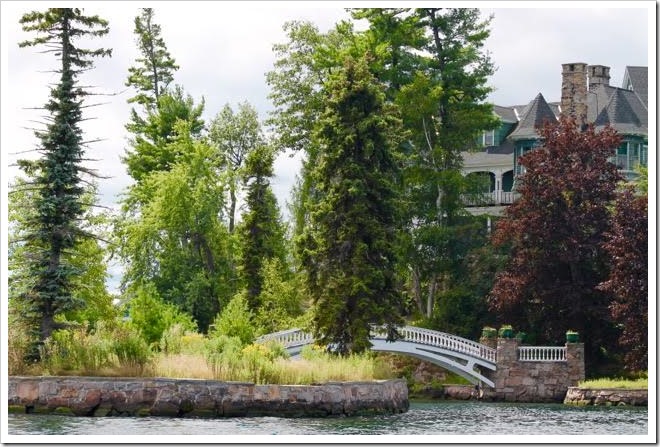 Photo by Kim Lunman/Island Life Magazine/www.islandlifemag.ca
CHERRY ISLAND: This bridge is part of Belora, a grand summer estate on Cherry Island near Alexandria Bay on Millionaire's Row, that once belonged to Nathan Strauss, while he was the owner of Macy's department store in New York City.
By Kim Lunman
Kim Lunman is the founder, owner and publisher of Island Life Magazine (www.islandlifemag.ca) based in Brockville, Ontario. The 2017 edition of the glossy print magazine will be distributed in May, throughout the 1000 Islands in eastern Ontario and northern New York. A photographer and award-winning writer, Kim is an avid kayaker and boater who lives in her hometown of Brockville, "The City of the 1000 Islands." She was awarded The Keeper of the Islands Award by the Gananoque 1000 Islands Chamber of Commerce in 2013. Her freelance writing has appeared in several popular magazines and newspapers including Lakeland Boating, the Kingston Whig-Standard, the National Post, and Reader's Digest.
To see all of Kim Lunman's TI Life articles, click here, and to read a more complete biography, see our About Page.